Netflix seeks to keep us pretty busy this month by dropping several big hit shows and films — primarily in the form of new seasons and sequels. Up first is the sequel to the highly entertaining Netflix offering released back in 2020, Enola Holmes. The very adorable and easily lovable protagonist who happens to be Sherlock Holmes' baby sister, is back. Enola Holmes 2 has just dropped on Netflix over the weekend and we checked it out to review the sequel here at This is Hype Ph in order to see what new and exciting adventures our heroes face this time around and how it stands toe-to-toe with its predecessor. 
Enola Holmes Recap
Enola Holmes is based on the novel series, The Enola Holmes Mysteries by Nancy Springer but it is interesting to note that this sequel, unlike its predecessor, is not an adaptation of any of Springer's novels. The film franchise as a whole revolves around the titular character Enola, the sister of Sherlock and Mycroft Holmes who also has a knack for mysteries and an innate attraction to adventures. During the first film, it is established that Enola lives and is very close with her mother, Eudoria Holmes. Enola however wakes up one day to discover that her mother has vanished but in turn, has left little bits and pieces of clues that only Enola can solve to discover her whereabouts. Enola is then thrust into a search and adventure of her very own to find the truth behind her very mysterious mother with the hopes of finding and reuniting with her in the process.
Throughout Enola's adventures, our heroine must also juggle the harsh truths of the big wide world around her as she roams the streets and provinces of London with various people looking into stopping her from accomplishing her mission. She is also thrown into the deep end of love and romance with Lord Vicount Tewkesbury, as she tries to balance all these things all at once.
Enola Holmes 2 Review: Synopsis
The story picks up after the events of Enola Holmes. Enola starts her own detective agency but struggles to get any clients, finding herself in the shadow of her brother, famous detective Sherlock Holmes who is swamped with cases. Just as she is packing up, a young girl named Bess comes to the detective agency to report her missing sister Sarah Chapman. In order to solve this mystery, Enola will be needing all the help that she can get. These primarily come from the friends that she had made in the first film which includes her love interest Lord Viscount Tewkesbury, her karate mentor Edith and even her very own brother, Sherlock.
Enola Holmes 2 Review: Overview
Below are some of the film's directors, producers, and notable cast members:
Director:
Harry Bradbeer (Enola Holmes)
Producers:
Mary Parent
Alex Garcia
Ali Mendes
Millie Bobby Brown
Robert Brown
Cast
Millie Bobby Brown as Enola Holmes
Henry Cavill as Sherlock Holmes
David Thewlis as Superintendent Grail
Louis Partridge as Lord Viscount Tewkesbury
Susie Wokoma as Edith
Adeel Akhtar as Lestrade
Helena Bonham Carter as Eudoria Holmes
Enola Holmes 2 Review: Spoiler Warnings
We will keep this review of Enola Holmes 2 free from spoilers so as to not interfere with your viewing experience. We will instead focus our discussion on the continuity, overall premise, and acting of the main cast. 
The Game Is Afoot (Again)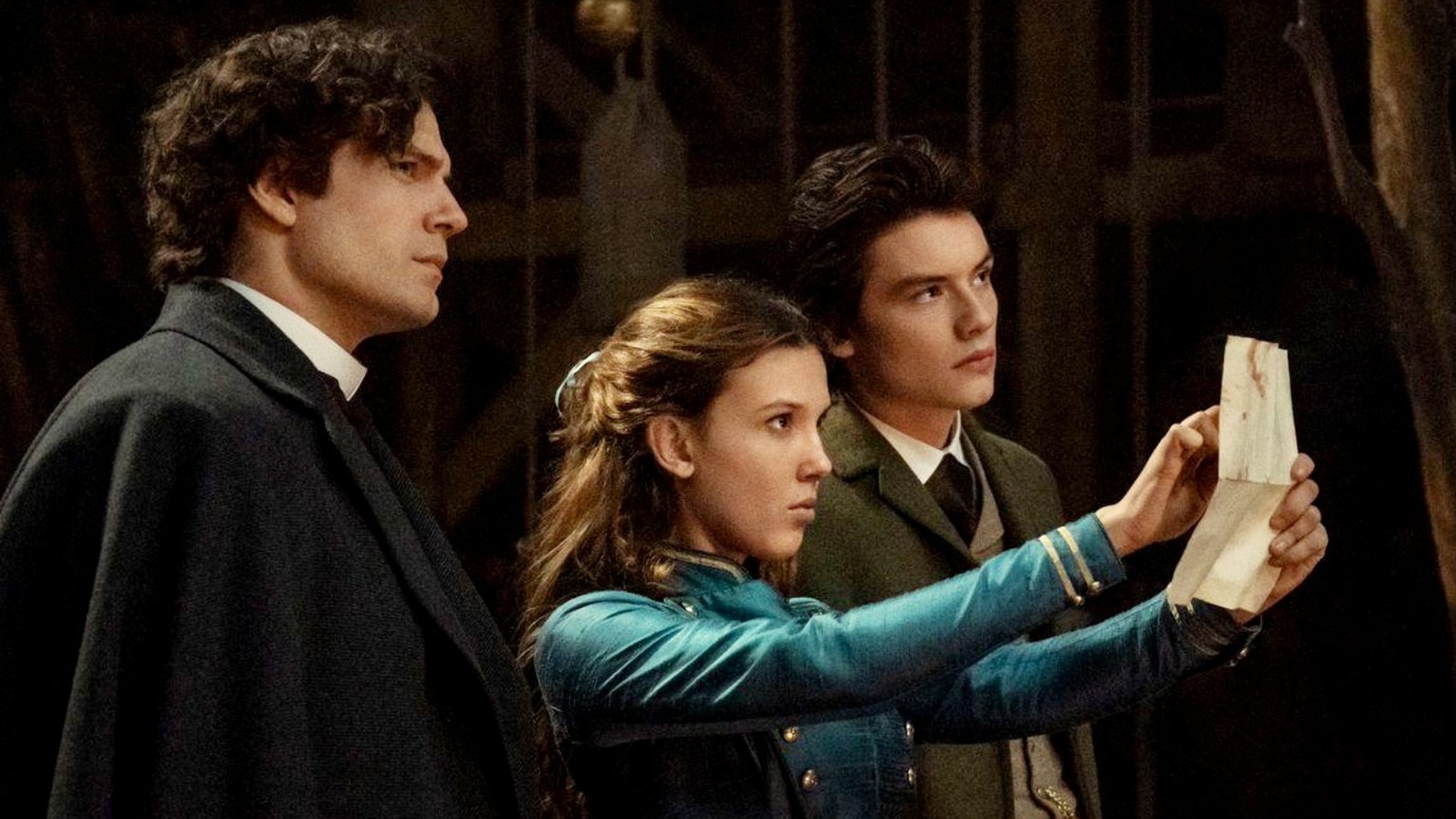 Continuing from where the first film left off, this sequel gets the job done in terms of delivering excitement and a great sense of continuity. It's a film that greatly showcases how sequels are meant to be done when created and produced the right way. Every single element in the story, set pieces, costume designs, visuals, special effects, and cinematography are leveled up and in turn, are bigger and better than before. The story manages to insert more Sherlock Holmes references and easter eggs than the first film as the franchise is now taking shape all the more. We still get pretty much the same format, flow, and exciting pacing as the first film but it's just more of it to be quite honest.
There are times when the statement less is more does apply in this film as I honestly found the breaking of the fourth wall to be on the tad too much side for this sequel. This is however a statement based entirely on preference and opinion. This film and story technique still manages to do its job of becoming highly engaging and entertaining but it at times felt personally as the only trick up Enola Holmes' sleeves as a film. I would like to balance out this statement by saying that there are some moments where this effect is achieved brilliantly which primarily comes in the form of subtlety. Enola Holmes, for some moments in the film, breaks the fourth wall without even saying a word and these little snippets admittedly have a little charming effect to it.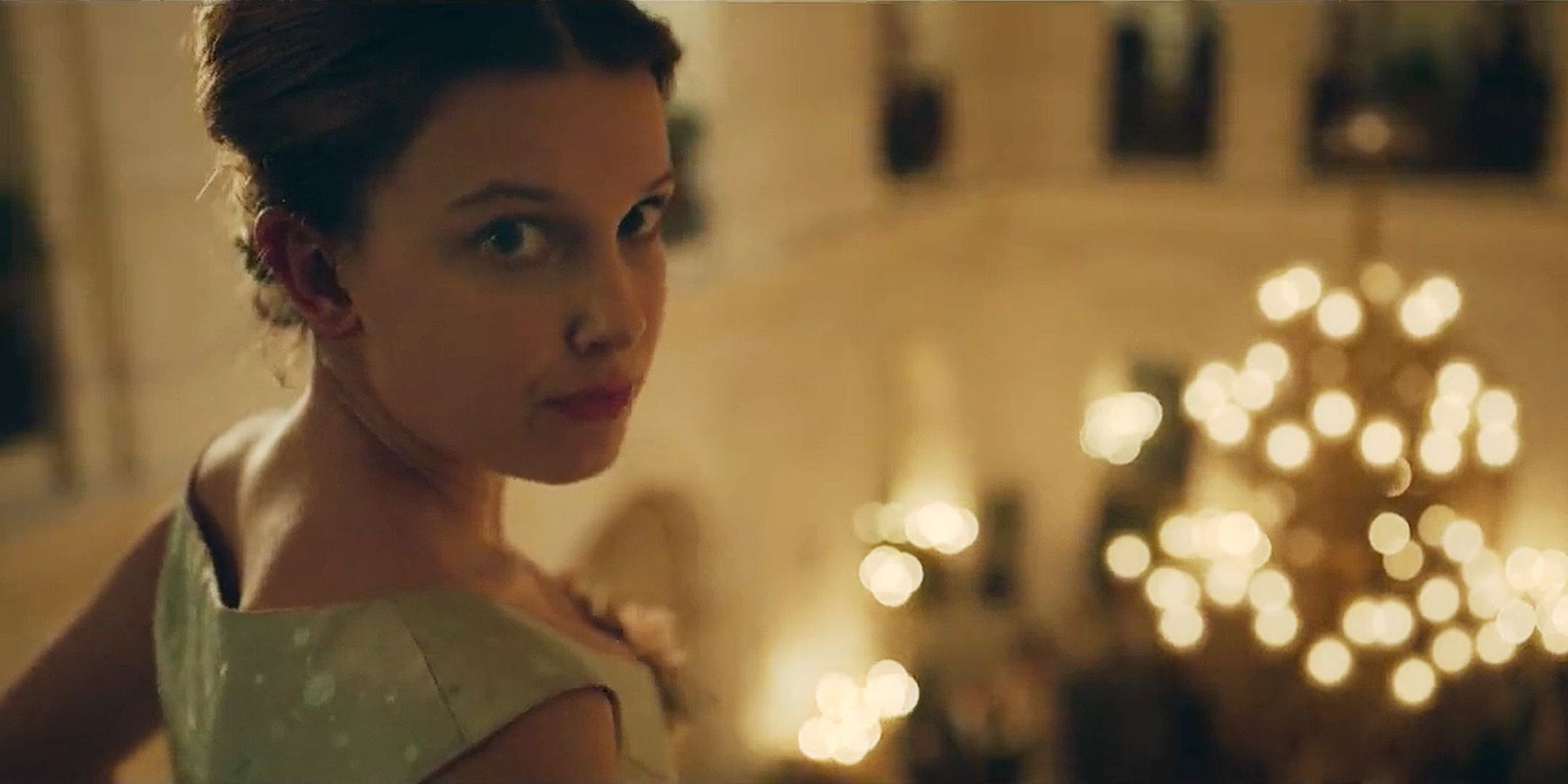 The story this time around also seems to have a more direct and fast-paced direction which we absolutely loved. Yes, there are moments that get a bit too draggy but these are all necessary when the story comes together as a whole. The film has the ability to keep everything engaging and exciting and this is seen primarily in how the story is presented. There's a different approach to it all together while still managing to inject the elements that we have come to know and love not only from the Enola Holmes franchise but more importantly for the world of Sherlock Holmes itself. There is an expansion and revision of the universe of Sherlock Holmes which may not be for everyone's palate — especially for literature fans. The film franchise has however taken the concept to a creative standing as the source material aims to do so entirely. The world-building, therefore, is spectacularly done as it combines the creativity to produce new characters and parameters to the story while still pointing to the original source material of the Sherlock Holmes universe.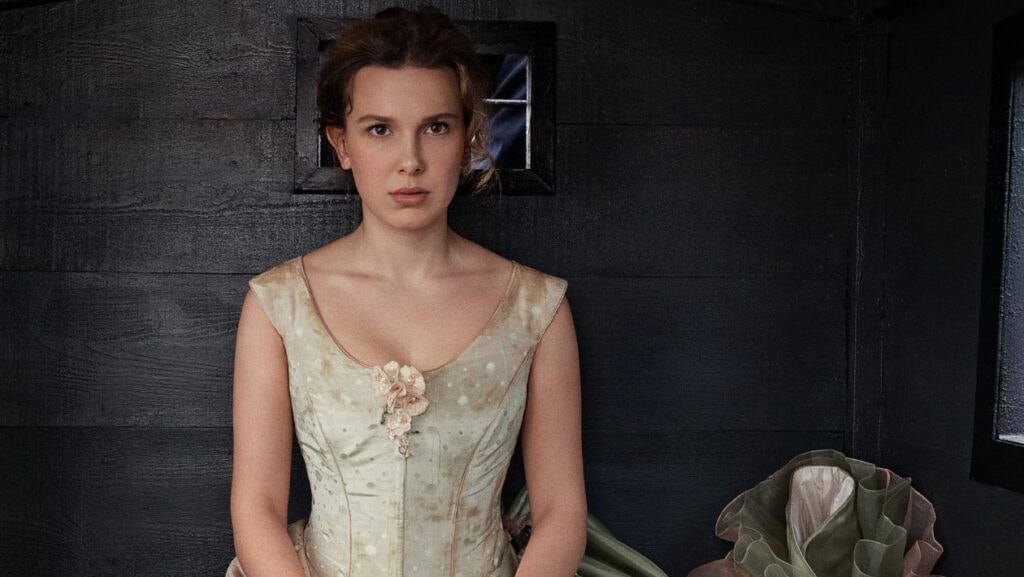 It is clear that Enola Holmes is building its story for something great up ahead and this franchise is in it for the long haul. There isn't really a huge rush on the show's part and as it takes its sweet time in building expositions towards a grand and bigger plot at play, Enola Holmes 2 provides an added boost of substance and meaningfulness. It almost has a social commentary feel to it that becomes more prominent and visible this time around. The specific tackling of women's rights and what kind of seems to me a child and forced labor issue served as a crucial plot point for this sequel. It was presented in a way that wasn't too in-your-face but rather enough to drive the story forward as we are given more than just another average adventure mystery film. We are instead treated to a very meaningful and somewhat even pertinent and transcendent message all while being very entertaining and fun to watch.

'Tis I (Emoting Over Here)
One of the biggest improvements with this sequel is the film's ability to create a very emotional ride which was quite surprising to be quite honest given that I found the first film to lack such an element. The first film focused on the fun, quirky, cutesy, and almost kid-like atmosphere. It felt like a film meant for a younger demographic. This isn't the case for the second installment as this film packs the punches in several moments as we are treated to an emotional weightiness which can be attributed to the cast of the film. There is immense growth and change, to be honest as we get more heart-warming moments between Enola and her mom which Millie Bobbie Brown and Helena Bonham-Carter nailed perfectly. As a whole Brown has shown a more serious side in this sequel compared to the first film while also managing to showcase her growth as an actress as well as with her grasp of great characterization. We also see great chemistry between her and Louis Partridge as their love tandem shines brighter this time around — giving us giddy, "kilig" feelings all over.
Towards the latter parts of the film, things actually get pretty weighty in terms of the emotional impact that Enola Holmes delivers to the point that it actually feels out-of-left-filed for the film. It's a totally different atmosphere and may catch viewers off guard at first but this short yet powerful moment is necessary for Enola Holmes 2 — flipping and transforming the tone of the film even for a brief moment.
I must however mention the fact that there were also some acting performances that didn't really win me over. When I say some I actually meant one. It's a crucial one, to be honest though. I don't know if it's just my perception or the inability to grapple with the fact that Sherlock Holmes looks and acts very differently from how I have known him to be. Henry Cavill is great as an actor, don't get me wrong. Is he the best person to step into the shoes of Sherlock Holmes? I don't fully agree to be honest. There is a lack of quirkiness and maybe even intellect that I can't wrap my head around. Henry Cavill instead steps into a very physically intimidating version while not really having the brute strength that matches the said appearance. Simply put I just found there to be some inconsistencies with the casting which was also my concern with the first film.
Enola Holmes 2 Review: Final Verdict
Pros:
Continuity from the first film
The plot is more cohesive and engaging; packed with substance
Consistency in visuals, costume designs, and special effects
Standout performance: Millie Bobbie Brown and chemistry with Louis Partridge
Cons:
Inconsistency in casting and direction
Hype Meter: 9/10
Enola Holmes 2 is a great addition to the franchise and one that I feel stirs it all into a greater direction. The world-building is spot on as it integrates elements from Conan Doyle's Sherlock Holmes universe and storylines. Enola Holmes 2 showcases how making sequels are meant to be done as it continues the legacy and brilliance of the first film while simultaneously finding constant room to make it better. This sequel seems to have it more together in terms of direction as it also slightly veered away from being too "kiddie", having more mature premises and themes in the process.
Check out Enola Holmes 2 now on Netflix.
For more reviews: