The popular children's novel by American author and cartoonist Jeff Kinney has won over the hearts of young readers for quite some time now. It has spawned several novels, and 4 live-action films and has now produced two fully-animated films as well. The most recent fully-animated version, Diary of A Wimpy Kid Roderick Rules,  is now available on Disney+, which will be the focus of this review. 
Diary of A Wimpy Kid Roderick Rules Review: Synopsis
Greg Heffley and his brother Roderick don't often see eye-to-eye. But the tension grows even further when their parents reveal that they are going away for the weekend and are taking their younger brother Manny with them. Rodrick takes advantage of this and informs Greg that they are throwing a party together but in reality just uses him to get the place ready and clean the house before their parents return. Greg tries to blackmail his older brother by threatening him that he will tell his parents the truth about the part but in return, Roderick offers to teach Greg his "Rodrick Rules" which deal with getting things done without making an effort. The two brothers eventually get into a variety of mishaps while constantly bumping heads as they traverse through popularity, sibling rivalry, their parents, and an upcoming talent show.
Diary of A Wimpy Kid Roderick Rules Review: Overview
Below are some of the film's creators, executive producers, and notable cast members:
Directed by:
Luke Cormican
Running Time:
1 hour and 15 mins
[hfcm id="9"] [hfcm id="14"] [hfcm id="20"] [hfcm id="24"]
Distributed by:
Disney+
Produced by:
Jeff Kinney
Cast:
Brady Noon as Greg Heffley
Hunter Dillon as Rodrick Heffley
Ethan William Childress as Rowley Jefferson
Chris Diamantopoulos as Frank Heffley
Erica Cerra as Susan Heffley
A Diary of A Wimpy Kid Roderick Rules Review: Spoiler Warnings
We will keep this review of A Diary of A Wimpy Kid Roderick Rules as much as possible, free from spoilers. We will focus our discussion on the animation style and themes of the film.
Family Always Rules
A Diary of A Wimpy Kid has always rubbed off on me as the new generation's version of Captain Underpants. The story in the novels is written almost in the same manner with texts and comic book/doodle-like pictures dominating each page. The big difference though between the two is the values and themes that A Diary of A Wimpy Kid offers. It's all the more prevalent in this book/film. Admittedly though, it must be known that for avid readers of the source material, this film isn't an exact play-by-play of all of the events found in the novel but it keeps the very essence of it all very much alive. This film, at the onset, looks to be a rant-like film of a middle child and his exploits and problems with his brother. It is therefore very obvious and blatant from the get-go that family would be one of the central themes or areas of discussion for the plot of the film. But it does arrive in a very timely manner nonetheless.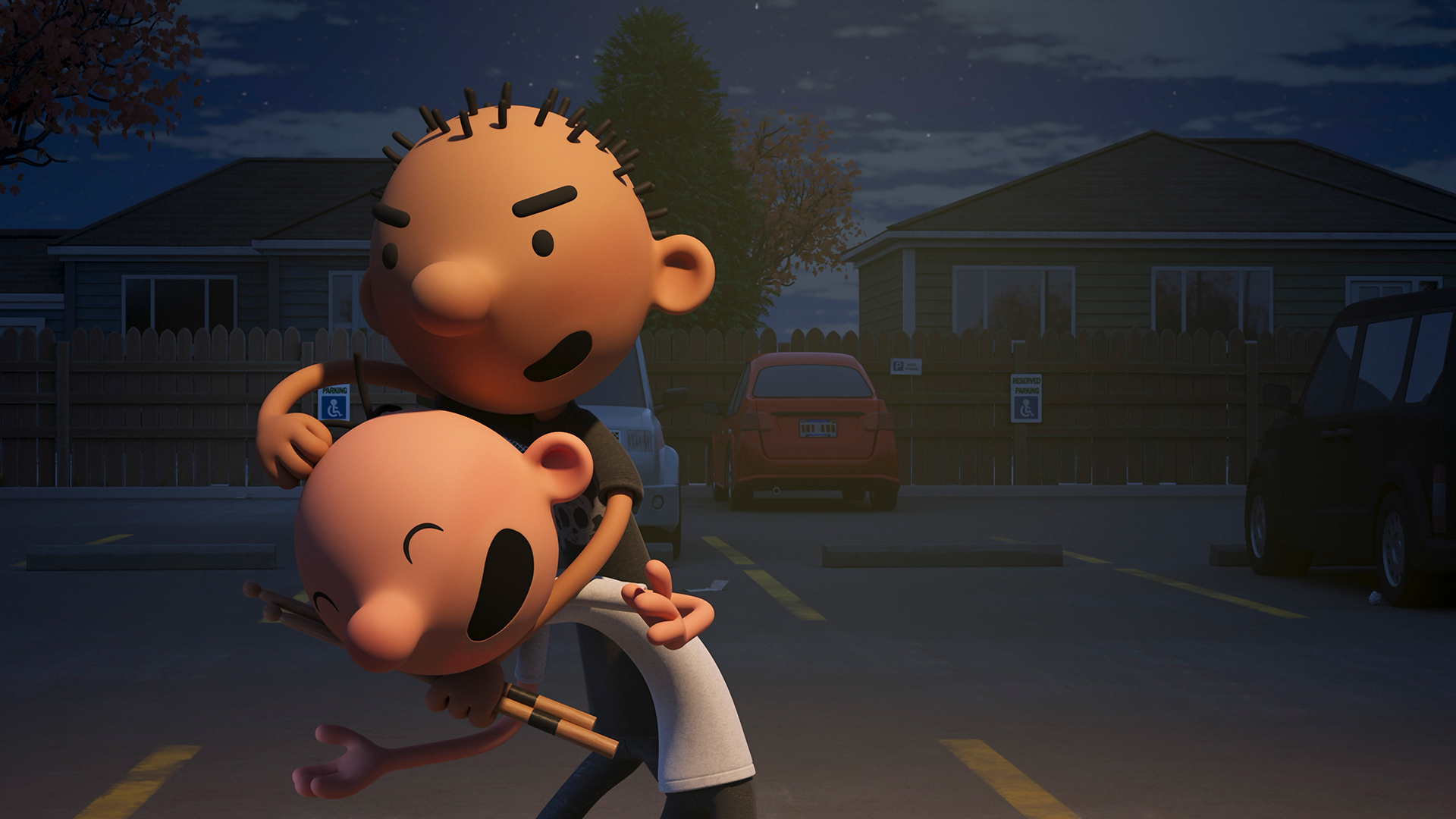 The themes of family hit pretty great in this movie. It is as mentioned, expected and predictable with viewers almost in anticipation of reconciliation between the two brothers but it still manages to do the job. After all, there is a timely and universal message that the film tackles in regard to familial love — specifically that between siblings. There is that relatability factor that comes with this movie that makes it enthralling to witness for audiences of any age. It is simply a film on family made for the entire family to enjoy. 
Sticking to Animation Rules
The animation styles and production quality nowadays have reached a whole new level of innovation and creativity. Take The Mitchells vs The Machines or Spider-Man: Into the Spider-Verse. A Diary of A Wimpy Kid honestly isn't the best when it comes to innovation on the animation front. The stylistic choices are actually very simple and by the books. There's a simplicity to how the film is produced and it is really that bad — far from it actually — but it isn't the best as well either. 
The colors aren't all colorful and vivid and instead, we are given an animation style that doesn't really innovate all that much. It's just too simple for my liking and to top it all off there is that kid-like effect still embedded in the animation style. It reminds me of a slightly improved stick-figure type of animation that mixes in 3D elements. It isn't all that great and honestly feels like lazy work.
A Diary of A Wimpy Kid Roderick Rules Review: Final Verdict
Pros:
Themes of family
The premise is timeless and relatable
Cons:
The animation style isn't that creative or innovative
It's too kiddie at times
The story is too predictable at times
Does not completely stick to the source material's flow and direction

Hype Meter: 4/10
This animated film fails to bring anything compelling, to be honest. It doesn't do the source material any good. While it still is entertaining and it does have some pros in terms of the themes that it brings to the table, Diary of A Wimpy Kid Roderick Rules feels a little too kiddie. It's relatable no matter who is watching but it isn't all that appealing. It's a surprise that Disney has released a not-so-great animated film which, to be honest, is a sign that the franchise has reached its inevitable end.
A Diary of A Wimpy Kid Roderick Rules is now streaming on Disney+.
For more movie reviews: