The last entry to the MCU's Phase 4 is now here and it comes in the form of a very interesting offering — A Christmas Special. It wasn't something we would have expected Marvel to dish out but we gladly welcome it given that it centers on the fan-favorite team of the Guardians of the Galaxy. So without further ado, we bring to you our review of Guardians of the Galaxy Holiday Special. 
Guardians of the Galaxy Holiday Special Review: Synopsis
The Guardians of the Galaxy have just purchased Knowhere. As Christmas approaches, Kraglin recalls the story of how Yondu Udonta ruined Christmas for Peter Quill during his childhood. We then follow Drax (Dave Bautista) and Mantis (Pom Klementieff) as they look for the perfect Christmas gift for Star-Lord. What's this gift you may ask? Kevin Bacon. Yes, THE Kevin Bacon. The two set on an expedition to Earth to kidnap the actor and bring him back to Knowhere as their special surprise for Quill. What then ensues is a film filled with wacky antics, musical numbers, and a brand new adventure with one of our favorite intergalactic teams from the MCU.
Guardians of the Galaxy Holiday Special Review: Overview
Below are some of the film's creators, executive producers, and notable cast members:
Directed by: 
James Gunn
[hfcm id="9"] [hfcm id="14"] [hfcm id="20"] [hfcm id="24"]
Written by: 
James Gunn
Executive Producers:
Kevin Feige
Louis D'Esposito
Victoria Alonso
Brad Winderbaum
James Gunn
Sara Smith
Simon Hatt
Cast
Chris Pratt as Peter Quill / Star-Lord
Dave Bautista as Drax the Destroyer
Karen Gillan as Nebula
Pom Klementieff as Mantis
Vin Diesel as Groot
Bradley Cooper as Rocket
Sean Gunn as Kraglin Obfonteri
Michael Rooker as Yondu Udonta (animated scenes)
Kevin Bacon as a fictionalized version of himself
Guardians of the Galaxy Holiday Special Review: Spoiler Warnings
Our review of Guardians of the Galaxy Holiday Special will primarily revolve around the Christmas-themed direction, acting, and continuation/connection to the MCU world thus far.
Shining Light at the Back
When the Guardians of the Galaxy first came out, many who aren't all-out fans of the comic books were kept in the dark. This simply is a group of heroes that don't get as much time in the limelight as others in the Marvel mythos. That all changed when the first film came out and many have fondled the Guardians of the Galaxy since then. Admittedly, however, this is a group that we've come to appreciate as a collective. When you look at each one individually however it's apparent that Quill, Gamora, and maybe even Rocket and Groot have gotten more opportunities to shine. That leaves us with Drax and Mantis. Yes, Mantis has only been in the MCU since Guardians of the Galaxy Vol. 2, and Drax has to been known to provide some comic relief from time to time. It's also about time however that we see the two-step it up a notch. The Holiday Special feels like the very film that we needed to witness just that. The two most underrated and undervalued characters finally took centerstage and I personally loved every minute of it.
Let's talk first about the chemistry between Klementieff and Bautista. It stands out as one of the best I've seen in the MCU thus far. I'm not even talking about romantic chemistry but more about the fact that their tandem is just so great to watch. They bounce off of each other with Drax's inability to sense any social cues and sarcasm while having a lot of ridiculously idiotic but funny moments. Pair it with the way Mantis is able to communicate sarcastic and well-timed banters. There's a bond and connection that the two have that is just infectious to witness and I personally believe that this is the first time that I've actually seen such a tandem work so effortlessly well in ages in the MCU. There's an authenticity to it, that alone, is worth the price of admission.
Individually as well, the two manage to stand on their own. Bautista definitely showcases more of his capabilities in acting and it's not just limited to sly one-liners. The manner with which he carries himself and injects just the right amount of humor is just priceless. Klementieff on the other brings a lot more depth to the table this time around showing not just range but an ability to carry the film alongside another cast member. To keep it simple these two actors just proved why they are deserving to be a part of the Guardians of the Galaxy and the MCU. Moreover that they can and should take on bigger roles in the spotlight in the next films to come.
While the other Guardians do make an appearance and are also responsible for a couple of touching moments, the success of this holiday special was hands down thanks to these two. Oh but wait. We can't forget about Kevin Bacon. Bacon's appearance in this special is a long time coming in terms of the amount of time that the MCU has spent referencing the actor and a couple of his films. This was seen since the first Guardians of the Galaxy film and a verbal mention of the actor was even done in Infinity War. Bacon appears as a fictionalized version of himself and he honestly pulls out all the stops — delivering an emotional moment even towards the end. There's nothing much that he adds for the overall MCU mythos but it's a much-appreciated fan service and we definitely appreciate the antics that our heroes find themselves in because of it. 
A Wacky Adventure That Works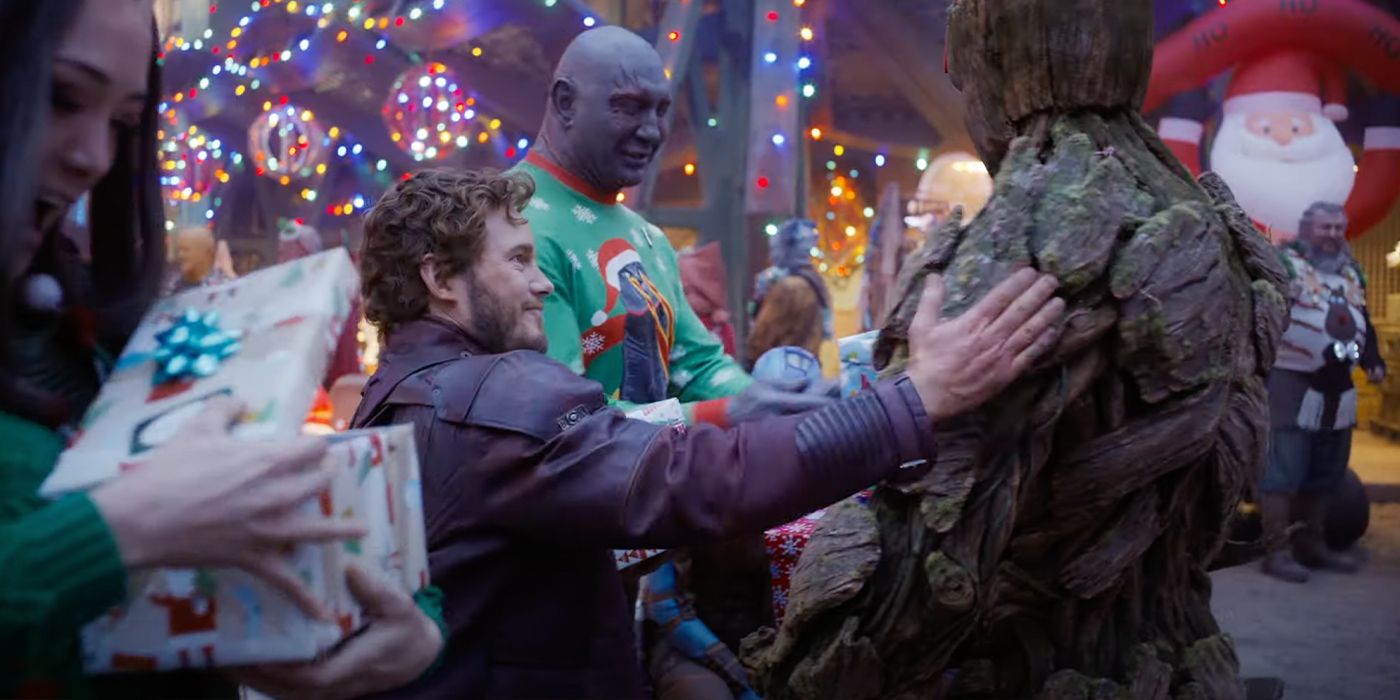 I had my set of reservations when I first heard about a Christmas-themed special from the MCU — especially revolving around the Guardians of the Galaxy no less. I honestly found it to be a ridiculous profit-centric ploy to come up with just another reason to release a special for the MCU. I was pleasantly surprised to be proven wrong. The special in itself is a brilliant move. As mentioned, it managed to shine some much-needed light on characters from the superhero team/franchise that have so far been comfortable staying in the background rather than the center stage of all the action and drama. The Christmas special also managed to bring in the theme that actually made a lot of sense story-wise and I can't picture any other Marvel franchise or property that could actually pull it off — thinking about it now.
The wacky adventures and overall dynamics of The Guardians make for the best platform to achieve something like this. The schticks and goofiness of the concept actually work in this world. The Holiday special however is all the more successful due to the emotional weight that it brings. It's not all too heavy but the sentimental value and tender moments are just enough to inject a change of pace to all the craziness that ensues. It does tend to become a bit soppy at times with a few broad strokes of being too cheesy — the emotional quality however does the job well enough and is very much needed and appreciated. 
I circle back however with what I initially imagined as a preposterous idea for a Marvel concept. In the overarching theme and bigger picture in terms of continuity, this special served more as a pause to the actual storyline in place. There isn't any mention of any other film plots and the chaos that ensues with the multiverse and even with Thor. This is quite odd given that this film supposedly occurs after Thor: Love and Thunder. Again it feels like a film stuck in a vacuum of sorts completely ignorant of the bigger scheme of things. I can't speak for what its implication or effects will be moving forward, especially with the third film for the Guardians of the Galaxy set to drop by February of 2023. It does, however, give more weight to all of the characters now and thus potential deaths that may occur in the upcoming film would definitely be more difficult to be quite honest.   
Guardians of the Galaxy Holiday Special Review: Final Verdict
Pros:
Has some pretty good emotional moments
Standout performances and chemistry of Bautista and Klementieff
Fun and wacky premise while shining light on less popular Marvel characters
Cons:
Some parts of the story bordered on being cheesy
Out-of-field direction with MCU continuity

Hype Meter: 8/10
A fun Christmas-themed film that gives justice to two characters from the beloved ragtag team of space voyagers that up until now have been comfortably been in the background. Drax and Mantis have a unique chemistry that relies heavily on stupidity, sarcasm, and dark humor that for some reason just work. There's even a moment of emotional weightiness and sentimentality. This is a special that honestly combines so many elements, even a musical touch to it, that make it absolutely work. This is a reminder that Marvel is capable of bringing variety to the superhero genre with comedy, horror, drama, and now — the Christmas spirit.
Watch Guardians of the Galaxy: Holiday Special on Disney+.
For more movie reviews: