Back in 2007, the hit princess film from Disney took moviegoers by storm and into a complete frenzy as Amy Adams starred in an animation and live-action hybrid, Enchanted. The movie was critically well-received, established Adams as a leading lady, and earned more than $340 million worldwide at the box office. Looking to continue the success of its predecessor is Enchanted's sequel film, Disenchanted which we are set to review here in This is Hype Ph due to the recent availability of Disney+ in the country.
Disenchanted Review: Where Were We?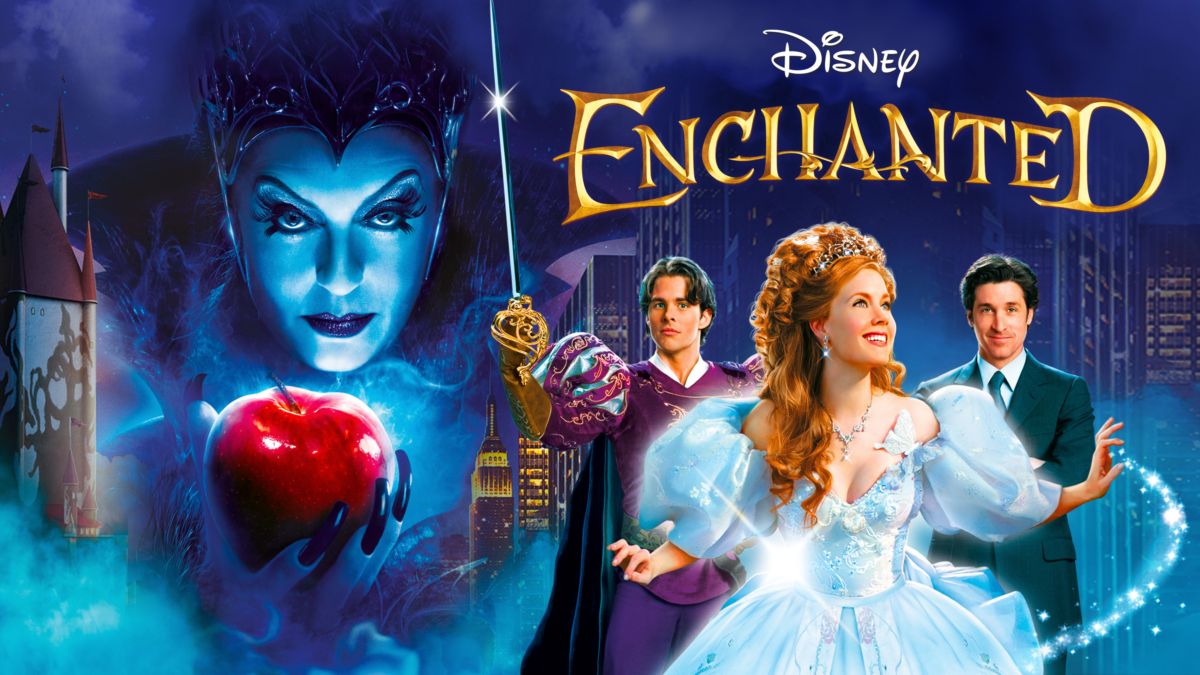 Disenchanted as mentioned is a sequel to the 2007 Disney film, Enchanted. Enchanted centers on the archetypal Disney princess-to-be, Giselle, who is exiled from her animated world of Andalasia, into the live-action world of New York City.  She struggles at first to adjust to the real world as she is still initially stuck in her delusional fairytale world. In Andalasia, Giselle was to wed Prince Edward and even as she is in New York City, all she manages to think and dream of is the life that was " taken away" from her. Eventually, Giselle falls in love with New Yorker, Robert, and together they slay the evil sorceress Narissa who was the perpetrator of Giselle's exile. Giselle decides to permanently stay with Robert in New York as his ex-fiancee Nancy elopes with Prince Edward back to the realm of Andalasia.
Disenchanted Review: Synopsis
Disenchanted is set ten years after Giselle's happily ever after in New York City with a newborn baby boy and the teenage Morgan. Due to the struggles of raising up the teenager, Giselle believes a change in scenery and pace will all do her family well so they get up and move out of the city to a quaint little suburb of Monroeville. Giselle still feeling dissatisfied with the life that she lives in the real world, takes the opportunity to make a wish with the help of a magic wish-granting wand that King Edward and Nancy had given them. Giselle wishes for her family's life to be a perfect fairy tale and when it does come true, Giselle immediately realizes that she may have bitten off more than what she had originally hoped for.
Disenchanted Review: Overview
Below are some of the film's creators, executive producers, and notable cast members:
[hfcm id="9"] [hfcm id="14"] [hfcm id="20"] [hfcm id="24"]
Director
Adam Shankman (Bedtime Stories, Hairspray)
Producers
Barry Josephson
Amy Adams
Barry Sonnenfeld
Story by
David N. Weiss
J. David Stem
Richard LaGravenese
Cast
Amy Adams as Giselle Philip
Patrick Dempsey as Robert Philip
James Marsden as King Edward
Idina Menzel as Nancy Tremaine
Maya Rudolph as Malvina Monroe
Gabriella Baldacchino as Morgan Philip
Disenchanted Review: Spoiler Warnings
We understand that due to the recent release of both Disney+ and Disenchanted, many may not have gotten the time to see the film just yet and therefore we will keep our review, for the most part, free from spoilers. We will instead focus our review of Disenchanted on the continuation, overall direction, pacing, and premise of the story, it's standing as a musical as well, and lastly the acting and visual appeal of the film. 
The Fairytale Meta Tables Have Turned
The premise of the first film, Enchanted was successful due to the hybrid quality and use of a very interesting manner of telling a very stereotypical fairytale story. We were pleasantly surprised with how the first film gave us a very unique direction of creating a musical comedy fairytale film and not trying hard to fight against the typical grain of movies in the same genre sphere but rather rode along with the current and in turn transformed into a fresh and revitalizing offering. Disenchanted tries to accomplish the same feat. It does however tend to be a bit more meta bordering on being a parody/schtick of comedic stabs at the fairytale genre and Disney princesses. There are so many resemblances and subtle references to classic Disney films like Beauty and the Beast, Cinderella, and even a little nod to The Little Mermaid's Part of Your World big finale. As I mentioned, these nods tend to lean towards being a parody; therefore, the film is hard to take seriously at times.
The tables have also turned with regard to the premise of the story. Disenchanted compared to the original film flips the entire storyline and therefore brings in the fairytale mood, vibe, and tone into the real world, villains and all. The inclusion of an internal struggle within Giselle was a nice touch and I honestly found the story to be quite interesting and surprising in terms of its execution. It's a nice surprise to see how the story unfolded the way it did, given that sequels need to have a fascinating hook to even continue on with a new chapter in the story. The themes that Disenchanted lays out are quite deep if you ponder a little more and stop to really digest it as the mindset on happily ever afters is broken. We also get to see what actually happens after the happily ever after and that's a great change of pace. We see more internal and external struggles and how our heroes cope with them and they do so in a manner that's not picture-perfect therefore leaning back into a realistic perspective. 
There's a pretty straightforward and direct direction to Disenchanted and there are therefore no added thrills or frills. It's a linear and somewhat predictable line back to happily ever after but one that manages to capture and encapsulate even the true essence of family. The film, therefore, has more going for it than just another plain, simple and boring Disney musical film. Yes, there are moments where Disenchanted goes beyond our heads in terms of its entertainment value — sometimes being corny or even over the top. Overall, however, when you look at the film as a whole, the story has some moments that are pretty decent — just don't expect an all-out spectacle.
The Sound of Forgettable-ness
Musicals have an appealing nature to them. It's not even due to the big dance sequences or choreography. One of the aspects of a musical that makes it enthralling is as simple as it may sound — the music. The songs should have a certain appeal and catchy nature whether through the deep and awe-striking lyrics or a surprisingly catchy tune. Enchanted has its moments with this department that sadly its sequel clearly misses the mark on. There aren't any real captivating tracks that will want you to go back. Okay, maybe one or two. As a whole, however, Disenchanted's songs feel forced and lazy with each one sounding almost the same as the last. 
There isn't that much variation throughout the entire movie and instead, this is where the cliche and overused nature of fairytale meets broadway kind of music kicks in. The only standout honestly was the solo song performed by Gabriella Baldacchino as Morgan Philip in the town, but that's pretty much it and it's mostly due to her surprising acting in this particular scene that caught our attention. As a whole, Disenchanted shouldn't have really gone for the musical genre direction if it wasn't willing to dish out great content and fully commit to the said route.
Another highlight of course has to be Idina Menzel who again showcases her musical ability which was just amazing to witness and hear despite its somewhat late arrival. Again, lyrically or melodically it present something that left us more to desire but it was still a much-appreciated vocal showcase.
When Reality and Fairytales Collide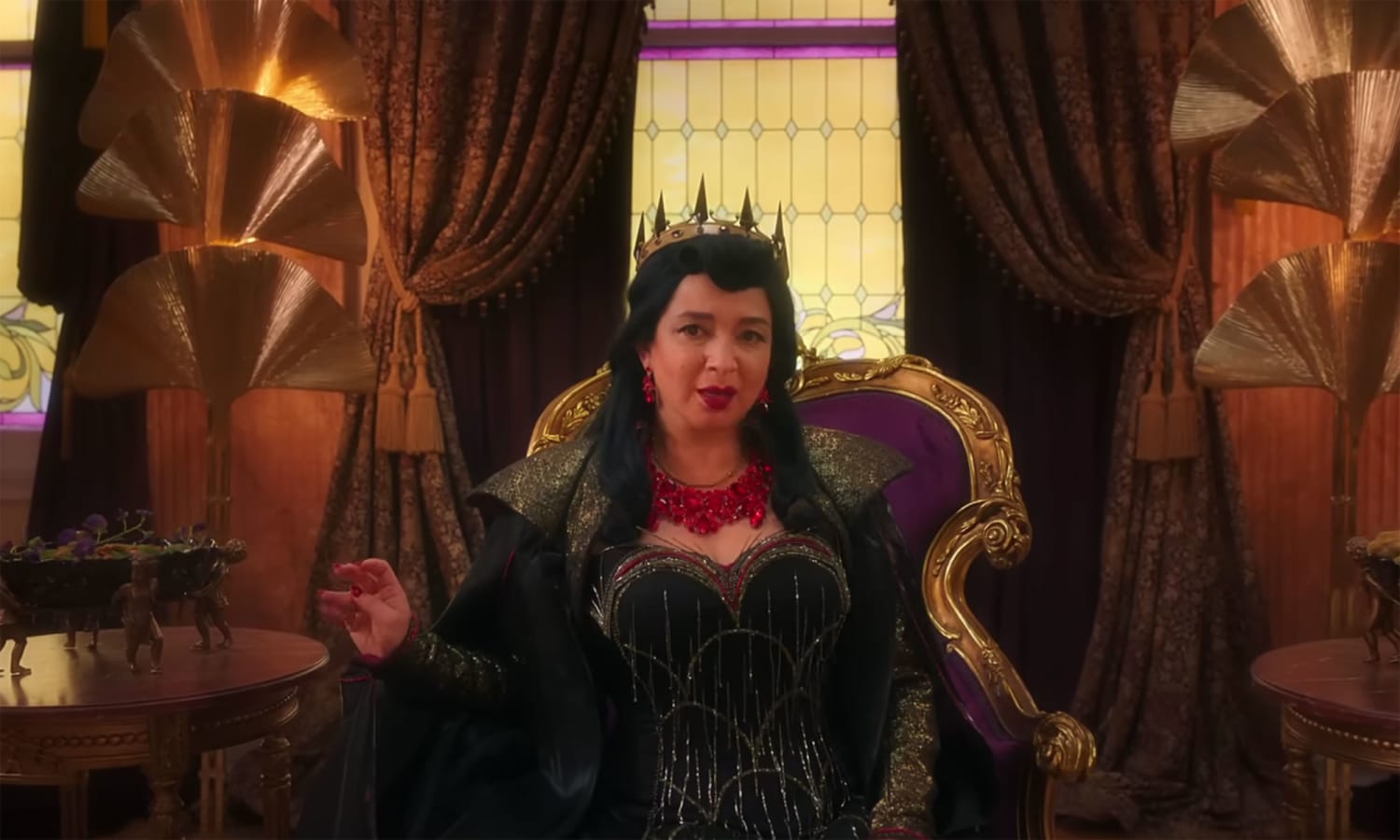 Amy Adams still showcases immense energy and charisma which many have fallen in love with during the first film. It's what even gave the actress a great and steady trajectory as a leading lady. This time around we see two sides from the actress as the role heavily required it and she is able to handle both characterization with justice and just pure talent. The spotlight was admittedly on the actress for the majority of the film and therefore caused some of the other cast members to fade into the background. Patrick Dempsey was the shocker, to be honest as his role almost felt unnecessary and inexistent. Maya Rudolph was also another example of wasted opportunities as she wasn't able to truly step into the villain role and was instead a filler more than anything.
One of the standouts however as mentioned was Gabriella Baldacchino who took over the role of Rachel Covey in the first film. There's a great handling from Baldacchino when it comes to the aloof angsty teen role which just comes off as something natural to witness. Her singing roles or parts were also pretty good and this just gave us the need to look out for this actress as the future is almost limitless for her to be quite honest.
The visual feat that Disenchanted achieved is pretty great to be quite honest as there is a very immersive quality to it and the integration once again of the animated world with the live-action world is still well done. There may have been inconsistencies here and there with some of the details but that can be overlooked. The cast, therefore, wasn't the only aspect that allowed the worlds of Andalasia and Monroeville to come to life but all the more with the special effects and visuals that allowed the film to feel like a blockbuster hit. This was a great showcase from Disney as it showed that despite not having a theatrical release, Disenchanted as a film still tried to lay it all out in pursuit of quality filmmaking and entertainment. 
Disenchanted Review: Final Verdict
Pros:
Themes on family and breaking the fairytale mindset
Standout performance: Amy Adams
This an interesting direction for the story
Good visual effects
Cons:
Music and songs are forgettable
The rest of the cast fade in the background
Hype Meter: 6/10
Disenchanted doesn't bring us back into the fairytale-infused euphoric state that the original perfectly captured. The spectacle and grandeur have been reduced into a meta-meet cliche direction but it's this very con that makes the story pretty interesting to witness. The music and songs aren't that great but we were pleasantly surprised by the visual tone that Disenchanted had set. When taken as a whole, Disenchanted, despite being a lesser offering than the OG, still has its merits as we see Amy Adams who is once again simply a joy to watch as Giselle, takes us into a whole new exciting adventure.
Watch Disenchanted now as it is available exclusively on Disney+.
For more movie reviews: