Lindsay Lohan's name is synonymous with the 90s and early 2000s, especially with her roles in the Disney hit film The Parent Trap (1993), Life-Size (2000), Get a Clue (2002), and the big-screen productions such as Freaky Friday (2003), Confessions of a Teenage Drama Queen (2004) and of course one of the most iconic contributions to pop-culture, Mean Girls (2004). Despite all the controversies and downward spirals we have gotten from Lohan over the years, her role in Hollywood as an actress is still unmatched. She returns once again, this time over at Netflix for a holiday film. Falling for Christmas is the very movie that we refer to and the very subject of this review.
Falling for Christmas Review: Synopsis
Falling for Christmas revolves around the spoiled hotel heiress, Sierra Belmont (Lohan). She has just been assigned/promoted by her father, the owner of a skiing resort in Aspen, to the position of "vice atmosphere manager"  of the hotel. Sierra seems to have it all, the money, the fame that comes from her aspiring influencer boyfriend Tad, and the hotel empire and future that has been all mapped out for her. It all changes however when Tad takes her to a remote mountain to propose when all of a sudden Sierra slips and falls down the mountain causing her to lose her memory. She wakes up at the hospital with Jake Russel, who found her and whom she bumped into earlier when he made a failed business proposal to her father. Jake then offers her a place at his bed and breakfast hotel, the Northstar Lodge as Sierra adopts the name Sarah and adjusts to everyday life while bonding with Russel and his family.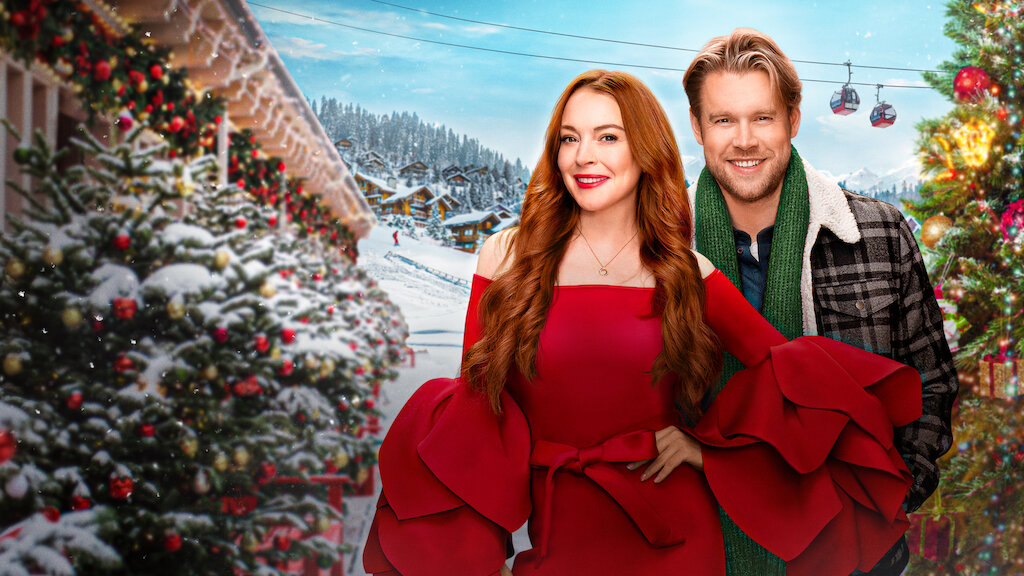 Sierra desperately tries to remember who she is but along the way discovers who she really wants to be as she grapples with the reality of choosing her comfortable life as an heiress or the simple life with Jake and his family.
Falling for Christmas Review: Overview
Below are some of the film's creators, executive producers, and notable cast members:
Director
Janeen Damian
Producers
Michael Damian
Brad Krevoy
Story by
Jeff Bonnett
Cast
Lindsay Lohan as Sierra Belmont / Sarah
Chord Overstreet as Jake Russell
George Young as Tad Fairchild
Jack Wagner as Beauregard Belmont
Olivia Perez as Avy
Alejandra Flores as Alejandra Carlisle
Falling for Christmas Review: Spoiler Warnings
We will keep this review of Falling for Christmas free from spoilers and will instead focus on the overall premise, entertainment value, acting, and visuals.
Typical Christmas-Themed Love Story
Falling for Christmas sadly doesn't bring anything new to the table, especially in the rom-com Christmas movie genre. The film is pretty straightforward and can be easily compared to the Hallmark Christmas movies that we get this time around. It's a boy meets girl tale complete with fast-tracked montages that showcase the speedy growth of a relationship. Falling for Christmas also feels like Frankenstein's monster of a rom-com as it smashes in various premises of other films that are stereotypical in nature. You have the amnesia route together with the tales of two worlds or cities' direction. The story in turn is very predictable. It's the type of movie that you know the outcome the minute it starts and are just hoping for a twist or different direction somewhere along the way — which in truth doesn't come at all.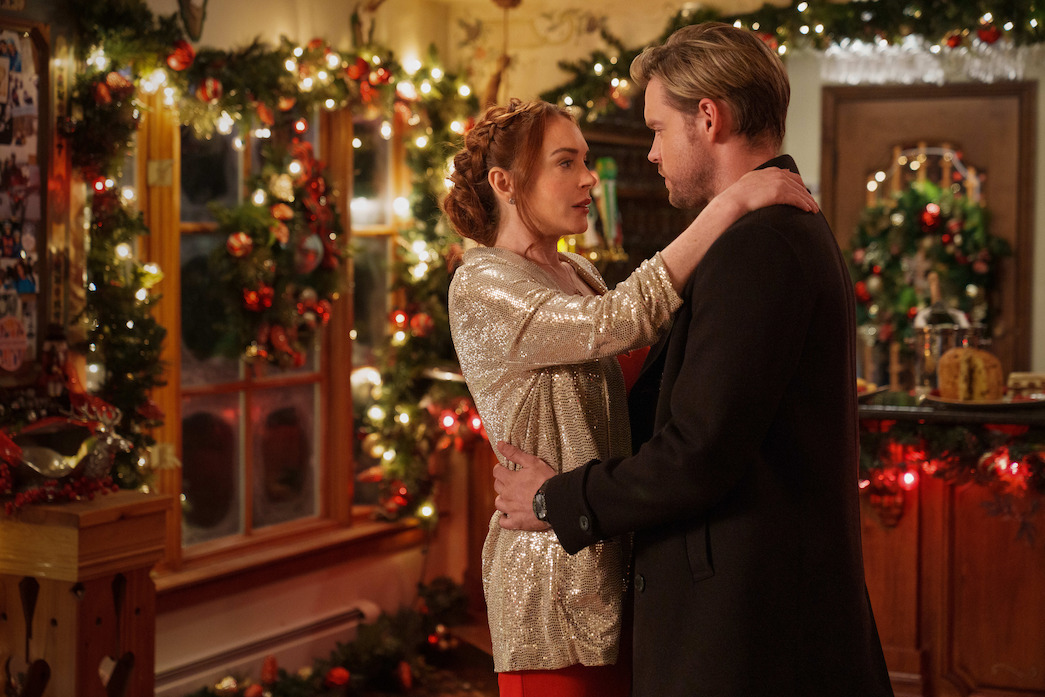 Predictability and familiarity aside, Falling for Christmas is, by all means, a feel-good story. That's one thing that it has going for it in terms of its premise. You finish the film feeling at least happy and positive about the outcome of the story. There are some cheesy and cringy moments, yes, but it also has some moments of saving grace and relevancy that allow room for the film to push you along to finish it at the least. This is again due to the fact that it is a Christmas-themed film. It's just expected and I believe the bare minimum for a film like this in the said genre to provide the spirit of cheer and festivity.
That being said, however, Falling for Christmas sadly also lacks the emotional punch to make it an all-out great rom-com. Towards the latter part of the film, right after the climactic events even, the film surprisingly unravels really quickly. The changes in character and pacing feel abrupt and therefore there was a highlight more on the development of the relationship between Sierra and Jake above anything else. The resolution towards the end was just too quick for my liking. I also found the moments with Tad trying "to survive out in the wilderness" to be very unnecessary. The character as a whole felt too cartoonish and truth be told the film could have survived or would have even been better without him. 
Acting Falling Face First
Lindsay Lohan has produced amazing performances in the past especially during her days as a teenager and as a child actor. Who can ever forget her portrayal of Annie and Hallie — two very distinct and very different characterizations in just one film, The Parent Trap? Her hits kept on coming with Means Girls and Confessions of A Teenage Drama Queen. My expectations from Lohan were admittedly high for this film. Sadly, however, those expectations were not entirely met. There were moments of highs and low for the actress for Falling for Christmas with some being appropriately done romantic moments while some felt forced and too cheesy. Lohan had her fair share of over-the-top moments especially during the first half of the film while some moments were quite believable and subtle enough to work. She shined the most with her chemistry with Chord Overstreet whose growth in the acting front has been extremely tremendous.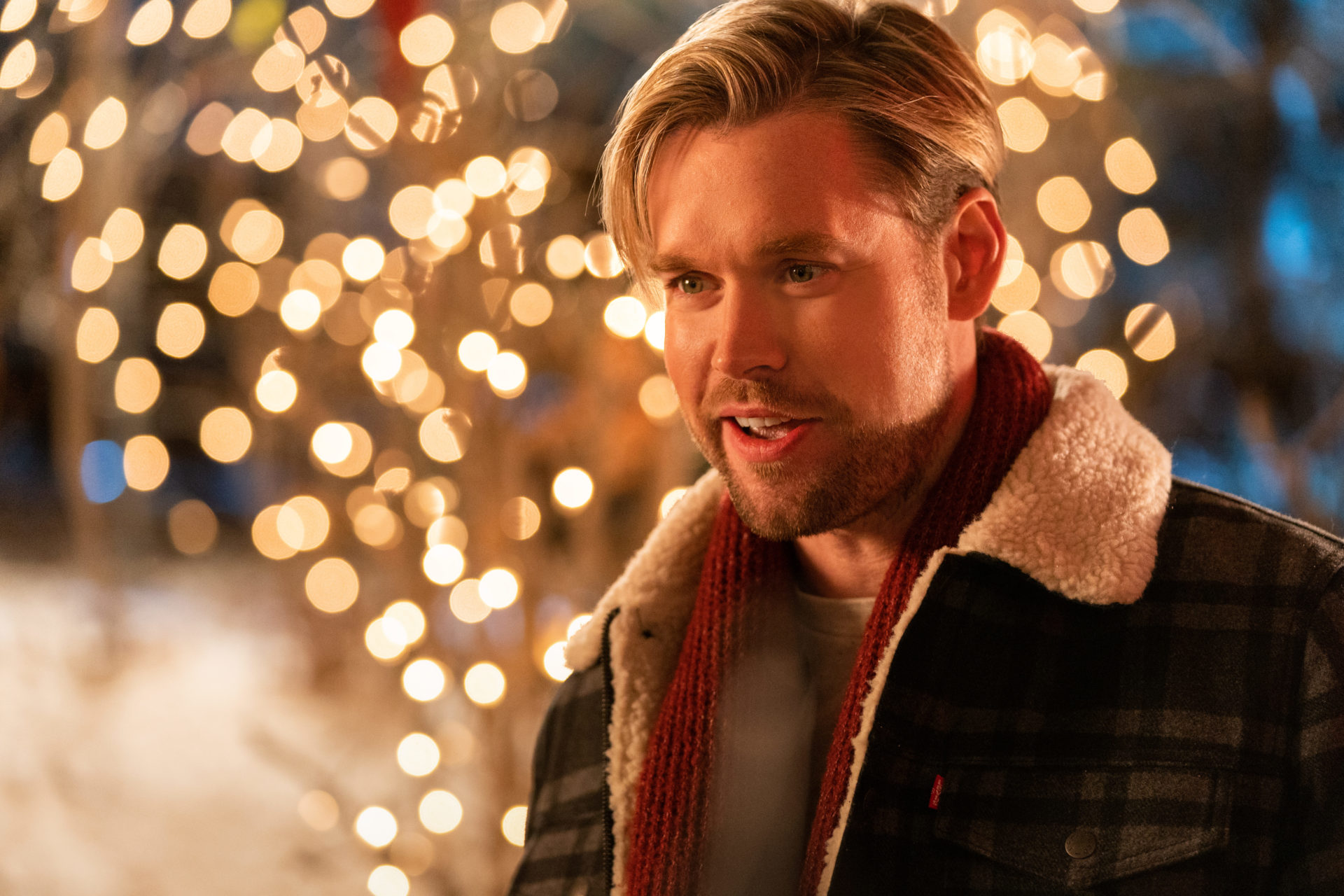 Chord Overstreet is a guy that may be very familiar when you first see him in Falling for Christmas. The reason for such familiarity is because of his role in the musical series Glee as Sam. Since his stint in the said show, Overstreet has improved leaps and bounds in his acting style as his role in Falling for Christmas showed range and diversity not just as a romantic counterpart to Lohan but as well as the father's direction that his role required from him. As mentioned the chemistry between the two lead stars is probably one of the highlights of this film. Admittedly it does feel abrupt and fast-paced, too fast for our liking.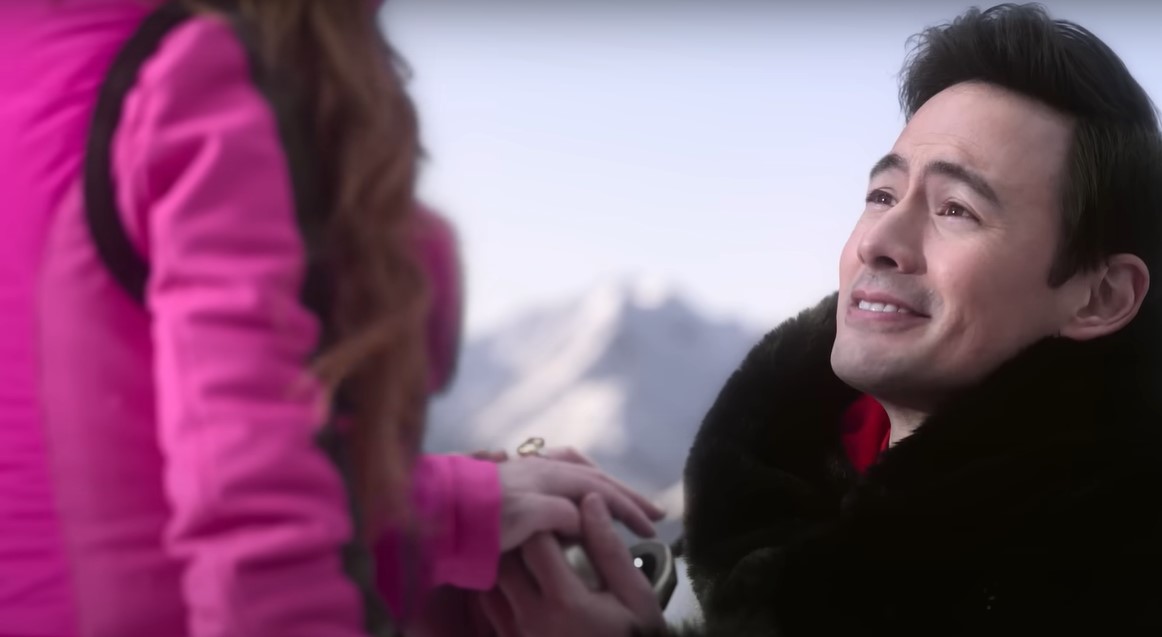 The development of the characters and overall story felt rushed but it also didn't feel like it needed a longer running time either. There's just a rushed state to it all but we were pretty satisfied with how it all ended. As mentioned the cast as a whole had its fair share of ups and downs with Lohan and even Overstreet having moments that fell flat. There were some cast members however that didn't contribute much to the film except bringing in disastrous results. An example of such a performance was that of George Young as the aforementioned Tad Fairchild whose overacting was just cringy from start to finish. Jack Wagner as Beauregard Belmont also lacked in bringing in the flair and spice needed from the wealthy father figure role and his characterization of the hotel empire magnate was very inconsistent and confusing as he had a snobby disposition at first which quickly changed immediately towards the concluding moments of the film.
Dependency on Green-Screen?
On a quick note regarding the visuals, the film Falling for Christmas visually isn't all that appealing to be quite honest. The film's backdrop looks very technologically altered and not in a very seamless manner. It feels all to synthetic and unrealistic as "Aspen" seems like a huge green screen with CGI-altered effects that  point to a lack of attention to detail and what feels almost like a last minute attempt in trying to create something magical. In the end, it fails to provide any magic as the winter wonderland feels a little too fake to be honest.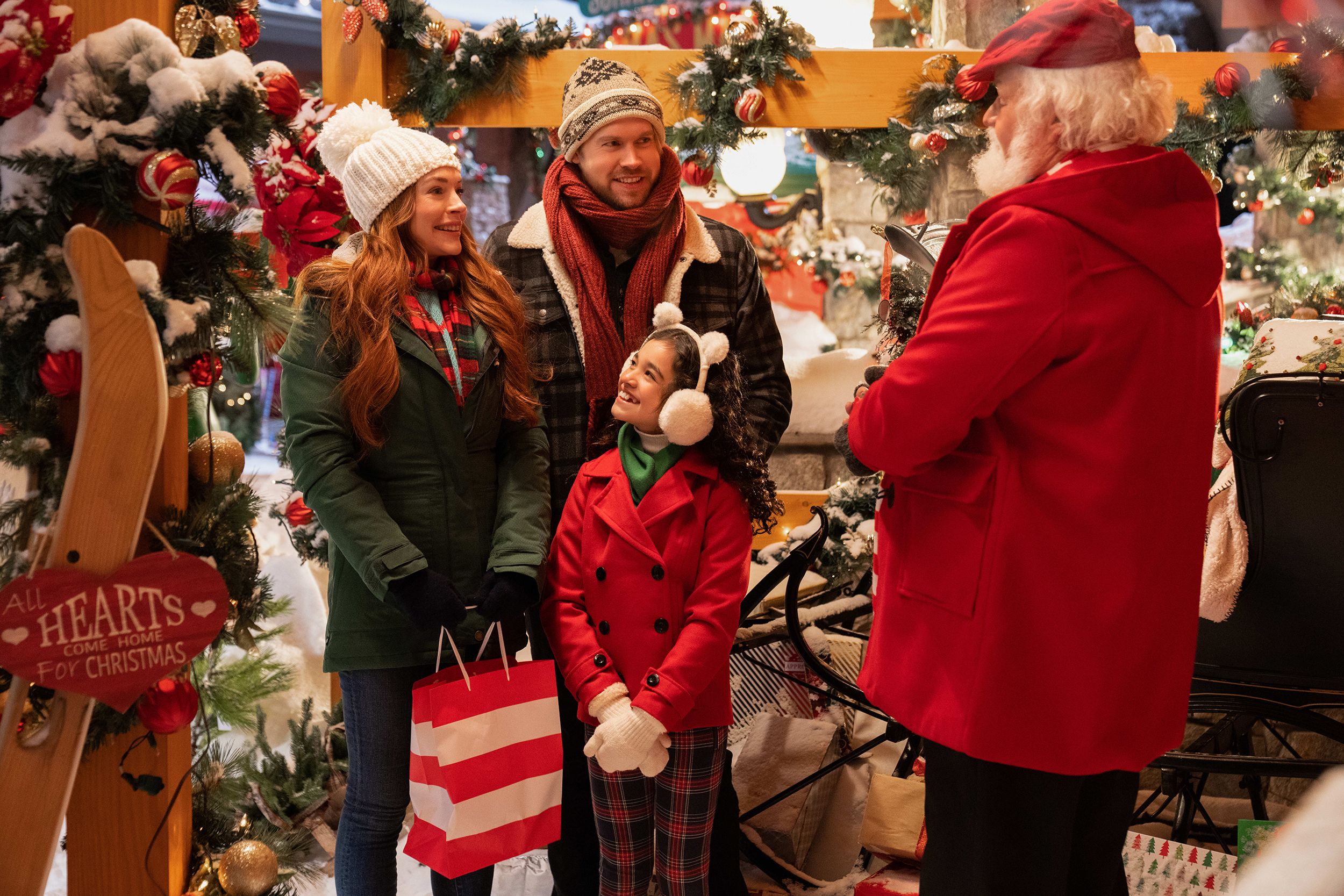 Speaking of magic, the film tries to ride on magical themes as well such as Santa and the concept of wishes and hope. It's a bit to cliche for my liking and again leaves more to be wanted from. These moments actually feel a bit forced and confusing which again seems to be the overall theme of everything that's wrong with this film.
Falling for Christmas Review: Final Verdict
Pros:
Feel-good story
The chemistry between Lohan and Overstreet
Cons:
Overacting and underwhelming performances from some of the cast members
Inconsistent pacing, direction, and acting
Nothing new story-wise
Hype Meter: 4/10
Falling for Christmas doesn't really bring anything new to the table as a Christmas-themed flick or as a rom-com offering. It is still however a fun feel-good offering nonetheless despite having inconsistencies in the plot, acting, and visuals front. The positive points in the story and the chemistry between the focal love tandem, however, are not enough to save this holiday flick, and instead Falling for Christmas as the title suggests falls into the forgettable pile. 
Falling for Christmas is available now on Netflix.
For more movie reviews: