There is admittedly an abundance of young adult TV shows nowadays from Pretty Little Liars: Original Sin to Wednesday. The first season of One of Us Is Lying kicked things off with a bang by giving us a high school clique collide show that was honestly fresh and inviting to see but will season two continue the success of its predecessor or will it crumble due to the pressure? Our review of One of Us is Lying S2 aims to answer this very question.
One of Us Is Lying S2 Review: Season 1 Recap
(Season 1 Spoilers Up Ahead) One of Us is Lying is based on the novel series of the same name by Karen M. McManus. Season 1 in particular revolves around four students from Bayview High —  Addy, Cooper, Bronwyn, and Nate. The four are given detention together with a fifth student, Simon who is known for starting an online gossip group with his friend Janae to snitch on his classmates. During detention, Simon suffers a sudden and fatal allergic reaction, and given that each of the four students had the motive to kill Simon are thrown into the court of public opinion as Simon's death is deemed to be murder and not an accident. An investigation ensues with the four trying to figure out for themselves what had happened before they themselves are wrongfully accused. 
The first season ends with the four discovering that Addy's boyfriend Jake was in cahoots with Simon in faking his "suicide" in order to get back at Addy for cheating on him. Eventually Jake decides to kill Simon by stealing the Epipens that would be the only way to save him. Jake holds Addy at gunpoint and chases her into the woods but eventually, Addy would get the upper hand and shoots Jake herself. Two weeks later, the news is reported Jake ran away but Vanessa and many others remain skeptical. At school, Addy, Cooper, Bronwyn, Nate, and Janae who is now part of the group as well, receive text messages from a user named "Simon Says" who knows they killed Jake.
One of Us Is Lying S2 Review: Synopsis
Season 2 of One of Us is Lying directly continues from where the first season left us with the five students, now referred to as Murder Club, frantically meeting regarding the texts that they received from Simon Says. Throughout the entire second season, The Murder Club is haunted and threatened by this mysterious assailant who asks the group to perform a variety of tasks as failure to do so will result in the revelation of their dark secret involving Jake. To make matters worst, there are students led by Vanessa and the police who are on the group's tail. The Murder Club must therefore unravel the truth before it's too late.
[hfcm id="9"] [hfcm id="14"] [hfcm id="20"] [hfcm id="24"]
One of Us Is Lying S2 Review: Overview
Below are some of the film's creators, executive producers, and notable cast members:
Developed by:
Erica Saleh
Distributed by:
NBC Universal Syndication Studios
Produced by:
Jennifer Morrison
Erica Saleh
John Sacchi
Matt Groesch
Darío Madrona
Cast
Annalisa Cochrane as Addy Prentiss
Chibuikem Uche as Cooper Clay
Marianly Tejada as Bronwyn Rojas
Cooper van Grootel as Nate Macauley
Jessica McLeod as Janae Matthews
Melissa Collazo as Maeve Rojas
Sara Thompson as Vanessa Clark
Alimi Ballard as Kevin Clay
One of Us Is Lying S2 Review: Spoiler Warnings
We will limit our discussion of One of Us is Lying S2 in this review to the continuity of the show, the premise of the second season as a whole, and the themes that the plot dives into.
A Mishmash of Various Tales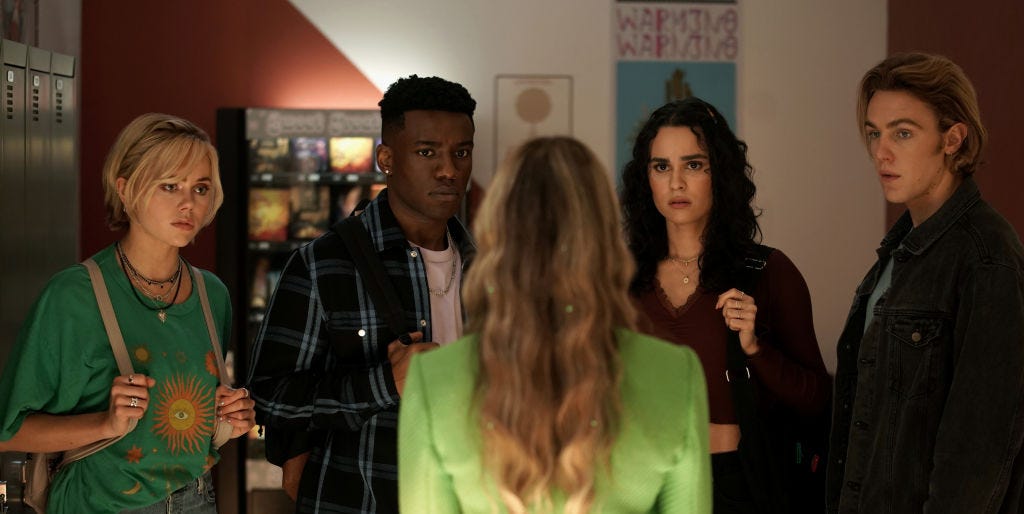 How to Get Away with Murder, Pretty Little Liars, Gossip Girl, The Breakfast Club, and Outer Banks. These are just some of the shows and films that come to my mind as I watch season 2 of One of Us is Lying. While the first season really gave off murder-centric Breakfast Club vibes with a variety of cliques and stereotypes coming together, this season gave us more familiar elements from other modern and current shows. The whole Simon Says elements bring a lot of resemblances from Pretty Little Liars and Gossip Girl. Therefore this season wasn't really the best when compared to the first. It's just too cliche now given the more modern and current direction that it took on. This is also a season that boasts an original story as it isn't really based on the novel anymore — the plot in the book pretty much ended with the first season. Therefore the showrunners seemed to have been forced to reinvent and come up with a new plot and direction which didn't really pay off.
There is a familiarity to this season that sadly has taken away a lot from what the original season and story offered. This being said, One of Us is Lying Season 2 has the capability nonetheless to create a very interesting plot and direction by keeping the mystery consistent. The show is thrilling for the most with a few predictability elements here and there. Each episode ends in a cliffhanger format which makes the entire season interesting and fun to consume even in one sitting. I must, however, reiterate the overall familiar quality of this season which to be honest was one of the show's biggest drawbacks.
No Sub-plot Put to Waste
One of the moments or aspects of this show that serves as redemption for the show is the continuity. Every aspect and character of the series from the first season has a purpose. One of the interesting aspects even of this show is the fact that a variety of characters get to take the center stage as well. One of the best examples was the entire episode that followed one of the show's antagonists — Vanessa. It kept the show engaging as it allowed variety in the story which kept the pacing and flow alive and moving. It was great to see the story expand in such a way that even allowed background characters to take the reigns of the show. The plot direction may have been a bit too fast, cheesy, and overly dramatic but it was still a nice touch that was very much welcome in adding depth to the story.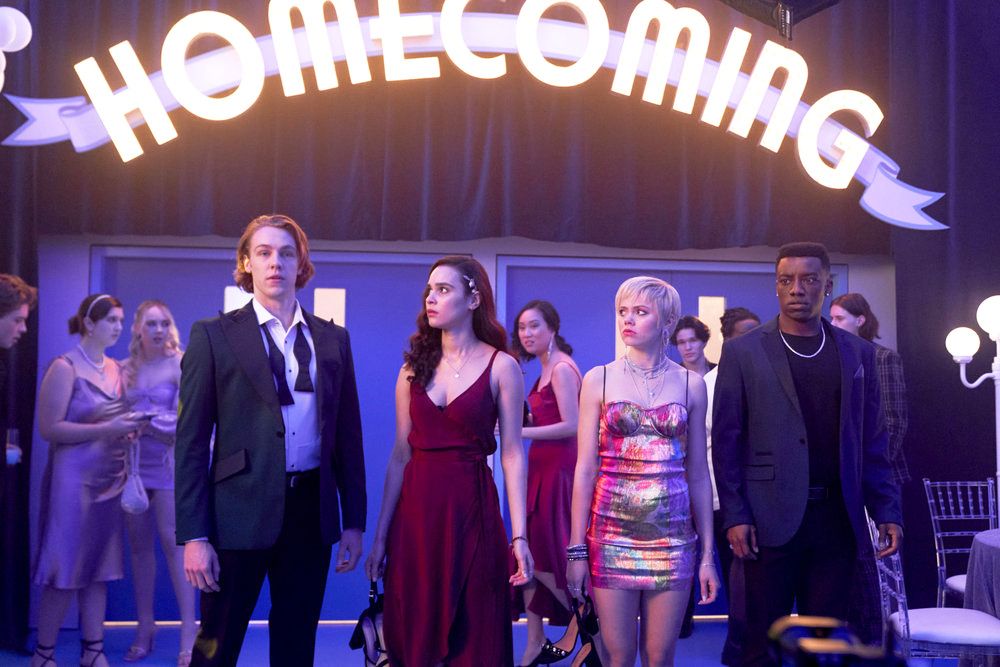 The themes that were set in the first season were again seen but it was also great that the show tackled more depth in mental health issues although it was still lacking that much-needed authority to really take hold. The show for continuity's sake allowed more room for a variety of characters to really have their story told this time around although there was still some information that was still disclosed that may pop up in future seasons. We get to see villains of antagonists whose stories and motives are clearly explained which adds a lot of character to the story. They aren't just doing these games and ploys for the sheer fun of it all but there's a really deep-seated motive that is refreshing to witness. This is what I mean by no sub-plot or even character being put to waste. One of Us is Lying takes its time in ensuring that all sides of the story are truly told and it takes a lot of boldness to do so without placing any unnecessary plot or prolonging the agony or running time. It proves to be all worth it by the time the last episode kicks and while ensuring each episode's own solid pacing.
Lastly, the chemistry of the cast must be discussed. It's just close to perfect. The Murder Club absolutely complements each other in a way that allows a variety of different personalities to truly shine. The addition of Janae in the group adds a certain amount of complexity and diversity with her goofball and unpredictable nature which works well with Maeve's bigger role in this season as well. The standout for this season has to be Annalisa Cochrane as Addy who brings in a very powerful "the mighty has fallen" portrayal of the popular girl gone dark. While Bronwyn clearly takes a step back in this season, her on-screen chemistry with the bad boy Nate seemed to be the spotlight for the characters which was somehow a bit too much at times.
One of Us Is Lying S2 Review: Final Verdict
Pros:
Chemistry of the central cast
Themes on mental health
The continuity background stories for all the characters
Cons:
Familiar young adult thriller premise
The slight predictability of the plot
Nothing all that new is added or introduced story-wise

Hype Meter: 7/10
As seen in our review, One of Us Is Lying S2 doesn't offer anything new or innovative. It isn't an improvement from the first season which was already great to be honest, therefore the bar was truly set pretty high. Despite the familiar storyline and mishmash of other stories such as those from Pretty Little Liars, Riverdale, and How to Get Away with Murder, just to name a few, the story of One of Us Is Lying is still pretty fun and entertaining. Only time will tell however how the story will continue to grow and go on from here on out.
You can still catch One of Us Is Lying S2 now on Netflix.
For more TV Show Reviews: