There are so many streaming platforms available today that it seems to be difficult to keep up at times. With the success of Netflix and the arrival of Disney+ in the Philippines, it becomes easy to ignore platforms such as Apple TV+ which may offer movie or TV show gems. This is exactly what we are trying to uncover with the aforementioned platform's newest exclusive blockbuster hit, Spirited, as we review the film here at This is Hype Ph to find out if this is a film that should be on your watch list.
Spirited Review: Synopsis
This film is a modern-day reimagining of the classic Charles Dickens's 1843 novella, A Christmas Carol as we are given a peek into how the hauntings of the ghosts of Christmas Past, Present, and Future work. It's all one big production — a musical event. Jacob Marley is the big honcho of a team of afterlife spirits who help the three ghosts to find and redeem souls by staging productions of hauntings just like the ones we have come to know from A Christmas Carol and Ebenezer Scrooge.
The newest target goes by the name of Clint Briggs, a media consultant with a reputation for stirring up controversy. Despite Marley's insistence that Clint is "unredeemable", Present is hell-bent on changing Briggs, and thus, a year's worth of investigating and planning ensues just in time for Christmas for Briggs' time of haunting. The task however doesn't come easy as Marley had already assumed as Briggs does showcase an unrelenting and seemingly irrevocable heart of selfishness and inability and disdain to change his ways. Nothing seems to work. But Present is also as relentless as the latter as he tries to do everything in his power to change his newest project. 
Along the way, however, The Ghost of Christmas Present must also battle with his inner demons as he and Clint discover more about themselves and about each other. What then ensues for both characters is a journey of self-realization and internal struggles that all stem from a desire and need for change.
[hfcm id="9"] [hfcm id="14"] [hfcm id="20"] [hfcm id="24"]
Spirited Review: Overview
Below are some of the film's creators, executive producers, and notable cast members:
Director:
Sean Anders
Producers:
Sean Anders
John Morris
David Koplan
George Dewey
Will Ferrell
Jessica Elbaum
Cast
Will Ferrell as Ebenezer Scrooge/Ghost of Christmas Present
Ryan Reynolds as Clint Briggs
Octavia Spencer as Kimberly
Sunita Mani as Bonnie/The Ghost of Christmas Past
Patrick Page as Jacob Marley
Marlow Barkley as Wren/Young Carrie
Tracy Morgan as the voice of Yet to Come
Spirited Review: Spoiler Warnings
Our review of Spirited will focus solely on the acting, musical numbers, and direction of the story — in order to preserve your viewing experience of the film.
Another Typical Reynolds Film?
I've said this in a previous Ryan Reynold film — we have gotten a bit too much of the typical sarcastic humor from the actor. Yes, it was funny and exciting to watch at first with the likes of Deadpool and The Proposal but as time went by it reached a huge big unmovable wall. I have honestly gotten tired of seeing the familiar and usual stint from the actor. I was heading into watching Spirited with this very thought at the back of my mind. Will we be getting the usual comedic antics that have admittedly gotten to be a bit too stale, bland, boring, and repetitive? The answer surprisingly is not as easy as black and white.
There are moments when we get the usual sarcastic vibes. Understandably so. We can't really change it, to be honest. Neither can Reynolds — even if he tried or wanted to. It's just who he is and we love him for it nonetheless. This is also what the character of Clint Briggs requires from the actor which is probably why Reynolds was cast for the said role, to begin with. His role in this film however wasn't too overbearing as a whole. There are moments when the film dives into a cheesy cringe-fest, but more on that later. I chose to start this review by talking about the cast however because I must admit that I simply adored the pairing and casting of Reynolds and Ferrell. These two comedic icons are just a match made in heaven. The chemistry and atmosphere that both actors create are just splendid to see. This is probably why Ryan Reynolds was able to step away from the typical roles and style that he usually brings to the table because Ferrell compliments it so perfectly. And it's not just a Reynolds and Ferrell-centric film either as the entire ensemble cast adds and uplifts the entire film by steering in the right direction.
Therefore to answer the question posted in this subheading — no. This isn't your typical Ryan Reynold flick. There isn't anything typical about it, to be honest. It's not a plain, simple, and boring Christmas film. It's not your typical retelling of A Christmas Carol either. There's a fresh perspective that Spirited brings about that does cause our spirits to be lifted (no pun intended). It's a fun Christmas film that perfectly combines all the elements and aspects of the holiday season that we could want and hope for.
Do We Really Need Another Christmas Carol Story?
Spirited as mentioned revolves its premise around the beloved tale of A Christmas Carol. There are some clear positive and negative points that have surfaced with this reimagining that's for sure. Let's start with the creative direction that Spirited tackles. The story takes place centuries after the first haunting with Scrooge and we see the production/backend side of the hauntings that take place. This is a very interesting and unique premise, to be honest as it takes what we already have come to know regarding the story to give it a modern and relevant twist. This alone is very interesting to witness though it may also send cringy tingles down the spines of those who love the original and the work of Dickinson. We were however pleased by the outcome as the story in itself is very intriguing, to begin with. The film also takes a stab at creating valuable twists which honestly poses a fifty-fifty chance of actually being surprising but the execution of such a plot point was, as we found it, quite interesting. It's not a completely jaw-dropping moment but it adds a nice little cutesy and quaint touch to the story.
One of the biggest downsides to the story however is its tendency to lean on being a tad bit goofy and wacky. A little too much for my liking to be quite honest. There were moments that felt forced and unnecessary — killing time more than bringing in any form of substance. This honestly didn't come as a surprise given that this is what Ferrell is quite known for in terms of his comedic style. It's not far from the norm of comedic antics as there is some goofy nature to it even down to the songs that seem to be written specifically for this movie alone (more on this in a bit). It's quite confusing to be honest if this is solely a negative aspect of the film as there are some moments that work but for the most part, I would have to say that it's not entirely as funny through and through. There are some punchlines that are far from funny and end up just falling flat on the floor.
Musical Gone Wrong
Overall, however, the production quality is pretty spot-on. There's a nice musical vibe for the most part but as mentioned there is a cheesy and overdone manner. There are tracks that are made that feel like they were created for the sole purpose of eliciting laughs but they don't really achieve such an effect. A good example is a song that is performed mid-way in the film as Clint is brought back to the past of Christmas Past himself. "Good Afternoon" is an attempt to create a very typical musical track complete with a forced British accent from Reynolds that seems to be a stab at Mary Poppins. It's well put together melodically but the content itself isn't as great.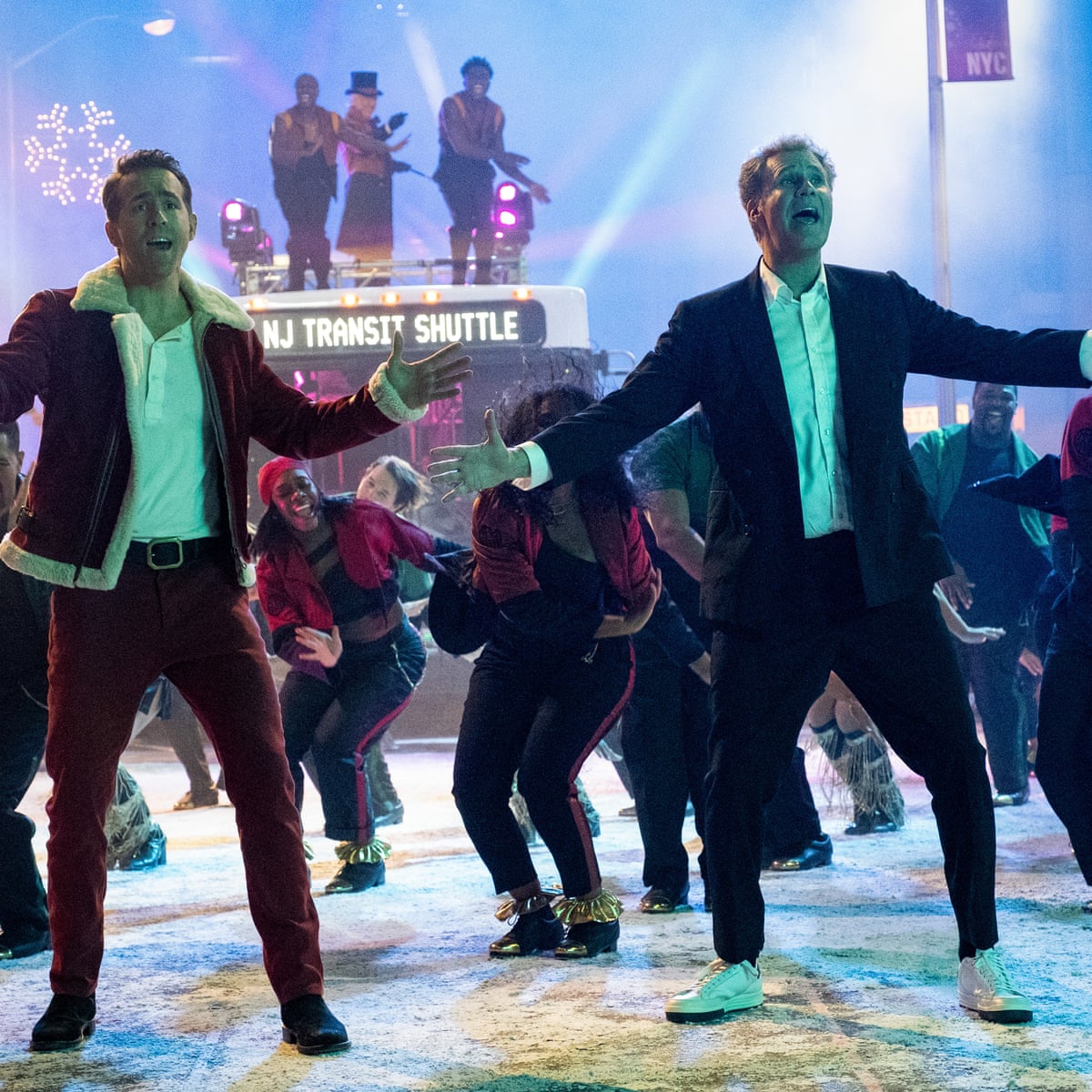 Spirited tries to put together a multitude of musical cliches and formats that work to a certain degree. There are ballad monologues and fun quirky exchanges with great instrumental productions that mix in a variety of Broadway genres and tunes which manage to highlight the voices of Ferrell and Reynolds. It was actually surprising to witness their musical talent despite a few inconsistencies in pitch. There are some tracks that are worth a listen to a second time, to be honest, such as "Unredeemable", "Do A Little Good", and "Ripple (Cut Song)" which play as the credits role. So as a whole there's just an inconsistent vibe to the musical aspect but if you take it into perspective, Spirited isn't trying to be an all-out Broadway fest or to be a film that stands toe-to-toe to The Greatest Showman. It embraces the wacky and goofiness of it all to deliver something that exudes a worthwhile entertaining treat for the holidays.
There's a meta meets parody treatment to the musical genre that Spirited tries to accomplish and at certain points, it works. It feels like a broadway play in a film version complete with peeks at the backend production. There are several puns and easter eggs even that touch on a variety of pop culture references such as Judi Dench and Ferrell's Christmas hit film, Elf. The film tries to recreate the same atmosphere as the latter but again it fails as a whole. It's still a fun little film don't get me wrong but the longer it treads, the longer it shows the cracks in its inception and execution. 
Spirited Review: Final Verdict
Pros:
The chemistry of Ryan Reynolds and Will Ferrell
A fresh take on A Christmas Carol
An overall feel-good premise, tone and direction
Cons:
Some of the performances were underwhelming and pitchy
Overuse of "meta" musical cliches
There are unnecessary, goofy, and cheesy scenes and moments

Hype Meter: 6/10
As seen in our review, Spirited is goofy and wacky at times but it fully embraces its role as a comedic Christmas reimagining of a classic Dickinson's tale. It's a film that fully understands its identity. It may not be for everyone but I personally found it to be very entertaining. Is it a Christmas classic? Maybe not. It's still a fun ride nonetheless. Not the best we've seen when it comes to Christmas films or musicals but it's still a very decent watch. If anything however, Spirited does remind us to keep our eyes on Apple TV+ as a worthy contender for dishing out pretty good content.
You can watch Spirited now on Apple TV+.
For more movie reviews: