Filipino films feel to have been sucked into a deep vortex of rom-coms, to be honest. I wouldn't necessarily consider it to be an entirely negative attribute because at the end of the day, who doesn't like a really well-done rom-com? It's the oversaturated nature of the genre that has gotten to be a bit too formulaic at times all the more expressed by our obsession with love teams on and off the screen. The latest offering comes in the form of a flick from a love team that I feel is quite new to the game but one that I found to be quite promising — Donny Pangilinan and Belle Mariano in their new film, An Inconvenient Love, the focal point of this review.
An Inconvenient Love Review: Synopsis
Ayef has big dreams and so does Manny. Ayef plans to be the best and youngest Filipino animator in Singapore but in the meantime works in a convenience store to make ends as she finishes school. Manny, on the other hand, dreams of stepping out of his father's shadow while opening his own business selling plants. Manny has a rebellious side, especially when it comes to injustices done by his own father. He joins a rally one day and during a near escape from the cops bumps into Ayef in a small alleyway. What then follows is a budding closeness between the two which then turns into a "contract" that allows the two to get into a consensual relationship that will last as long as both still find it mutually convenient. To top it all off their relationship has an expiration date set on October 4 — Ayef's date of departure should she get accepted for her job in Singapore. Everything seems to be going according to plan but will Ayef and Manny really have everything they wanted with this setup all done for the sake of convenience.  
An Inconvenient Love Review: Overview
Below are some of the film's creators, executive producers, and notable cast members:
Directed by:
Petersen Vargas
Written by:
Daisy Cayanan
Enrico Santos
Cast
Donny Pangilinan as Manny
Belle Mariano as Ayef
Matet De Leon as Terry
Jeffrey Quizon as Filemon
JC Alcantara as Dobs
Adrian Lindayag as Jobert
Iana Bernardez as Kookie
Tirso Cruz III as Wilfredo Siena
An Inconvenient Love Review: Spoiler Warnings
Our review of An Inconvenient Love will for the most part be free from spoilers as we will limit our discussion to the acting/chemistry of the main cast, the premise and script, and finally the visual impact of the film.
[hfcm id="9"] [hfcm id="14"] [hfcm id="20"] [hfcm id="24"]
A New OTP (One True Pairing)?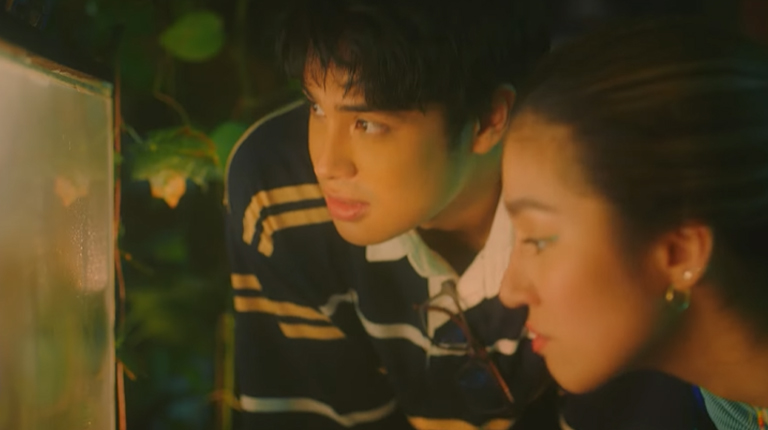 As mentioned in my introductory statement, Philippine cinema is very saturated with love teams and romantic storylines. The tandem of Pangilinan and Mariano isn't all that new to the game but I do believe their new to the race. Due to what I saw with this film, they are easily up at the top of the list in my book. Their chemistry in An Inconvenient Love is just too good to eat up. There's a relatability to it and an authentic element that is seen for the majority of the film. The way they look at each other down to the inability to hold their "kilig" looks are very natural. There aren't that many moments that feel all that forced. That doesn't go on to say that there aren't any cringy moments. There are trust me. But that goes probably towards the youthfulness and age factor of the two actors. As a whole, their tandem is definitely one to look out for. 
As mentioned there are moments that do feel cringy and forced. The "kilig" moments that the film portrays at times can tend to be too much and yes also unnatural at times. I even recall the "143" scenes to be a good example, although there was also one moment in this segment that was very witty and well executed. It's moments like these however that keep audiences seated with mixed emotions that simultaneously want the scene to end while also rooting for the couple as well. Again there is a youthfulness to the film that resembles the earlier days of LizQuen or the Bernardo-Padilla tandem. There's the positivity within me that these will find their groove and maturity along the way but as it stands they are already heading in the right direction.
A Story With Positive Inconvenience
There are highs and lows with the acting but there are two components to this film that I felt lifted it all to a pretty great watch — the script writing and visuals. Let me focus on the script and overall premise first. The premise of the story seems very familiar to be honest. I am reminded of a Netflix film and novel — Hello, Goodbye and Everything in Between — that revolves around the expiration date element in the story. An Inconvenient Love, therefore, feels oddly familiar. It has that deja vu-inducing feeling of being a mishmash of a variety of rom-com tropes from love at first sight, and stalking of social media accounts, down to the cheesy fast-forward montages that ensue. The film even creates a dark and gloomy story for our main characters in light of their given family backgrounds. The story, therefore, sticks to the norm of traditional films and is again very familiar.
What I do love about An Inconvenient Love however is the play on convenience. The utilization of a convenience store is very obvious and given to supplement the story but as a symbol, it actually works. Our characters often find themselves in a place of convenience. A place where everything is accessible, easy, and on the go. This is pretty much the composition of their relationship as well. It even boils down to a contract written down on the back of a receipt. Every single aspect of their love story is all about accountability, consent, and comfort. The way the story is written is therefore very promising and intriguing. There's a very artistic handle in conveying the message that is very profound while at the same time being very direct, straight to the point and obvious. I also love how the latter parts of the film connect the desire for convenience from our main characters as the film mirrors brilliantly the impact of the parents on their kids. There's that family and generational aspect which while being a bit cliche in Filipino rom-coms, is still very much an essence and reflection of our values as a people.
Moreover, the scriptwriting for the dialogue is very impressive. Cheesy pick-up lines aside, the confrontation towards the climax of the story was unexpected in a very brilliant way. There are just a million jabs and uppercuts of emotional impact which are paired beautifully with spot-on acting. The lines in this scene are just phenomenal as it really uncovers the depth and magnitude of what An Inconvenient Love is trying to portray. It takes just this one moment to flip the film on its head from being just another sap fest into a film with lots of depth and meaning. It uncovers a lot about why convenient love cannot exist. The exchange between Manny and Ayef is just heart-wrenchingly good and very timely for viewers of various generations. An Inconvenient Love teaches a morally-rich plot on the truth behind what love really is like in its raw and unfiltered form. It provides a happy ending while simultaneously reminding viewers that true love isn't just all about that. Happily ever afters isn't the end game as this film shows — it's choosing love and growing together both in the happy and not-so-happy moments.
An Indie-like Visual Treatment
The visual direction of An Inconvenient Love is pretty much astonishing. There's this indie feel to it with a great mixture of vibrant, dark, and almost neon-like colors that combine and work so well with each other. The best part about it is that it remains consistent for the majority of the film. There's this haze-like vibe during the daytime but the scenes that are shot with the nighttime backdrop are where the true magic lies. The visual appeal of it all helps in bringing out more from the story as it's a great compliment to the overall mood and tone that the film sets. 
This visual treatment honestly sets the film apart as it has a different atmosphere altogether. It doesn't have the typical color grading and camera panning that a mainstream Filipino rom-com usually has. Pair this with the great choices in the soundtrack as well and what we get is a movie that is reminiscent of Vince and Kath and James. There's an upbeat feel to the overall visual and auditory experience which also changes gradually as the film progresses. My only comment on the visual front would be the out-of-place transitions for the fast-forward montage scenes which didn't really feel in tune with the rest of the visual decisions but that's more of an editing problem. For the most part even, An Inconvenient Love has a lot of great moments in ensuring a holistic cinematic experience even for a rom-com film. It just feels like a totally different experience altogether watching this particular movie on the big screen.  
An Inconvenient Love Review: Final Verdict
Pros:
Brilliantly written emotional script with beautifully-ladened symbolisms
Standout performances and chemistry of Pangilinan and Mariano
Consistent indie-like visuals and color grading
Cons:
Some of the romance scenes tend to be a bit cheesy
There are some cringy and over-the-top acting
A formulaic rom-com flick
Hype Meter: 8/10
As seen in our review, An Inconvenient Love has the tough challenge of trying to bring something new to the Filipino rom-com scene. In some ways it manages to do so with its surprisingly deep and relevant message and the consistent visual treatment that it adopts. The love team of Pangilinan and Mariano is just a sight to see as they have the right amount of chemistry and shine as a couple and individually in this film. The story feels derivative of other rom-com films and is therefore nothing all that new as it does contain several formulaic and stereotypical tropes in the said genre. Overall, however, An Inconvenient Love is a film that is worth your time as it delivers on providing a feel-good offering.
You can still catch An Inconvenient Love in select cinemas.
For more reviews: