Filipino films are back in cinemas and with a vengeance. Back in December of 2021, the annual Metro Manila film festival was held that celebrated Filipino filmmakers and content. Since then, however, Hollywood blockbusters have taken centerstage whilst our own original Filipino content took the backseat. That has somewhat changed starting this month with the release of Ngayon Kaya which stars Paolo Avelino and Janine Gutierrez — here's our review of this coming-of-age romance film.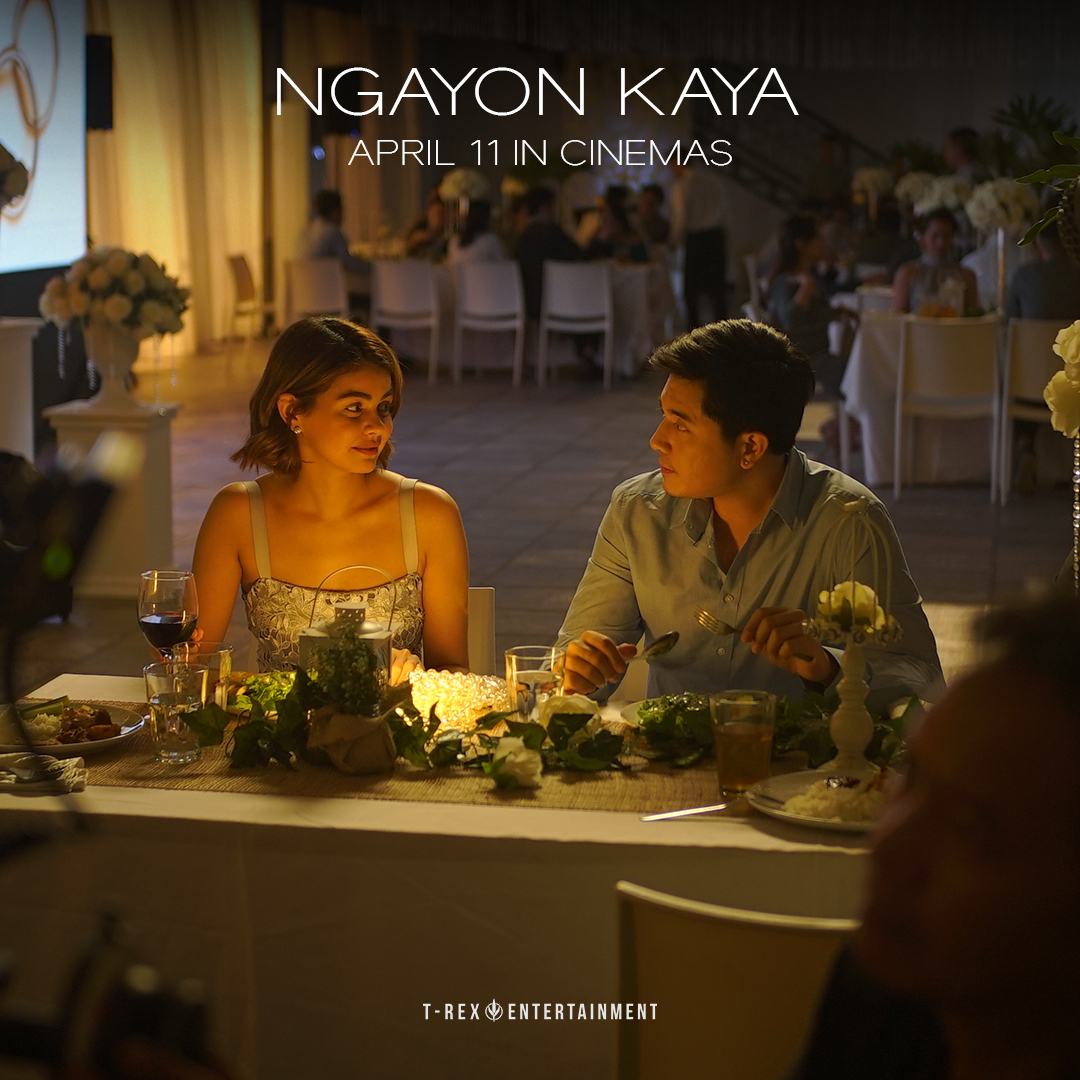 Ngayon Kaya is a film that dives into the joys, hardships, and complications of a tightly-knit friendship. In a way it tries to answer the question that has somehow been as old as time itself — can friends truly stay just friends without falling for each other? The film follows the relationship of Harold (Avelino) and AM (Gutierrez) whose story begins as early as their college years. Harold is a naive and shy probinsyano working student from Dagupan, whose life clashes with the optimistic risk-taker who is AM. The two come together primarily through their love for music as both dream to make it big in the industry but their own individual lives as well as the possibility of a budding relationship forming, pose huge obstacles.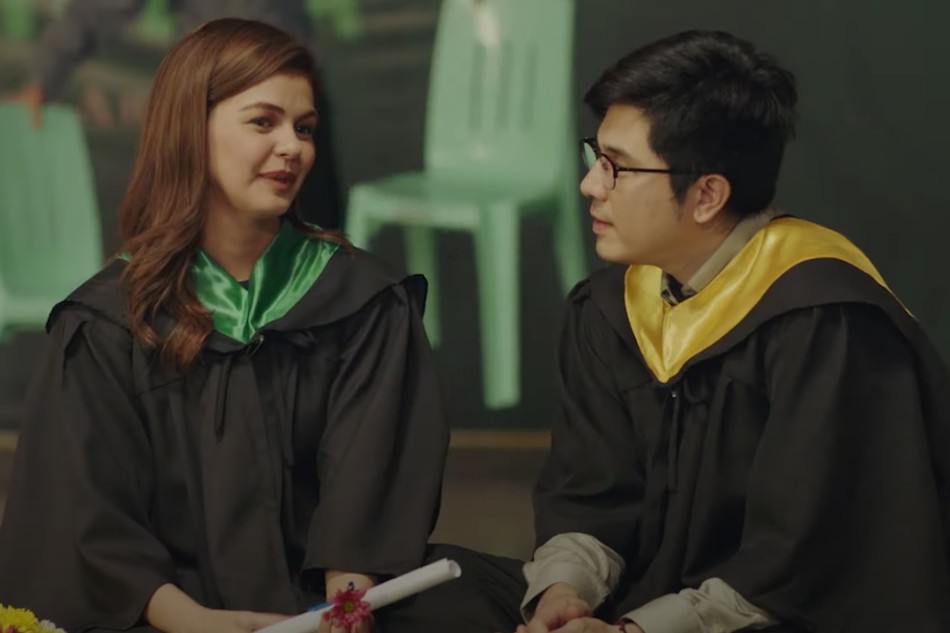 The film is directed by Prime Cruz who is known for his directorial credits in films such as Isa Pa With Feeling and Ang Manananggal sa Unit 23B. The film also stars actors and actresses such as Donna Cariaga, Alwyn Uytingco, and John James Uy, just to name a few. One of the interesting aspects of this movie however is the process and time that it took for Ngayon Kaya to be released. This film was actually stated and ready for release back in 2020. That is why when you watch the movie you will notice a setting that seems to be unaffected by the remnants of an ongoing pandemic. Gutierrez and Avelino were actually ready to go on mall tours back in 2020 but the production company of Ngayon Kaya, T-REX Entertainment, was pretty adamant that this is the type of film that must be shown and seen in the cinemas. Fast forward to two years later — here we are and now we finally get to see the final product of a film that was two years in the making.
Ngayon Kaya Review: Spoiler Warnings
In order to provide the best viewing experience possible, we will keep this review of Ngayon Kaya, free from spoilers. We will primarily focus our review on the overall impact of the story, the acting and chemistry of the principal cast, and the overall production quality of Ngayon Kaya.
Relatability Is Key
Ngayon Kaya's story is pretty straightforward. If you are expecting shocking twists that induce jaw-dropping moments then it must be said that this isn't that kind of movie. The story progresses in a seemingly simple manner as it tackles a seemingly familiar plot. The story as mentioned deals with a friendship that continues to play along the borders of being something more. The relationship between Harold and AM unfolds before our very eyes with clear indications from time to time of the blurred lines in their relationship when it comes to the back and forth game between friends and lovers which at times gets frustrating to watch. Deep down viewers may tend to scream "Get on with it already" or "Tell each other how you really feel already". It is a story that in its simplicity however paints a very relatable atmosphere. It may get repetitive to be quite frank and there at times feels like nothing really new is really brought to the table from Ngayon Kaya. There are elements to the film that are shades of other Filipino films that have come before it. It's a film that also tackles two individuals who almost have like a forbidden or polarizing type of bond due to circumstances and socio-political standings.
Ngayon Kaya also feels like a movie that has been subdivided into a variety of parts. We have the ever-growing complications of AM and Harold's relationship. The discussion of their different beliefs stands and experiences in life. We also are thrown into a back and forth timeline between the past and present which tries to paint through flashbacks the current state of their relationship and how it came crashing down to the current status that we find them in. All of these work hand in hand together despite the variety of elements and aspects that occur. It does however seem to squeeze in so many themes such as pursuits of dreams, friendships, love, and even a small stab at parallel universes. This makes the film drag its feet at a certain point as it slowly reaches its climactic portion of the film.
What makes Ngayon Kaya interesting however is the form and direction that it takes. It follows the steps of films that heavily relies on the dialogue and conversations between the characters rather than just the actual events that take place. It has similarities to films such as Mr. and Mrs. Cruz, Meet Me in St. Galen and even That Thing Called Tadhana. There is a close detail in what is both spoken and unspoken in this film. The conversations are very crucial in painting and molding the direction of the story. The things unsaid are also as powerful as this is a film that thematically relies on that concept. The very essence of this film is how both the verbal and non-verbal expressions in the terms of communication are what truly allow the story to fully take shape which in itself speaks a lot about how most relationships truly work. It's always again a combination of the spoken and unspoken that allows how certain relationships to take shape.
The Pursuit of Art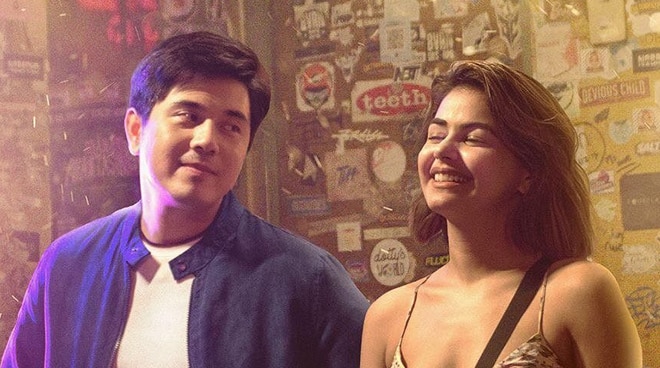 One of the main storylines in this film deals with the friends' love for music. Music therefore in this film takes the shape of another character entirely. The choices of songs, sound editing, and scoring are truly phenomenal. There is a keen attention to detail in this department as the music takes a life of its own. A few minutes into the film, when Jopay suddenly plays while Harold and AM are in the car on the way to class is as powerful of a statement as to how the scene presents itself to be. There is just another level in how the very soundtrack of the film brings the film to an almost depressing kind of story and all the more lifts up the whole film to an almost indie-like quality but in the best use of the word.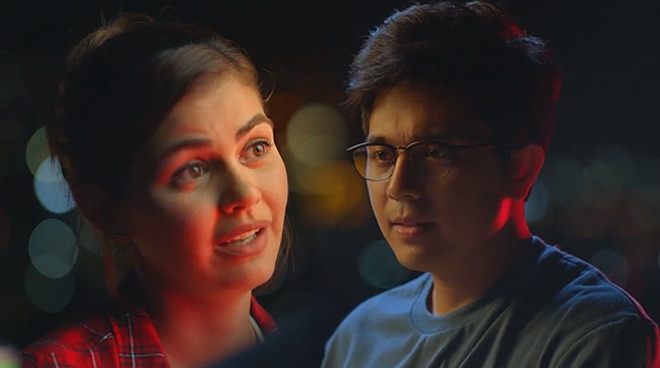 The visual experience is as much of an immersive experience as the auditory journey that we are given in Ngayon Kaya. The variety in using both close-up and long shots that create moods and tonalities for the film especially when the scenes also switch back and forth from dialogue-heavy moments to those that create a very intimate picture as well. The variety in the camera techniques is just so crisp and clean to begin with, and are also used in contrasting ways to showcase a very artistic visual direction. There is also a level of rawness to the film's cinematography where shaky almost handheld shots are incorporated that somehow help visually narrate the progression of the story and characters as the movie goes along. This is also aided by crisp and clean shots that are further enhanced with a variety of lighting techniques from darker-toned scenes such as the big musical number in the radio station to the fantastic lighting used outside the airport that added boke-like specs of light in the background.
Highlighting Chemistry
Romantic films like these have a crucial element that must come together for the movie to truly work. Chemistry. The actors must have a believable bond that audiences would just eat up. That is what Avelino and Gutierrez boast in this film. Individually the two actors shine and stand their ground. Avelino may have moments thought which I personally found to be a replica of the arrogant characterization that I have seen in his previous films — this is all the more seen during the present timeline in the film. There are moments though that he truly shines in this film that continues to show how prolific and talented he truly is by combining a variety of personas for the one character and by truly highlighting the changes that Harold goes through. Gutierrez also manages to deliver a stunning performance which personally caught my attention by pointing to the rising star quality in her simple but very emotional portrayal of AM.
The focal point and element that makes the film truly worthwhile to watch and exciting to witness is the on-screen chemistry between Gutierrez and Avelino. Their verbal and non-verbal queues regarding the highs and lows of the relationship between AM and Harold are truly exciting to watch as the tensions and growing affection are beautifully captured. For some reason, the varying individual portrayals and characterizations come together to paint a fantastic friendship and potential romance between the two main characters. The film brings in its viewers on a very enthralling journey that continues to heighten until its last moments.
Ngayon Kaya Review: Final Verdict
Ngayon Kaya is a film that truly deserves to raise the flag for the somewhat official return of Filipino films on the big screen. The movie admittedly shifts and gets better in pacing during the second half of the film which points to the slow-paced direction of events. The tandem and on-screen chemistry of Gutierrez and Avelino truly steal the show and elevate Ngayon Kaya into more than just another heart-warming, feel-good romance but into a very realistic, relatable, and gut-wrenching depiction of the truth about life and love.
Hype Meter: 8/10
For more local movie reviews: