There's no doubt about it that two Filipino films have been butting heads as of late due to the political natured-plot and circumstances of their release. Katips and Maid in Malacañang have been quite buzz-worthy as of late as these two films tackle a similar point in our nation's history — Martial Law and the rule of former President Ferdinand Marcos Sr. We here at This Is Hype Ph have seen both Katips and Maid in Malacañang and have come up with our comparison of the two films.
Maid in Malacañang Overview
Distribution company: Viva Films
Director: Darryl Yap
Cast: Cesar Montano, Ruffa Gutierrez, Diego Loyzaga, Christine Reyes, Ella Cruz
Genre: Political Drama
Premise: Maid in Malacañang centers on the last few days of the Marcos family in the presidential palace as chaos engulfs the nation.
Check out our full review here: Maid in Malacañang Review
Katips Overview
Distribution company: Philstagers Films
Director: Vincent Tañada
Cast: Jerome Ponce, Vincent Tañada, Mon Confiado, Sazchna Laparan, Nicole Laurel Asensio
Genre: Political Drama Musical
Premise: Katips follows a group of student activists from the Katipunan area of Quezon City who struggles to protest the imposition of nationwide martial law in the 1970s.
Check out our full review here: Katips Review
[hfcm id="9"] [hfcm id="14"] [hfcm id="20"] [hfcm id="24"]
Plot
Maid in Malacañang exhibits a back and forth type of story-telling device that involves the creative narrative by Yap as well as the usage of actual historical footage. Katips on the other hand is a direct creative story from start to finish and only uses historical images in the latter part of the film. Both center on politically driven stories but the main difference is the actual focal points of each — Maid in Malacañang focuses on the Marcoses while Katips ventures deeper into Martial Law and its effects. Maid in Malacañang's pacing is quite steady and straightforward while it takes a while for Katips to gain its actual footing and the story doesn't build up and find its full potential until halfway through the 90-minute running time.
Direction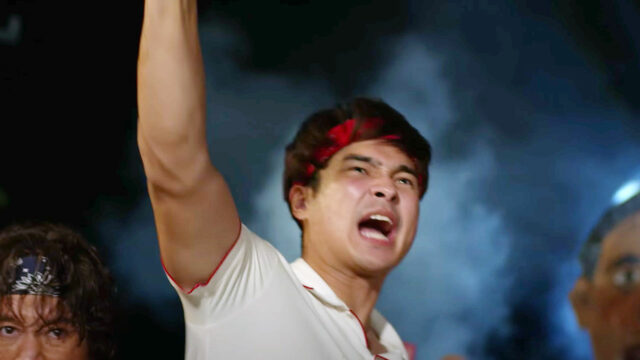 Both films admittedly have their direction of becoming a bit propagandistic at times in trying to over-communicate a certain message both different in their own ways. Both however thematically showcase love and family however the packaging may be a bit different as Maid in Malacañang doesn't focus on romantic love as much with the exception of some scenes between Imelda and Ferdinand while Katips has a relatively romance-centric plot at its core. The insertion of subliminal messages and symbolisms are seen in both films and can be a bit too much in both accounts at times. The overall direction of both films however also showcased a very artistic flair which needs much-needed commendation.
Acting
The casting and acting from Maid in Malacañang are honestly hard to fault. From veteran, Cesar Montano down to the newcomer and rising star Ella Cruz, each member of the cast would step into the spotlight at certain moments of the film to deliver knock-out performances. The only actor that may have been lost in the fray at times was Diego Loyzaga but then again he had some shining moments as well. Katips on the other hand featured a majority of cast members who performed over-exaggerated scenes and were honestly unbelievable at times. Our comment on the film stands as Katips tried so hard to stay true to the musical stage play that even on the acting front it was clear that there was no effort on subtlety.
Cinematography
Both films exhibited a relatively great handle of camera movements and great mixtures and contrasts of light and darkness. This is all the more evident in Katips, especially during the latter half of the film as the torture scenes were just spot-on to zero in on all the gore, heaviness, and drama that these scenes very much needed. The Maid in Malacañang on the other hand first and foremost utilized a smaller aspect ratio for the entire film which allowed viewers to focus even more on the events of the film. There was a very old-school-like vibe that the film centered on which was admittedly appropriate with the setting and overall direction of the film. The color grading was very consistent which wasn't the case at times with Katips as there were moments that lacked that consistent aspect.
Editing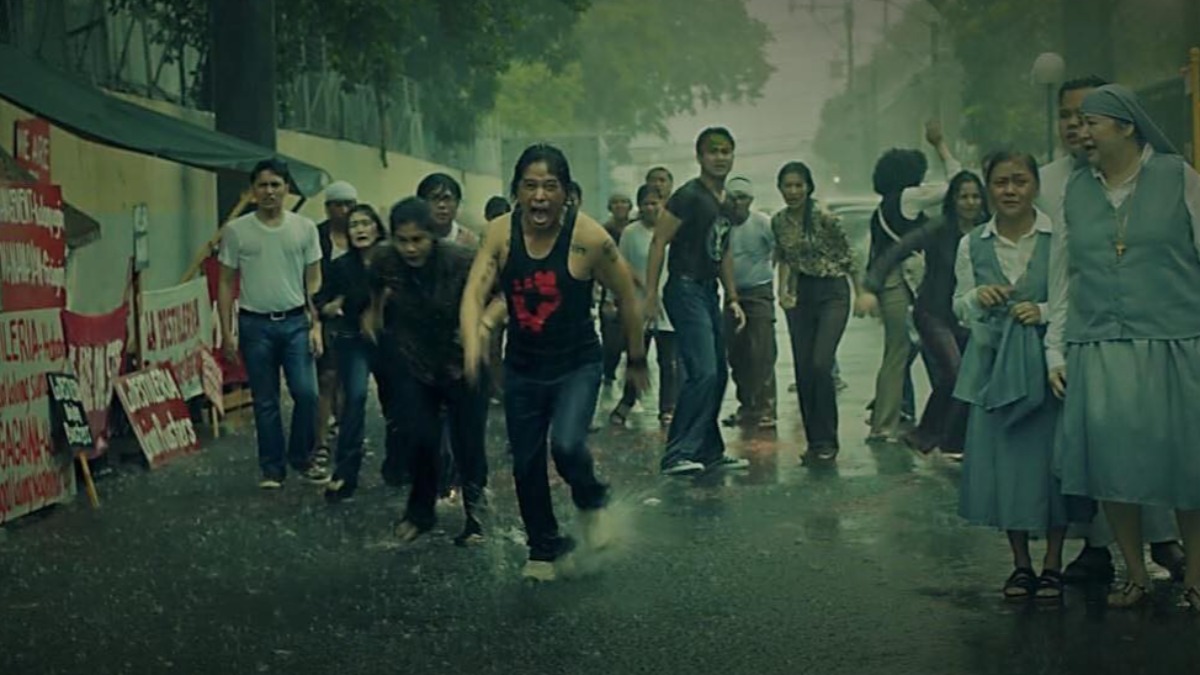 Both films shine at some points in terms of the visual editing that they bring about. There are however some moments where Katips fail in comparison to the consistency that Maid in Malacañang brings. There are some scenes that are abrupt and transition without seamlessness in the execution. These at times even serve as a distraction rather than help the film move along in terms of its story. This can also be said about the choices in music for Katips. The musical nature of the film doesn't help as much as Tañada hoped it to as they removed the seriousness of the story and some of the musical and dance scenes lacked the production value expected from such films in the said genre. Maid in Malacañang on the other hand remained to be visually pleasing all throughout and the song choices and musical scoring helped the story move along.
Script
Both films tried to achieve a balance of humor and dramatic scenes with both also having moments that fell flat. Overall however Maid in Malacañang was able to strike the balance better in terms of the chosen lines, dialogue, and timing of dramatic sequences which are broken quickly and in a witty manner with much-needed humor. Katips had its moments as well but for the most part, it lacked the tight grip on this front as some scenes transformed to be more cringy and unnecessary to the story.
At the end of it all, it still boils down to preference. The story of the two films has been controversial on all fronts. What Maid in Malacañang and Katips offer however are open doors for meaningful conversations to occur. They enable a revisitation of the truth behind our history which admittedly is a great way for films to elicit such moments of pondering.