The streaming juggernaut, Netflix, has just unveiled its phenomenal and extensive list of movies and TV shows that will be released in the next couple of months up until 2022 through their global fan event, TUDUM. The three-hour-long event took place on the official Youtube channels of the streaming platform. TUDUM featured several big names from our favorite Netflix movies and shows as they shared exclusive clips, first looks, big announcements, and trailers.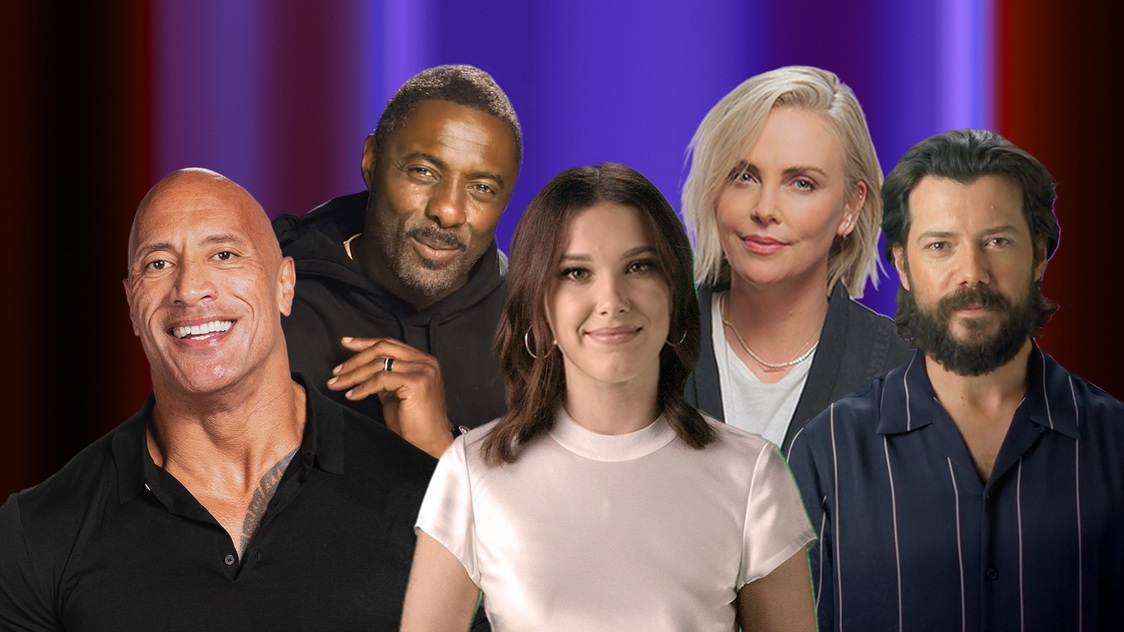 The main show kicked off with a small skit-type introduction that featured our favorite actors, and characters from our favorite Netflix flicks. It was a witty and creative segment to tease the excitement as these stars were all searching for the missing "tudum" sound from Netflix which mysteriously disappeared. After this wacky little segment — came in the good stuff. We have prepared a very detailed rundown of our highlights from one of the biggest events in entertainment for 2021.
1. Red Notice
Release Date: November 12
[hfcm id="9"] [hfcm id="14"] [hfcm id="20"] [hfcm id="24"]
Dwayne Johnson kicks off the long list of films and shows with his action-adventure film entitled Red Notice. Together with Johnson in this epic flick are Ryan Reynolds and Gal Gadot as an FBI profiler, a con man, and a world-renowned art thief. The world of these three characters collides in an epic action-comedy adventure film that isn't stingy on the grandeur, visuals, and special effects. Furthermore, we are given an exclusive clip into this high-octane blockbuster action flick.
2. Stranger Things (Season 4)
Release Date: TBD
We are brought back deep into the Upside Down as Stranger Things returns for Season 4. The showrunners and some of the stars from the show gave us a sneak peek into what the new season has in store for us all. They promised that Season 3 would be even more "epic, longer and crazier" than before. Based on that teaser, it looks to be even more frightening than anything we have seen from the show so far.
3. La Casa de Papel (Season 5 Part 2)
Release Date: December 3
La Casa de Papel is nearing its show's conclusion which may have put fans of the show into a state of dread and sadness. Before we say goodbye to all of our favorite Money Heist characters, however, Season 5 Part 2 will surely be a grand and epic conclusion of the show. This is evident from the clip shows during TUDUM where the surviving members of the team are caught up in a heated discussion as to what they should do with the gold that they have.
4. Ozark (Season 4 Parts 1 and 2)
Release Date: Sometime in 2022
The stakes are even higher for the Byrdes in Ozark's series finale which will drop on Netflix in two parts. Jason Bateman introduced us to a chilling clip from season 4 as Marty and Wendy experiment on a hair mousse, which has a big potential to be a huge source of income for the family.
5. Bridgerton (Season 2)
Release Date: Sometime in 2022
One of the shows that dominated the charts in Netflix was the highly sought-after-period drama based on the best-selling novels by Julia Quinn entitled Bridgerton. Season 2 dives deeper into the character of Anthony or also known as Viscount Bridgerton (played by Jonathan Bailey) as he discovers a love that makes for the unlikeliest of pairings. These events of course cause gossip and chaos to circulate amongst the elite in London — all thanks to the perusals of Lady Whistledown.
6. Cobra Kai (Season 4)
Release Date: December 31
The fourth season of the comedy-martial arts series based on the original Karate Kid films will drop on Netflix pretty soon as the young cast members tease us with what's about to come. In  Season 3 of Cobra Kai, Johnny and Daniel decide to join forces to take on Johnny's former mentor John Kreese and the usurped Cobra Kai dojo. It's exciting to see how all of these events will unfold in Cobra Kai's fourth season.
7. Arcane: League of Legends
Release Date: Late 2021
Gamers and fans of the popular game League of Legends, get ready for this next Netflix offering. We are treated to our first look into Arcane which is based on characters and worlds from the said game. The animation style is stunning — packed with so much detail and action-packed sequences that will surely entice LOL fans and those just seeking an entertaining animated experience.
8. Cowboy Beebop
Release Date: November 19
John Cho will be stepping into the role of Spike in this live-action retelling of the popular anime, Cowboy Bebop. The opening sequence for the show showcases retro color palettes, jazzy musical scorings, a lovable corgi, and a vibe that resembles that of Quentin Tarantino's Kill Bill. This is a show that has it all from the amazing music, galactic adventures, western elements, and even some comedic storylines.
9. Don't Look Up
Release Date: December 24
There's nothing more that we can ask for when we are given a dark comedy with stars such as Leonardo DiCaprio, Jennifer Lawrence, Meryl Streep, and Jonah Hill just to name a few. When a comet threatens life on earth, two scientists must do everything that they can in order to prevent the destruction of humanity.
12. Army of Thieves
Release Date: October 29
The world and stories from Zack Snyder's Army of the Dead are far from over. Ludwig Dieter, one of the fan favorites from the first film, returns in this prequel which sets the stage for the character and the events for Army of the Dead. Matthias Schweighöfer reprises his role as Ludwig and will serve as the director for this film, while Zack Snyder takes a seat as a producer. The film will serve more as a heist flick resemblant of The Italian Job as opposed to the heavily zombie-ridden plot of Army of the Dead.
13. The Witcher Universe
Netflix has literally saved one of the biggest and best announcements for last as they unveiled their world-building plans for The Witcher Universe. Henry Cavill first treated fans to two never-before-seen clips for season 2.
We were also given some behind the scene looks into the making of The Witcher: Blood Origins which is set 1,200 years before the events of The Witcher. This show is set in an elven world as it will tell the story of the creation of the first prototype Witcher and the events that lead to the pivotal Conjunction of the Spheres.
That's not all in-store of The Witcher franchise as showrunner Lauren Schmidt Hissrich officially announced the renewal of the show for a third season. The Witcher star Henry Cavill who plays Geralt of Rivia also led us into an epic trailer for season 2 of the Witcher which will drop on Netflix on December 17.
13. International Offerings
That's not all that TUDUM had in store for fans since Netflix has a library of shows and movies from international content creators as well. Some of the notable international shows include A Traves De Mi Ventana (Through My Window), a Spanish rom-com that centers on a woman who is madly in love with her mysterious neighbor, as well as the Danish crime thriller Chestnut Man, just to name a few.
We must not forget the fans of Korean and Anime shows, as Netflix has prepared a list of amazing content for you. In the next months to come Netflix will release anime shows such as Super Crooks by Mark Millar, Aggretsuko Season 4, Ultraman Season 2, Pretty Guardian Sailor Moon Eternal: The Movie, Bright: Samurai Soul, and Drifting Home, just to name a few.
K-drama fans will also be treated to shows such as the action-packed series, My Name, the mystical adventure show Hellbound, the reality TV show New World and many more.
Checkout the TUDUM Pre-event shows for Anime and K-Dramas
Check out our coverage of The TUDUM: Anime Spotlight Pre-Show.
14. Updates on Some of Our Favorite Movies and TV Shows 
Through the event TUDUM, Netflix has officially announced the return of some fan-favorite movies and shows. Here are a few notable titles:
Extraction 2
Old Guard 2
Sex Education Season 4
Emily in Paris
Murder Mystery 2
The Crown Season 5
Umbrella Academy Season 3
The Crown Season 5
15. Other New Shows To Look Out For
The list continues even further with new movies and shows being teased to drop soon on Netflix. Some of the flicks that we must be on the lookout for include the Kanye West documentary that follows his journey as a rapper, entitled Jeen-Yuhs.
The event also had a segment that showcased a panel of women action stars. The segment featured Regina King and Zazie Beetz from the unique Western film that focuses on African-American Outlaws entitled The Harder They Fall. It also had stars such as Noomi Rapace for the film Black Crab, Chris Hemsworth's wife Elsa Pataky for the film Interceptor, Nathalie Emmanuel for Army of Thieves, and Charlize Theron for Old Guard 2.
In all honesty, there are more titles that were announced during this three-hour event. The extensive nature of our highlight could barely cover it all as much as we wanted to. The best thing to do is to still grab the opportunity to check out the TUDUM event for yourselves to witness all the exclusives, trailers, and first looks for all your favorite movies and TV shows from Netflix.
TUDUM was able to prove one thing — Netflix is on a continuous track in setting itself up as a phenom in the world of entertainment due to their dedication to giving their fans the very best of stories and content.
Which movies and TV shows from the Netflix TUDUM event are you the most excited for. Don't forget to add your favorites to your list on Netflix!
For more amazing reads on everything in pop culture and entertainment, continue to visit us on This is Hype.