*Take note that some of the images and songs featured in this article are not-safe-for-work due to some of their explicit natures that involve profanity or messages involving mental health.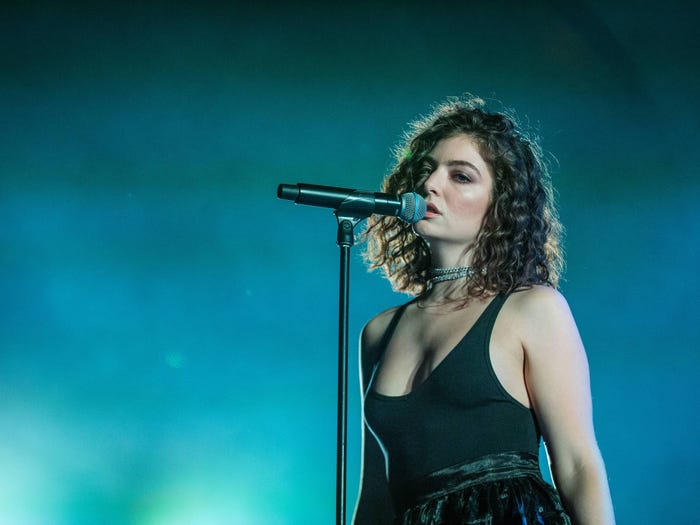 It's been a while since Lorde has graced us with her unique style and voice in her songs which has caused fans to gravely miss the talented artist. The wait, however, will be over soon as the Kiwi-native has confirmed the release of her third album within this year. Recently, the Grammy-winner posted what appears to be the cover art for her upcoming album, Solar Power, on her website and on her different social media platforms.
The cover image is cropped since it is a not-safe-for-work shot that captures Lorde's bare lower half as she is mid-stride.
[hfcm id="9"] [hfcm id="14"] [hfcm id="20"] [hfcm id="24"]
Despite having no official release date on Lorde's upcoming releases for 2021, there is no perfect time than ever to listen to a shuffled playlist from the artist on an endless loop. That is why we have prepared a list of songs by Lorde that will put us at ease as we wait for more from the talented singer-songwriter.
Take note that this list isn't ranked from best to worst as that is a daunting task in itself due to the sheer amount of brilliantly composed songs from the artist. All of these songs are meant to entice and hopefully satisfy us as we wait in eager anticipation:
Royals
One of the songs that have pushed Lorde's reach is Royals which may have a more mainstream kind of popularity. The status of this song as a pop culture hit is ironically a complete contrast to the message that the artist aims to deliver. In this track, Lorde expresses her disconnection to pop culture, extravagant lifestyles, and the over-glorification of media. The pop beats and chill nature of the melodies serve as a foundation for a powerful underlying message that continues to become more appropriate and relevant in our society as the track ages.
Team
Team is the perfect millennial anthem! This track falls yet again in one of the artist's more popular offerings—for all the right reasons. The sick beats, light tonalities, and free-spirited mood make this song an all-out bop. Its eerie intro—a mere juxtaposition to the rest of the song—resembles a literal call to start an all-out movement. It's one of those songs that just feels like a surefire theme song at almost any point in our lives.
Buzzcut Season
Lorde proves her eclectic and diverse skills in writing songs that go deeper beyond the surface with relevant messages that serve as an introspective look into our society. Buzzcut Season showcases how living in our own little world can blind you to tragedies happening elsewhere. Plucked synths and some of Lorde's most delicate vocals to date push the song further along in order to deliver a hard-hitting and powerful societal message.
Green Light
The lead single to Lorde's second album, Green Light, redefines break-up songs to how they are truly meant to feel and sound. The upbeat nature of this song does not reflect its underlying message in the slightest. Lorde pours out every raw emotion in this track from a deep palpable anger, to an overwhelming desire for closure and down to a sincere joy in the thought of freedom. The way it is written and composed is another showcase of contrasting melodies and lyrics that aren't meant to work but perplexingly enough—it just does.
Sober
Sober tackles the inevitable end of the "honeymoon stage" of relationships which would eventually transition into the gritty realities that the future holds. The imagery of sobriety from the initial addictive rush that comes with the early stages of love is definitive proof of Lorde's artistry. The earth-shattering drums and piercing brass that zoom around the song are just captivating and Lorde pulls out all the bells and whistles to make this track unlike any other that she has produced before.
Writer in the Dark
The piano-accompanied ballad Writer in the Dark is a layered melancholic ride of the ups and downs of heartbreak. This lamentation is tied up perfectly with its entrancing sound and the rawness of emotion that is all laid out all on the table. The beauty in this heartbreaking song lies in the subtle assurance that despite all the pain, our persona, at the end of it all, will be okay.
Perfect Places
Lorde showcases her artistry not just in each song that she writes but even in how she appropriately devises the composition and flow of her albums. Perfect Places closes the second album so brilliantly after all the mental battering of Melodrama. Perfect Places serves as a catharsis to the rollercoaster ride that she brings us on. The track ends with the realization that the illusion of a perfect fix for all the "melodrama" doesn't truly exist but youthful bliss will have to do for the meantime.
Supercut
The endless outpouring of euphoria from Lorde continues with the track Supercut that encapsulates a mood that she hasn't captured before. It's one of those songs that is so fun to experience, and a favorite for many on her Melodrama album. The song is easy to listen to over and over again, despite being another heartbreak type song. This is a track that would be great once things settle down and resemble a bit of normalcy as a road trip theme song or a music festival anthem.
Ribs
The euphoric synth and vocal exhibition-ladened introduction in the first few seconds of the track Ribs from Lorde's first album puts its listeners into a drug-like induced trance. It literally builds up from there in pace and takes us on a psychedelic immersion. The build-up in melodies and beats serve as the backdrop for the story that Lorde proclaims through her lyrics so eloquently. The song is a declaration of the innermost inhibitions and perturbations that we all experience when it comes to growing old and growing up.
The Lourve
The fourth track of Lorde's second album, Melodrama, is a euphoric, addictive, and escapist view on love, that perfectly captures the relatable essence of the concept. It is unlike any stereotypical love song as it strips down the theme to its bare essentials while still providing so much detail and emotion. The songwriting ability of Lorde is brilliantly encapsulated in this song which in totality is a poetic expression of a very personal kind of love. In classic Lorde fashion, this song is beautifully layered with intricate and delicate sounds that push the song further into being an all-out mood for all those who listen to it.
This list barely touches the surface when it comes to the amazing content and library of songs worth listening to from Lorde. For a full experience of euphoria, we suggest that it would still be best to listen to Lorde's entire discography while taking some of the said tracks into consideration.
This list amongst the wide collection of Lorde songs proves that we have all the right reasons to be excited for the brand new releases planned for this year — two upcoming singles leading to the release of her third album, Solar Power.