Ben& Ben has been on a roll lately of producing hit song after hit song, each one proving to be better than the last. The band has also been on a streak of including other artists in their latest singles such as Moira and they even have a recent collaboration with SB19 on the latter's hit single MAPA. Last August 13, Ben&Ben released yet another song entitled Sugat, this time featuring the indie-folk band, Munimuni. 
A Perfect Fit Kind of Collaboration
Sugat boasts a unique collaboration between two similar yet at the same time very distinct sounding bands. On one end we have Ben&Ben who is known for their heart-wrenching or hugot inspired lyrics with upbeat and contrasting melodies that beautifully compliment the song. The 9-piece band already has several hit singles already to date, including Kathang Isip, Pagtingin, Upuan, and Leaves.
Munimuni, on the other hand, is a Filipino band known for makata pop or a Filipino poetic style in their songwriting with predominantly Filipino folk-inspired melodies.  The group consists of Adj Jiao (guitar, vocals), John Owen Castro (flute, vocals), Jolo Ferrer (bass), and Josh Tumaliuan (drums). The band has also produced amazing songs to date that have deep Filipino lyrics paired with an almost traditional folk sound such as Sa Hindi Pag-Alala, Tanikala, Marilag, Sa'yo, and Bawat Piyesa, to name a few.
[hfcm id="9"] [hfcm id="14"] [hfcm id="20"] [hfcm id="24"]
The two bands collaborating on this one song is a purely creative showcase of artistry with a hard-hitting and timeless message. And therefore it makes sense that the two bands should come together as they are both known for making meaningful music that captures the soul of Filipino culture.
A Heart-Wrecking Yet Relevant Life Lesson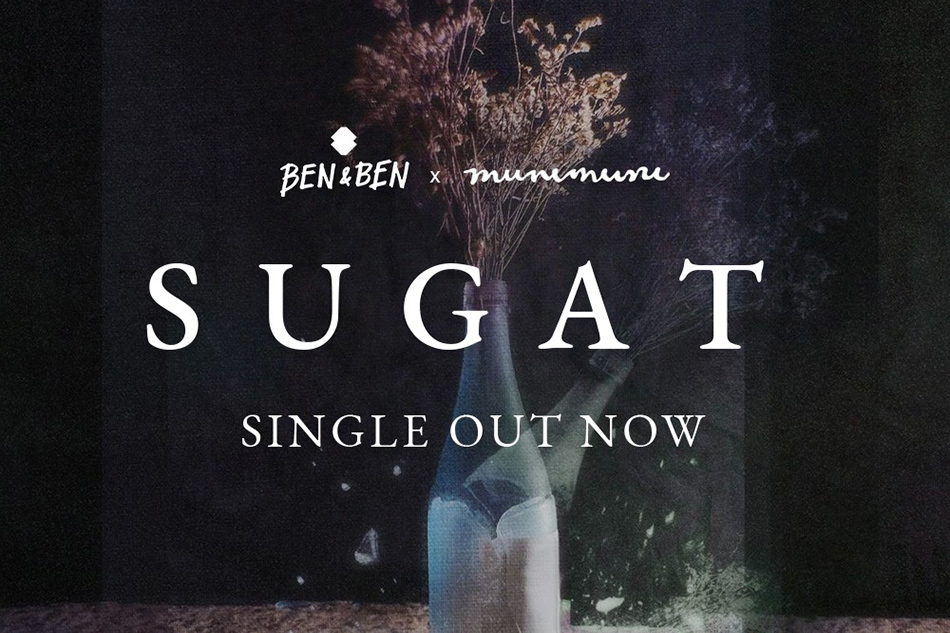 Sugat centers on healing and moving on from the pain and heartaches from the past. And therefore it definitely tugs on our heartstrings. Listening to the song is an amalgamation of various emotions and is an all-out experience that in some way is both emotional and spiritual. A few seconds into the track, you are already captured by its words, vocals, and melody which brilliantly combines the two distinct yet very complementary sounds from Ben&Ben and Munimuni. What makes this song stand out from what we've heard so far this year is the fact that at its core it's a raw and honest track with poignant lyrics and a sublime, gentle melody that connects to your heart.
This song has already risen to the top once again in the various streaming platforms. It's only been a few days after its release and the song has already more than 697,979 views earning the music video the number 4th spot in YouTube's music category.
SUGAT OFFICIAL LYRICS
written by Paolo Benjamin and Toni Muñoz

pahilumin mga sugat.
watch the official video here: https://t.co/oNmyPW4nox#BenAndBenxMunimuni@munitheband pic.twitter.com/GFPEzMOBEq

— Ben&Ben (@BenAndBenMusic) August 13, 2021
The song is definitely one that will surely have a positive reception for the next months and even years to come. It's a message that deals a lot with relationships but also more importantly the need to let go and forgive. If we take some time to even let the lyrics sink even deeper, it's a song about forgiving one's self in order to not just move on but to truly be healed. This is a message a lot of us need to be reminded of. Sugat is proof of the powerful writing chops of our OPM artists and we are definitely looking forward to more songs like these from Ben&Ben, Munimuni, and Pinoy artists in general.
If you're in the mood for some nostalgia, also check out Lorde's new single, Stoned At The Nail Salon.
In the meantime check out the other amazing tracks from both Ben&Ben and also from Munimuni.