The Queen B is back! Beyoncé's seventh studio album Renaissance has dropped and we needed time to take it all in and ever since doing so, we cannot stop keeping the entire album on endless repeat. Here's our full review of the Beyoncé Renaissance album as we discuss why this is a must-listen-to album for 2022!
Beyoncé is undeniably one of the most influential and most gifted artists of the 20th century and just as people were ready to write her off the goddess of R&B comes back and swinging real hard with amazing tracks and albums that have become instant hits. She is referred to as a queen for a reason as he is able to traverse a variety of themes, genres, and styles in her songs that both encapsulate hard-hitting lyrics whether in ballad-like forms or amazing ear-worm and dance-inducing songs. 
Renaissance has been one of the most anticipated albums of the year as Beyoncé shifted gears and notified her fans of new music on June 15 through an update in her bio. She continued the unconventional rollout with the release of the album's first single, "Break My Soul" which arrived at Midnight on the summer solstice. This track immediately became an addicting offering with its pulsating beats and top-tier production quality even becoming an instant worldwide hit. It has even been labeled as the song of the summer and an anthem for this generation. Break My Soul is just the tip of the proverbial iceberg in terms of the brilliance of what Beyonce offers in Renaissance and our review won't even sugar coat it — this is a must-listen-to album from start to finish. Here's why:
THE ALBUM AS A WHOLE
An Encapsulation of Beyoncé
[hfcm id="9"] [hfcm id="14"] [hfcm id="20"] [hfcm id="24"]
Renaissance as an album stays true to the title that it suggests as it brings about a version of Beyoncé that is enlightened on all fronts. Renaissance is an intertwining of everything that makes Beyoncé who she is as an artist as it showcases a top-notch production quality, incredible vocal ability, and above all a multifaceted time machine into the very essence of dance and disco. The album from its first track down to its last wastes no time in bringing in a thematic mood further elevated by amazing rhythmic choices that are layered by a creative direction from seemingly irrelevant background noise. There is a combination of various influences of R&B, Hip-Hop, Soul, and even Gospel that intertwine so majestically that allows the album to have a different character altogether and in turn keeps it vibrant, engaging, and interesting through and through.
We get tracks such as the lead single Break My Soul which has turned into an instant hit with its dance and trance-inducing melodies that is a perfect fit for a workout and furthermore as the next big trend on TikTok. The Beyoncé we get in this album is a complete snapshot of the past, present, and future of who the artist is. There are sides of Beyoncé that are heard here that brings us back to the past works of the artist from her Destiny's Child days down to her solo career. One thing is for certain Beyoncé showcases her vocal technical ability through and through with this album as it is continuously evident that she has still got it in terms of hitting perfectly timed runs and hitting crystal clear high and low notes. Beyoncé also shows through this album the different sides and aspects of her voice which all tie to the creative high ground that is exhibited in Renaissance.
The Ups and Downs of Production
As mentioned, for the most part, Renaissance exudes creativity and innovation in terms of production value. The majority of the tracks in this album are just made on a whole different level. With modern stylistic choices that are often heard from current artists such as Lorde, Chance The Rapper, and many more, Beyoncé puts her own twist and personality by creating tracks that aren't just current sound but are fun to listen to melodically. I must admit however that the lyrical value does take a back seat in some of the tracks as the highlight still seems to be the upbeat danceable melodies and beats. There are some that hit you hard in terms of the message that is conveyed but admittedly it isn't the main focal point at times for Renaissance.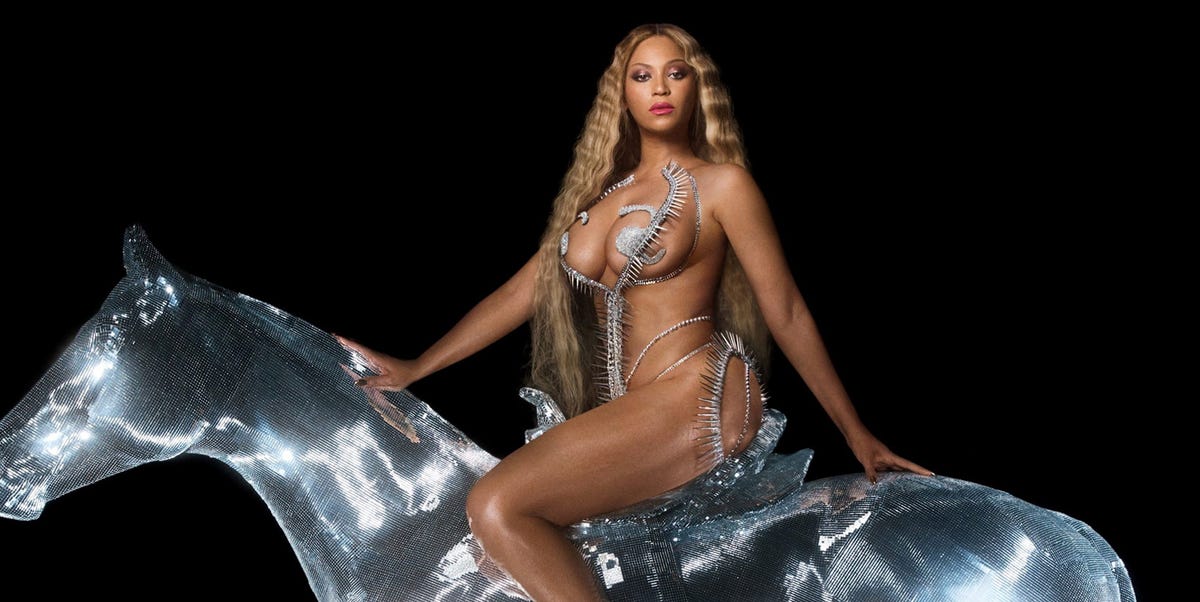 There are also some tracks that admittedly despite the grand production quality of Renaissance as a whole, slip with some poor execution. There is therefore a slight number of inconsistencies with Renaissance that are heard clearly when some of the songs are compared alongside one another. There are some clear standouts which we will get to later on but there are also tracks that get lost along the way and sadly fade into the background. The album therefore in comparison to Beyoncé's previous albums and works fails to be a completely thorough work of perfection. It's a great album don't get us wrong — one that may be in the running for several Grammys even — but in terms of being a complete package, Beyoncé as an artist has it, Renaissance as an album on the other doesn't.
TIH's Favorite Renaissance Tracks
We cap off our Beyonce Renaissance review with some of our personal favorite tracks which we believe should be a part of your current playlist.
CUFF IT
This track has instantly become one of our personal favorites due to its ability to provide the classic Beyoncé sound that we have come to know and love. In its simplicity, the vocals of the artist shine so much so that it becomes an ear worm-inducing, dance tune that would sure to dominate your playlist for days on end. 
PLASTIC OFF THE SOFA
We were promised a dance album and that's what we got with Renaissance. We were looking for a slower ballad-type track and PLASTIC OFF THE SOFA gives us just that. A jazzy, bluesy, and slower song allows a chill but beautiful escapism song that still has an upbeat backdrop but the highlight is the sensual atmosphere that Beyoncé provides.
MOVE (ft. Grace Jones & Tems)
A mind-boggling fusion of hip house, dancehall, afro beats, and rap. MOVE becomes all the more exciting to listen to as it boasts three generations of Black female artists —  Beyoncé, Grace Jones, and Tems — as they unite for an incomparably infectious dance track. The darker tones of the percussive productions add an undercurrent of levity that drips with sensuality, cockiness ad confidence. 
VIRGO'S GROOVE
As the title suggests this song has no shortage of that groovy quality that truly encapsulates an '80s disco vibe but with that appropriate modern spin. It's a track that serves as a great throwback and history lesson on disco, soul, and blues. VIRGO'S GROOVE subsequently is the longest song on the album but it also stands out primarily due to Beyoncé's expert vocal production as she deftly cruises throughout her range across the song with those luscious lows that seamlessly transition into piercing falsettos.
BREAK MY SOUL
BREAK MY SOUL is the lead track for a reason. It's catchy and lively. It's an anthem of a song that will surely steal the show in dance clubs or even as a great new workout tune. The repetitive nature of the lyrics creates a very addictive experience but it's also a song that keeps changing and evolving, leaving room for listeners to remain engaged through and through.
Beyoncé Renaissance Review: Final Verdict
As seen in our Beyoncé Renaissance Review, the album shines with its technical musical production, its consistent nostalgic and thematic dance direction, and ultimately Beyoncé's top-notch vocal display. It does have some inconsistencies along the way with the lyrical impact taking a backseat even as the highlight becomes the dance anthem that the album provides. There are admittedly better albums in the past under Beyoncé's repertoire but there are also some amazing stand-out tracks from this one that you should definitely listen to. 
Hype Meter: 7/10
For more music reviews continue to follow us at This Is Hype Ph.