Netflix has found its niche when it comes to its original content especially with its television shows such as The Umbrella Academy, Stranger Things, and many more. Their long list of shows includes international productions as well such as their highly acclaimed Spanish action thriller, Money Heist aka La Casa de Papel. Money Heist is now on its last season and we are definitely not yet ready to say goodbye to all our favorite robbers. The recent season of Money Heist kicked off with a bang in its first part with 5 episodes — each filled so much suspense and action. We have seen part one in its entirety to see if it continues to live up to the hype that the previous season has given us so far. Here's our full review of Money Heist Season 5 part 1:
Spoiler Warnings
Take note that this review will definitely include some spoilers and references to some crucial plot points throughout the entire series. You have been warned and therefore proceed with caution.
Where were we?
It's been a while since Money Heist last released its fourth part and therefore it is understandable if some of the details from the previous parts would be hazy for most of us. We've got you covered with this brief overview of everything that had occurred in season 2 so far.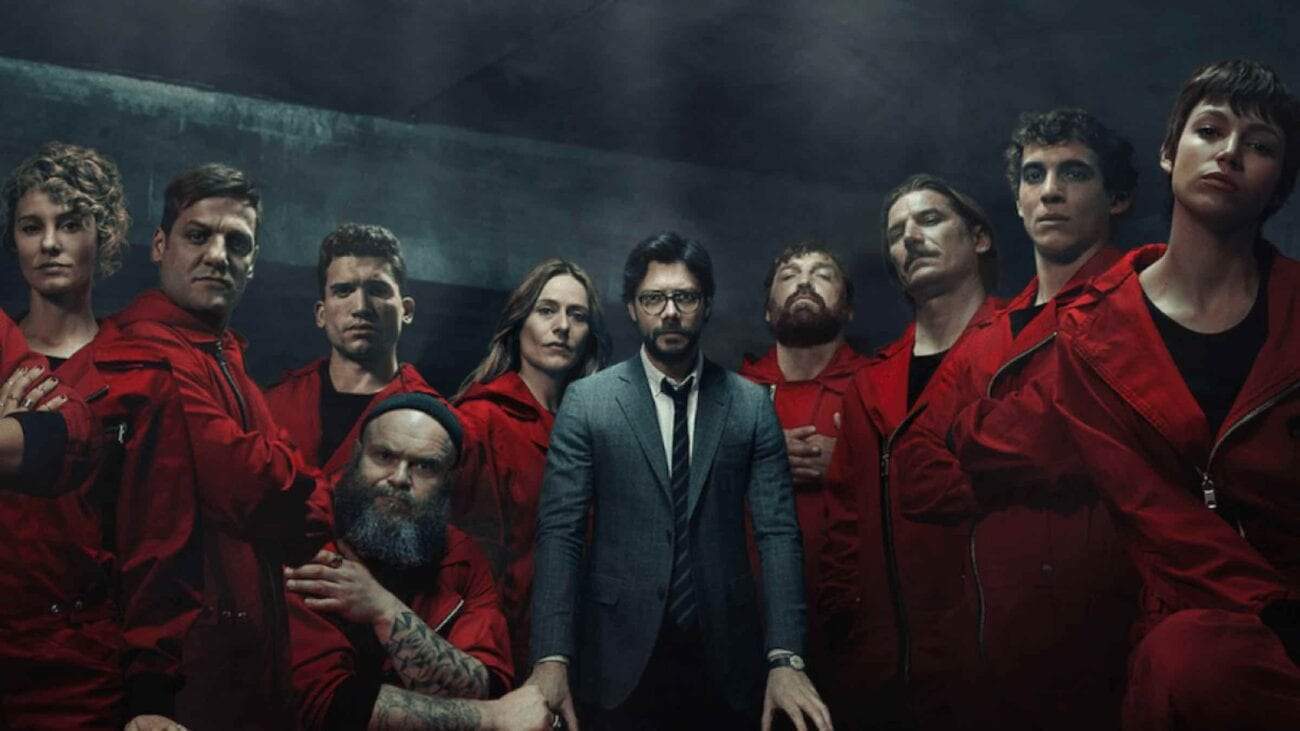 The 2nd season kicks off with the group being forced out of hiding when Rio is captured by Europol. The Professor then picks up the old plans of Berlin to rob the Bank of Spain. He gathers the gang back together to use the robbery as leverage to get Rio back. The group is now joined by new and familiar faces including Mónica Gaztambide (a hostage for the Mint job back in Season 1, and the love interest of Denver) aka Stockholm, former agent Raquel Murillo aka Lisbon, and four new recruits; Bogotá, Palermo, Manila, and Marseille. Once again the season revolves around the chaos that ensues during the robbery as well as the political occurrences from outside of the bank involving the police now with Col. Tamayo in charge alongside a new inspector, Alicia Sierra. The fourth part is where all hell breaks loose which includes the death of Nairobi, the capture of Lisbon, a coup-de-ta, and an all-out brawl between the robbers and some of the hostages. Part 4 concludes with Lisbon rejoining the gang within the bank — all moved to carry out the mission in memory of Nairobi — and with Sierra finding the Professor's hideout, holding him at gunpoint.
[hfcm id="9"] [hfcm id="14"] [hfcm id="20"] [hfcm id="24"]
This is where Season 5 part 2 takes off with the entire gang reunited with Lisbon in the Bank of Spain, the professor trapped with a vengeful Sierra, and the police relentlessly doing everything in their power to stop the group of robbers.
Money Heist Season 5 Part 1 Review: Spot-on Continuity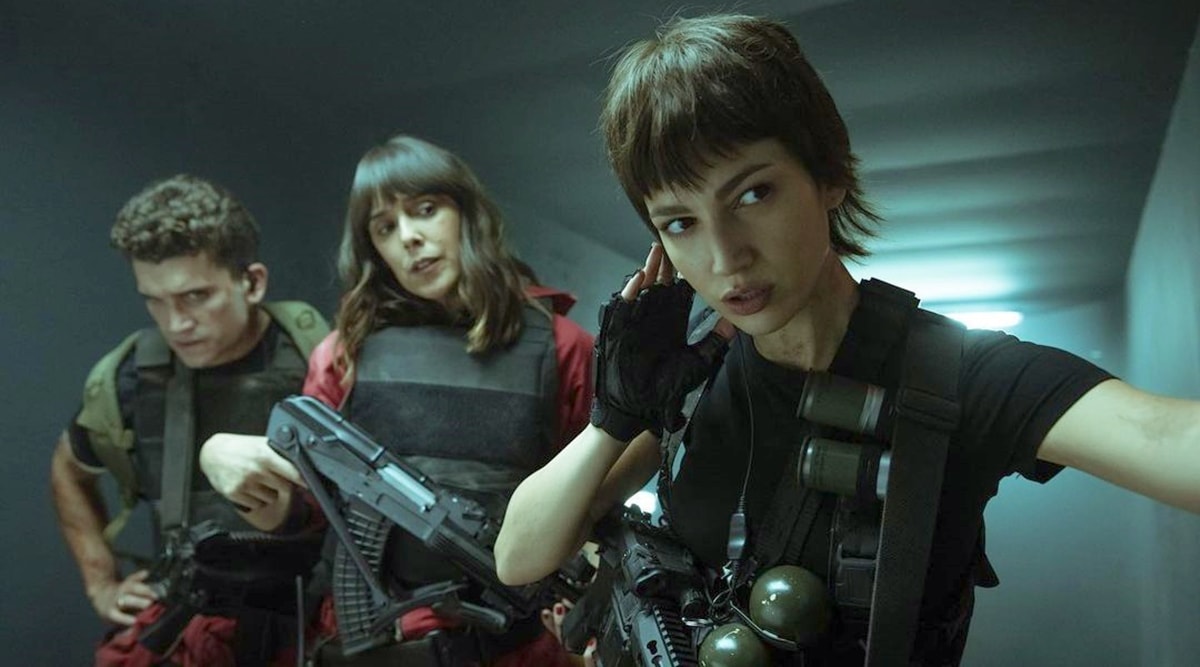 In classic Money Heist fashion, the newest installment in the series beautifully ties everything together as it goes back to some crucial backstories and elements that were mentioned as early as the first season. The stories of all our favorite characters are developed even further to create depth in their personalities. One thing that makes Money Heist so intriguing to witness, is that it gives a unified story so it feels like you are watching a really long film. Each episode contains so much energy that as a viewer it draws us in and keeps us glued from start to finish and even leaves us begging for more.
Money Heist Season 5 Part 1 Review: An Engaging Story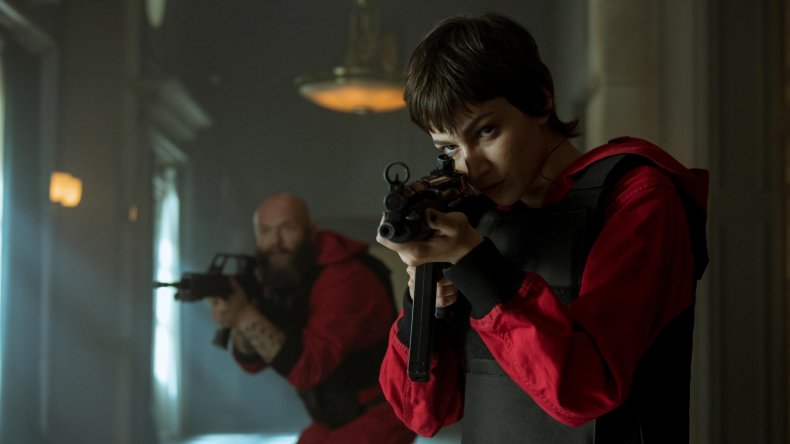 The continuity and pacing of each episode point to the fast-paced non-stop action and drama that the show provides. With so many reasons that the show already has, it would be a common assumption that by this time the story would have gotten formulaic or boring. This couldn't be farther from the truth, in fact, Money Heist is able to keep us on our feet throughout the entire ride. There are some elements that may feel a bit too familiar but there are just enough subtle notes that are added to keep us engaged. Season 5 also takes the entire Money Heist experience up serval notches even further than its predecessors due to the sheer amount of high-stakes action that it provides. This season is able to balance all that action however so beautifully as it doesn't lose the vulnerability and authenticity that we always seem to get from the series.
Money Heist Season 5 Part 1 Review: Deep Character Building
One of the main reasons that will make it difficult for fans to say goodbye to this show is the personal connection that has been built with the characters from Money Heist. A well-done series capitalizes on building up characters from both sides of the spectrum — those you truly love and those you love to hate — Money Heist has both. We get all our favorite characters here such as Tokyo, The Professor, Rio, Denver, Helsinki, and even appearances from Berlin and many more. The shift from the flashbacks is part of the stylistic elements that are found throughout the entire series and are honestly done to a tee. These flashbacks don't distract us from the main story that is at play but rather deepens our connection with the characters even more and they even serve as a slight breather from all of the action sequences.
Money Heist Season 5 Part 1 Review: An Epic Visual Experience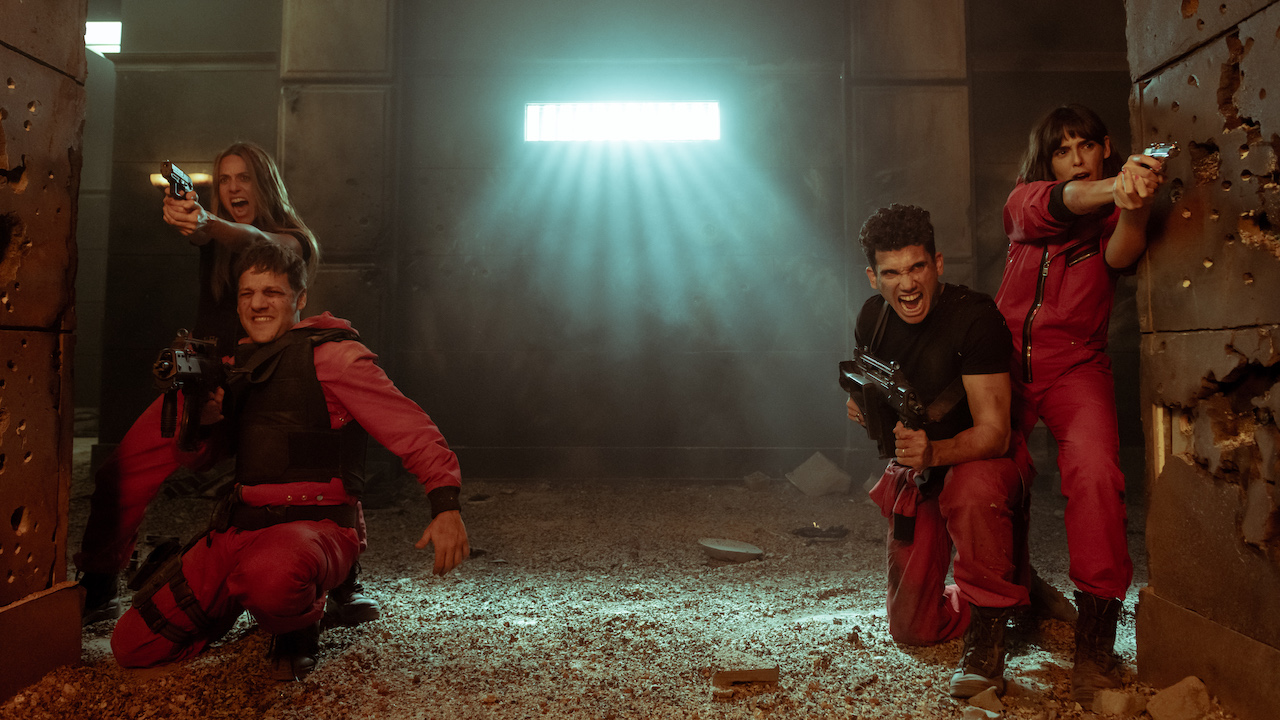 This latest season has definitely taken everything to a whole new level. The visuals, fight sequences, and effects have doubled or even tripled in dosage. There is so much that is going on but it is still done in a manner that allows the story to take center stage. There is no lag in the amount of high testosterone action that this season provides and it is proof that the creators of Money Heist are leaving it all on the table to give us an exceptional series finale.
Money Heist Season 5 Part 1 Review: Twists and Turns
Money Heist Season 5 does contain its fair share of great moments that continue to elevate the show into a league of its own. For the most part, the entire series contains only a few major twists that really resonate with us and leave a long-lasting impact. It's the last episode however that has caused us and many fans of the show to pick up pieces of our mind from the floor even several days after watching it. It is definitely one huge cliff-hanger that has fans excited for the epic conclusion this December. The implications of that ending are unlike any other and despite hopes that this in itself contains a major plot twist the likelihood of that happening may just ruin the story completely. There is no telling how it will all play out but the way that this season ended points to the amazing storytelling ingenuity that the creators of this show continue to exhibit.
Money Heist Season 5 Part 1 Review Verdict
The after-effects of Season 5 of Money Heist, as you can see in this review are still taking their hold on us and on fans of the show. There aren't any words to fully describe the plethora of emotions that one will be subjected to in this season but trust us it's all worth it. Without a doubt, we suggest that you stream Money Heist Season 5 now — better yet there is no better time than any other than to binge-watch the entire series (whether it's your first or nth time to do so). Also, don't forget to tune in for the epic conclusion of the series with Season 5 part 2, which will drop on Netflix on December 3, and be sure to grab your box of tissues for this one.
For more related reads on shows on Netflix: