The Marvel Cinematic Universe (MCU) has been hell-bent on delivering a phenomenal ride for fans to enjoy with their Phase Four projects. It's admittedly been a tough journey for Marvel's Phase 4 as they are currently in the process of rebuilding the worlds in the MCU that has been left in shambles due to the literal hands of Thanos. The process has been increasingly tough due to the absence of several of Marvel's pioneer characters from The Avengers such as Captain America, Iron Man, and the Black Widow to name a few. Fans are given a treat this July however in the form of the god of Thunder himself as Thor: Love & Thunder hits theaters all around the world — here are our thoughts in the form of this spoiler-free review.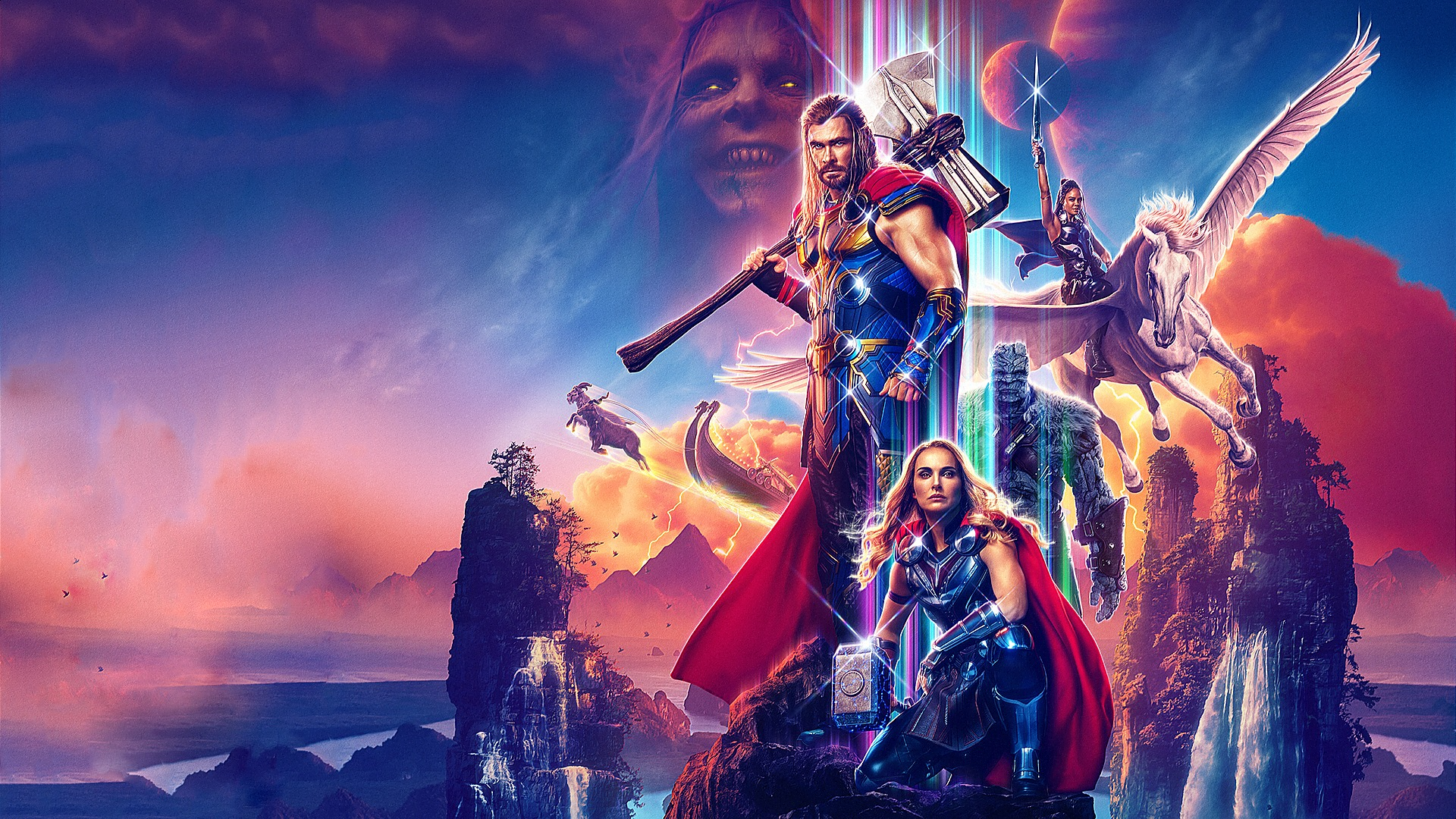 We were given the honor and privilege to be invited by Disney Ph to the Premiere Screening of Marvel Studio's Thor Love & Thunder a couple of days before the official release here in the Philippines on July 6, 2022. The special screening was held at SM Mall of Asia's IMAX Theater.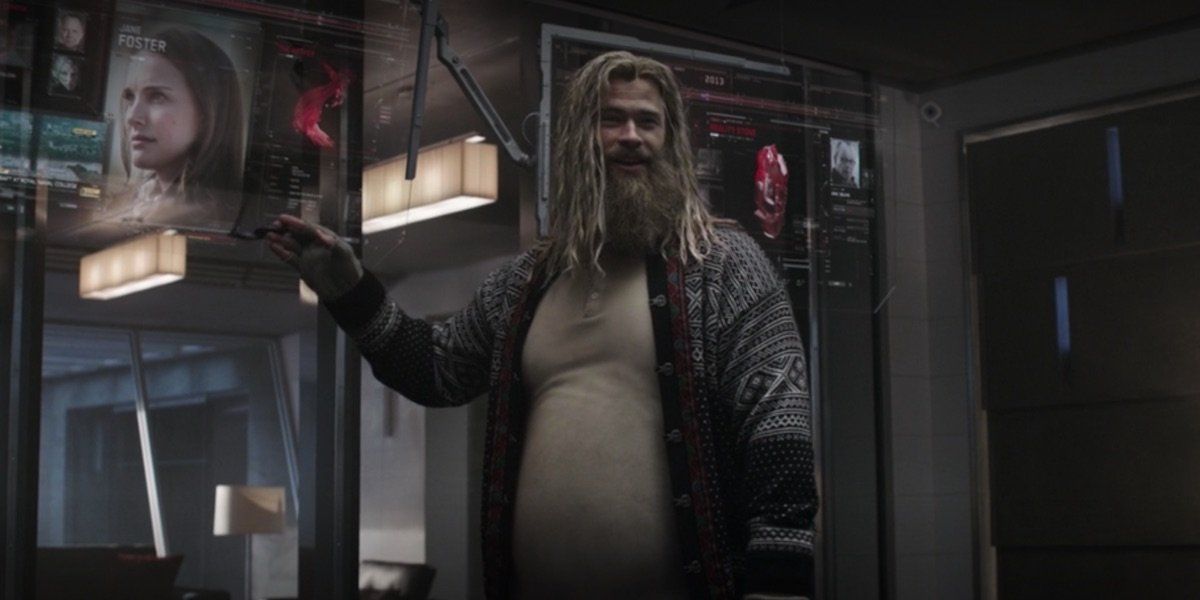 It's been quite some time since we last saw the god of thunder in action — since the events of Endgame to be exact. Thor is back; this time, he is about to come face-to-face with one of his most significant and most ruthless threats. The film takes place immediately after the events of Endgame with Thor joining the Guardians of the Galaxy in their galactic voyages. With this Thor also looks forward to hanging up his mighty hammer as he searches for a quest for inner peace.   His retirement is however cut short due to the threat that Gorr the God Butcher brings as he wields the powerful Necrosword. This galactic killer seeks only one thing — to bring about the extinction of the gods.
This prompts Thor to team up with his pals such as Korg, Valkyrie, and his ex-girlfriend, Jane Foster who now wields the hammer Mjolnir as the Mighty Thor. Thor: Love and Thunder are directed once again by Taika Waititi whose success with Thor: Ragnarok made him the obvious man for the job for this film. Together with Waititi who also lends his voice as Korg once again in this film, the cast of Thor: Love and Thunder boast the return of Chris Hemsworth as Thor alongside Tessa Thompson, the majority of the cast of Guardians of the Galaxy, and Natalie Portman. In addition to these actors, fans are also treated to amazing talented actors such as Christian Bale as the villainous Gorr the God Butcher, and Russell Crowe as the Greek god Zeus. 
Thor Love and Thunder Review: Spoiler Warnings
The film is set to be released this July 6, 2022, here in the Philippines. We will therefore keep this review of Thor: Love and Thunder, strictly free from any spoilers so as to not tamper with your viewing experience. We will focus on discussing the direction, continuity, visuals, and overall narrative flow of the film. 
The Return of Thor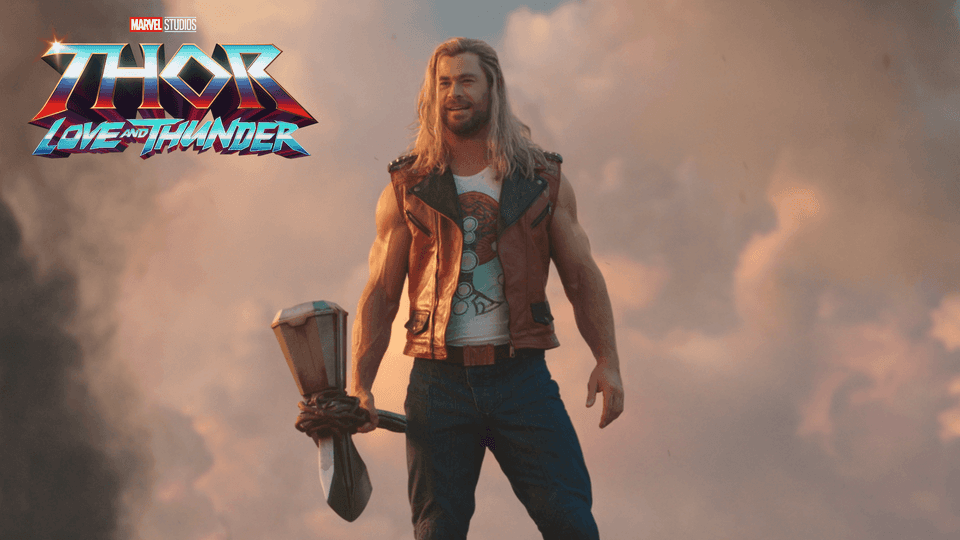 The stand-alone films of Thor honestly have had their fair share of ups and downs. I think this is actually something unavoidable because we have seen it as well in the Iron Man standalone films and even down to Captain America as well. There are just some films that shine brighter than others. Thor however has shown a lot of promise as being one of the three remaining OG characters from the first Avengers film left — next to The Hulk and Hawkeye. Thor is also the only character in the MCU as of writing to have 4 standalone films. The god of thunder is truly back and with a vengeance this time around. It's not just seen in the return of Chris Hemsworth minus the fat suit but also in the incredible highlighting of an incredibly heart-warming story. 
One of my personal favorites in the Thor standalone films still has to be Thor: Ragnarok and that still stands after watching Thor: Love and Thunder. This film is, however, a very close second with just less of an inch distant from each other. The quality, spectacle, and engaging atmosphere of the latter still make it stand out as one of the best in the Thor franchise. One aspect though that Thor: Love and Thunder brings in so beautifully is the emotional punches that I found to be more superior than those given in Ragnarok. This makes Thor's story shine all the brighter. So far we have witnessed a characterization of Thor that is very multi-dimensional. We've seen him at his best and worst. We've seen him on several accounts as a highly arrogant full of himself hero as well as some moments in the MCU where his spirits have been crushed and broken into a million pieces. He's coped with heartbreak and pain in multiple ways — most recently through stress-eating and seclusion. As Korg put it in this film which is seen in the trailer "from dad-bod to god-bod" a testament to his physical transformation but also that of his maturity as a hero.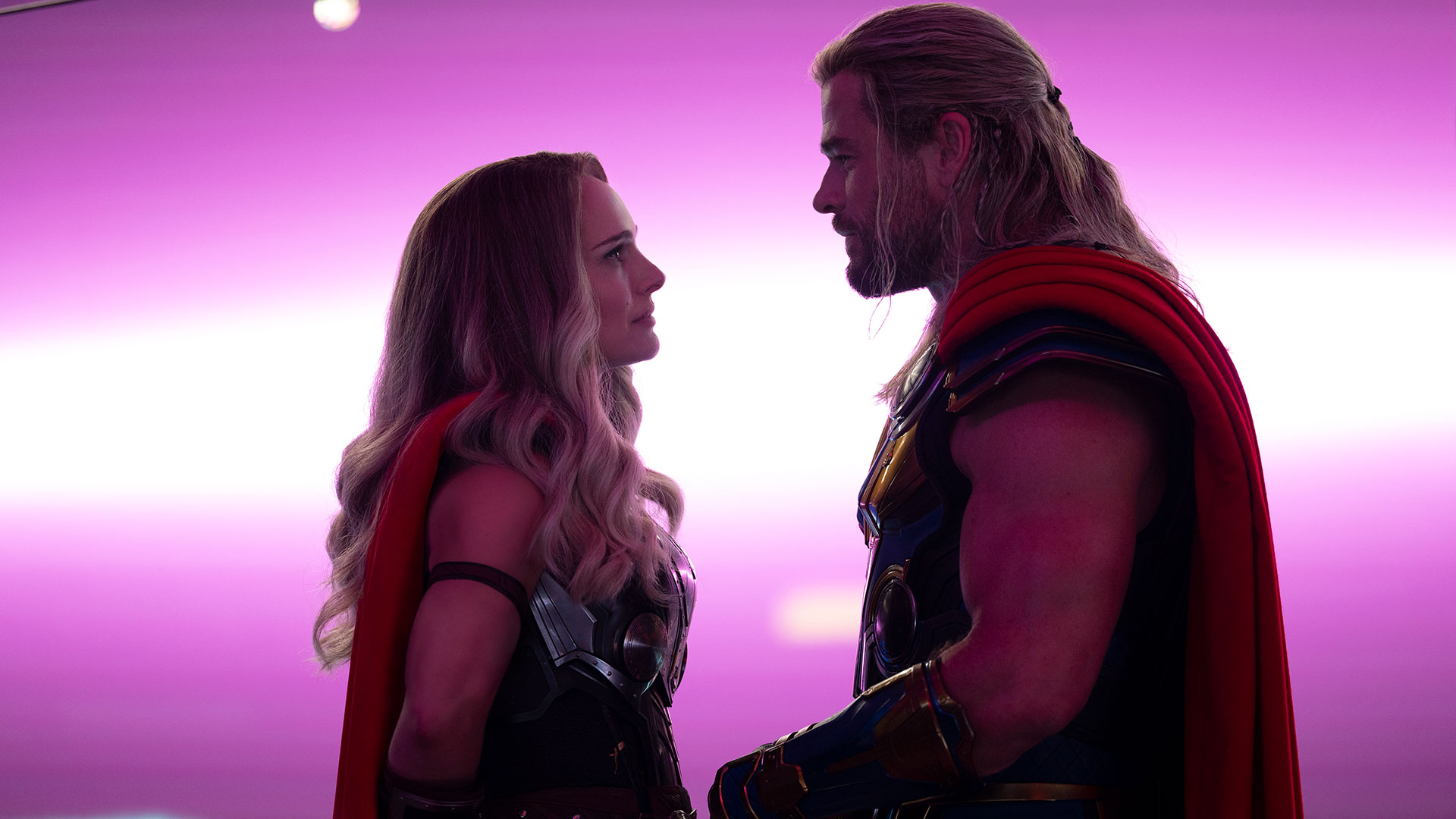 This is seen all the more in this film as it explores a more romantic tonality once again with the return of Jane Foster. This is the aspect that brings about a lot of great emotional weight to the story which in a way is able to further explore the ruins of their relationship. At times it felt like a match that shouldn't really work. Romance in a superhero film. We've seen the typical story play out in the wrong ways so many times before like in Doctor Strange and even in some of the Spider-Man films. Waititi however integrates such romance elements in interesting ways — playing with elements straight out of a rom-com. The re-emergence of Foster however isn't just an avenue to bring something fresh to the whole Thor story but it further deepens the characterization of the character. Jane's condition here tears Thor apart and enables him to really go through moments of rediscovery. There's a difference and noticeable switch in the character midway through the film that immediately occurs when he comes face-to-face once again with Foster.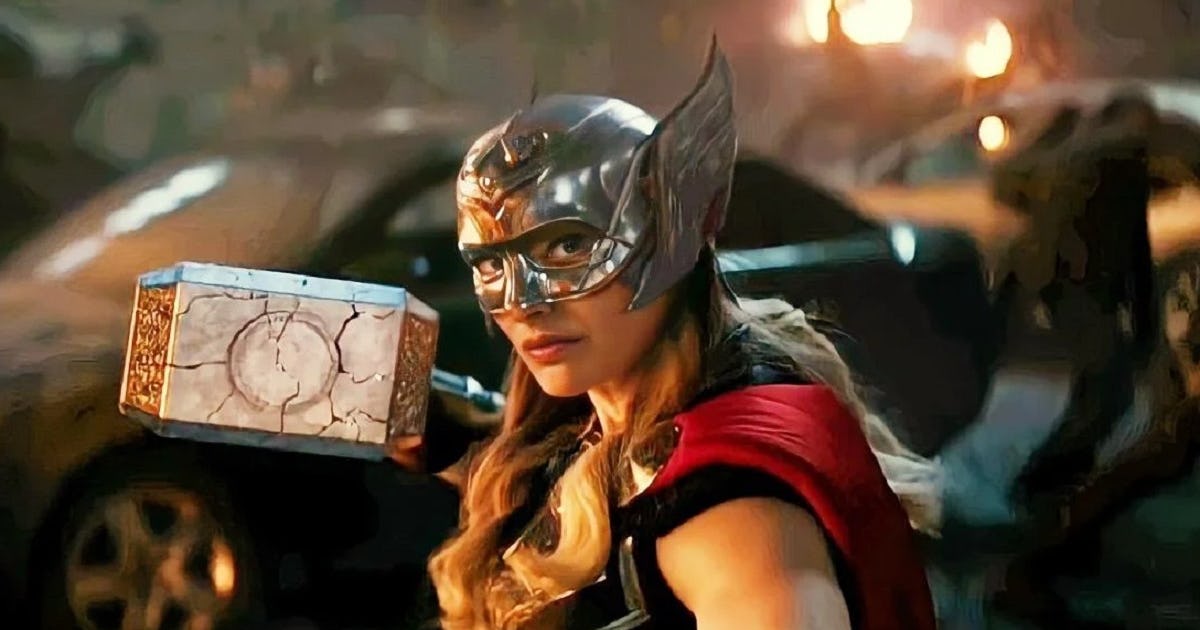 Admittedly there are some downsides to this as well which primarily come in the form of the rushed pacing. I found the running time to be quite short to be honest and therefore there could have been even more room to inject more emotional weight into the film. It felt therefore rushed at times and just too quick to end. I basically wanted more out of it. Even the epic battle scenes fell a bit flat due to the sheer length of it. Surprisingly there were scenes and moments that were prolonged and given more attention and treatment that I honestly thought could have been the moments that were sped up. The priorities felt quite wrong, to be honest. That being said, Thor: Love and Thunder restores the faith back in a franchise that has had more ups and downs than a ride at Six Flags. Thor is truly back as a character whose complexities truly outshone others that have gone before as we get a version of him — wherein the past and present remarkable qualities have come crashing together. 
Meme-Like Humor + 80s Tonality
Thor through the help of Hemsworth and Waititi has been one of the characters that have grown immensely in providing tons of humor. There is an overall light-hearted tonality to Thor: Love and Thunder which is similar to that of Thor: Ragnarok. The humor hits hard at the onset. There are many elements that truly make this film absolutely entertaining to witness from both the action and comedic aspects. The only problem however is that such humor gets pushed to its literally cringe-y breaking point. It simply becomes too much to bear and all the more increasing annoying as time passes by. The repetitive nature of the punchlines creates an almost meme-like quality to the film which doesn't really succeed and I'm not talking about the same effectiveness that Nick Cage's film had gotten, Thor: Love and Thunder at one point, due to its humor become a tad bit annoying. Then again for the majority of the film, these injected humor and comedic jabs are very much an iconic part of what makes Thor and his films enjoyable.
Another signature Waititi element is the integration of rock and '80s-inspired soundtrack and aesthetic. This is seen all throughout the film in the chosen color palettes, the music which is an instant throwback in itself down to the overall tonality. This was also visible in the overall marketing of the film with an 80s rock vibe seen in the colorful posters and even chosen title card stylizations. This paid off leaps and bounds as a point of continuity from Waikiki's Ragnarok and even with the whole vibe that Guardians of the Galaxy constantly delivers which puts music in high regard. The film's aesthetic, therefore, follow this route which also took a variety of experimental changes which at moments both worked and missed the mark. The color grading was more vivid and brighter for the most part as it allowed the film to become all the more immersive. There were also some scenes that took the color grading to the opposite spectrum with a black and white palette that didn't fully work as they intended due to the sudden transition and somewhat sloppy editing at times. Overall though, Thor: Love and Thunder still very much remains true to what you would expect from an MCU film and the thematic quality is an additional plus point in our books. 
Fear The Gorr
One of the highlights however for Thor: Love and Thunder came in the form of its central villain. Not only did the film boast a worthy competitor to Thor but the acting and characterization that Christian Bale poured into Gorr are beyond reproach. There is also ample time to get to know and understand Gorr's intentions and the rationale behind his actions which most films don't really pay that much attention to. The villain, therefore, doesn't become just another character but one that brings an almost human and sentimental element. This role is just the absolute perfect fit for Bale which is able to highlight his talent in just the right manner so as to not completely steal the show but instead add a depth that Love and Thunder very much needed. He is also able to elicit enough fear power from the role that makes Gorr menacing not just in appearance but also as a grave sadistic and highly blinded threat to Thor and his companions. Again, the only downside? We didn't get much time with Gorr as well and the emotional weight that his story also felt rushed.
Thor Love and Thunder Review: Final Verdict
As seen in our Thor Love and Thunder Review, the film boasts a very consistent thematic tone that fits the whole story of Thor. It does however suffer from rushed pacing that takes away the deeply emotional quality that it could have had. As a whole, however, the film does succeed in becoming very entertaining and enjoyable. While it may not be the best Marvel film that we have seen so far in Phase 4 (that spot still belongs to Spider-Man: Way Home and Shang-Chi, in my honest opinion), Thor: Love and Thunder bring justice to the character and film franchise. This film also opens the door for more in the future with this amazing set of characters.
Hype Meter: 8/10
For more Marvel-related movie and TV show reviews: