Netflix recently released a globe-trotting adventure flick entitled Red Notice which boasts a trio of big actors in the film industry —Dwayne Johnson, Gal Gadot, and Ryan Reynolds. In a moment of pure honesty, however, we truly believe that the film lacked substance in its story and characters (You can check out our review on the film to find out more about our thoughts on the film). Our high hopes for this movie left us and many of those who have seen it, disappointed. We do still acknowledge that others may have liked Red Notice nonetheless, but we took the time to scrounge up 10 movies that have a similar (or dare we say, better) story.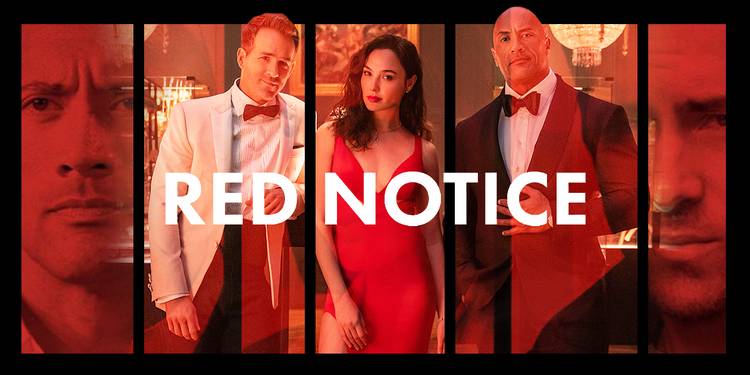 Red Notice seemed to rely heavily on the three big stars rather than the story that they could offer while trying to squeeze in so many various tropes from various genres into a single movie. The movie seemed to combine elements of a treasure hunt, to a cop and robbers type film, down to a classic heist movie which honestly made the overall direction a bit confusing on our end. Therefore these 10 movies that we have deemed to be better than Red Notice may land somewhere in between these various genres and elements that are seen throughout the movie.
Top 10 Movies That Are Better Than Red Notice
10. The Hitman's Bodyguard
Directed by: Patrick Hughes
Starring: Ryan Reynolds, Samuel L. Jackson
Release date: August 18, 2017
Where to stream: Netflix
The unlikely tandem of Dwayne Johnson and Ryan Reynolds was one of the highlights that we found exciting to see in Red Notice and The Hitman's Bodyguard delivers on the same humor and energy. This film coincidentally stars Ryan Reynolds as well who plays Michael Bryce, a washed-up bodyguard who suffered some psychological trauma when one of his clients was suddenly murdered on his watch. Bryce is then assigned to protect one of the most wanted assassins, Darius Kincaid who is to testify against the dictatorial president of Belarus. Everything turns into a chaotic frenzy when the job proves to be more difficult than it appeared.
9. Inside Man
Directed by: Spike Lee
Starring: Clive Owen, Denzel Washington, Jodi Foster
Release date: March 24, 2006
Where to stream: Netflix
In this heist thriller, a group of robbers seizes over control from a bank in Manhattan seemingly to stage a robbery of grand proportions. They find themselves caught in the middle of a back and forth game of cat and mice with a hostage negotiator but along the way constant twists and turns reveal that there may be more to this heist than what meets the eye. This film boasts an amazing cast as well with Clive Owen, Denzel Washington, and Jodi Foster taking the lead.
[hfcm id="9"] [hfcm id="14"] [hfcm id="20"] [hfcm id="24"]
8. Army Of Thieves
Directed by: Matthias Schweighöfer
Starring: Matthias Schweighöfer, Nathalie Emmanuel
Release date: October 29, 2021
Where to stream: Netflix
This movie which was released just a few weeks prior to Red Notice brings a breath of fresh air into the heist movie genre. Army of Thieves is a prequel to Zack Snyder's Army of the Dead as it follows Ludwig Dieter's origin stories and his quest to unlock the three difficult-to-crack safes from the legendary "Ring Cycle" which were all created by Hans Wagner. The film creatively reinvents the genre by taking traditional heist film tropes and flipping them completely on its head into a fun, quirky, and exhilarating tale.
7. The Man From U.N.C.L.E
Directed by: Guy Ritchie
Starring: Henry Cavill, Armie Hammer
Release date: August 14, 2015
Where to stream: Netflix
The Man From U.N.C.L.E is a film adaptation of the 1964 MGM television series of the same name, created by Norman Felton and Sam Rolfe. The story similar to Red Notice follows three unlikely people — a professional thief-turned-CIA-agent, a KGB operative, and the daughter of an alleged Nazi scientist-turned United States collaborator. They must unite tonsure the safety of the world and prevent its utter destruction brought about by all-out war.
6. Fast Five
Directed by: Justin Lin
Starring: Vin Diesel, Paul Walker, Dwayne Johnson
Release date: May 24, 2013
Where to stream: HBO Go Asia
For quite some time, the Fast and the Furious franchise established itself as a predominantly racing-based set of films. All of this changed when producers and directors decided to add elements of heists and wild chaotic exhibitions with cars, tanks, and even submarines. The shift in the tone and genre for this franchise started with its fifth installment as the gang of drag racers aimed to rob a high-profile crime lord while simultaneously doing so with top-of-the-line and super sleek-looking racing cars.
5. Monuments Men
Directed by: George Clooney
Starring: George Clooney, Matt Damon, Bill Murray
Release date: February 7, 2014
Where to stream: Netflix
George Clooney stars and directs The Monuments Men which centers on an Army unit that is tasked with guiding Allied forces to return stolen art to its rightful owners. This is a film that creatively and strategically combines elements of a war bio-pic and the beloved heist movie genre. The film is based on the non-fiction book The Monuments Men: Allied Heroes, Nazi Thieves, and the Greatest Treasure Hunt by Robert M. Edsel and Bret Witter. The setting of World War II also adds depths into this movie which combines several genres such as dark comedy and action so seamlessly into one film.
4. National Treasure
Directed by: Jon Turteltaub
Starring: Nicholas Cage, Sean Bean
Release date: November 19, 2004
Where to stream: Video On Demand (Apple TV, Google Play, etc.)
If you are looking for a truly great treasure hunting adventure film tossed in with an interesting historically-based fictional tale, then National Treasure is a film that you must definitely add to your list. National Treasure follows Benjamin Gates, an American historian and treasure hunter who is on a relentless quest to find a fabled national treasure hidden by the Knights Templar, America's Founding Fathers, and the Freemasons. Along the way, Gates must race against time, the FBI, and another group of treasure hunters to unearth one of America's greatest hidden secrets.
3. The Oceans 12
Directed by: Steven Soderbergh
Starring: George Clooney, Brad Pitt, Matt Damon
Release date: May 24, 2013
Where to stream: Netflix
The Oceans franchise is another well-established set of films that combine a great visual experience with a well-rounded cast of actors. At the heart of it all is a story about Danny Ocean as he recruits a group of men and women with individual and particular sets of skills as he builds a team to perform the perfect heist from millionaire and casino owner, Terry Benedict. This group of unlikely people must come together despite all the twists and turns that may come their way if they truly desire to become a million times richer.
2. Raiders of the Lost Ark
Directed by: Steven Spielberg
Starring: Harrison Ford, Karen Allen
Release date: June 12, 1981
Where to stream: HBO Go Asia
When it comes to high-stakes adventure films that revolve around the search for hidden treasure and ancient ruins, no film can even come close to the iconic Indiana Jones franchise. While there are films in the franchise that may have suffered as well in terms of the plot along the way (don't get us started on the fourth and most recent film) the character of Indiana Jones has turned into a pop culture icon. Harrison Ford helped to create one of the most lovable movie characters of all time and there is no beating the first time that he donned his fedora and whip.
1. Catch Me If You Can
Directed by: Steven Spielberg
Starring: Leonardo DiCaprio, Tom Hanks
Release date: December 25, 2002
Where to stream: Netflix
When a conman makes a name for himself in various lines of work despite having no degree or prior experience, a cop follows his trail to catch this so-called fraud once and for all. This cat and mouse chase that is shown in Catch Me If You Can have established this movie as one of the best films of the 20th century due to the phenomenal direction of Steven Spielberg, the brilliant performances of Leonardo DiCaprio and Tom Hanks, and the simple yet engaging plot that it brings its viewers into.
These 10 movies, by our books, are indeed a better offering than the recently released Netflix flick, Red Notice. However, if you happened to find yourself enjoying the said movie as well, we highly suggest that you check out these other solid offerings as well. Despite sometime polarizing views on the performance of movies that we see, one thing remains which is the power of these stories to bring us all together despite our indivdiaul opinions.
For more amazing content on films and everything in pop culture follow us at This Is Hype Ph.