Birkenstocks or Birks, as most people call them, are a huge hype especially here in the Philippines. It's a normal occurrence to spot someone wearing a pair of cork and leather sandals or rubber slides in any mall here in the Philippines such as in BGC or Makati. The Birks has been a staple in OOTDs and a go-to for comfortable casual wear. The hype has been going on for as long as I can remember but it was just recently that I decided to give in to the trend — coping my own pair of Birkenstock leather and cork sandals, aka, Arizona.
A Brief History and Background on the Birks
Birkenstock is a German shoe manufacturer that is known for its production of sandals and other shoes notable for their contoured cork footbeds made with layers of suede and jute. The popularity of Birkenstocks started all the way back in the 60s and 70s when it was distributed all across the United States. The reception however towards the appearance of the shoes and sandals was not met positively at first. It was through a German dressmaker by the name of Margot Fraser who resided in California that the Birkenstocks got their debut in the United States as she found relief for her foot ailment caused by tight shoes through Birkenstocks' perfect fit.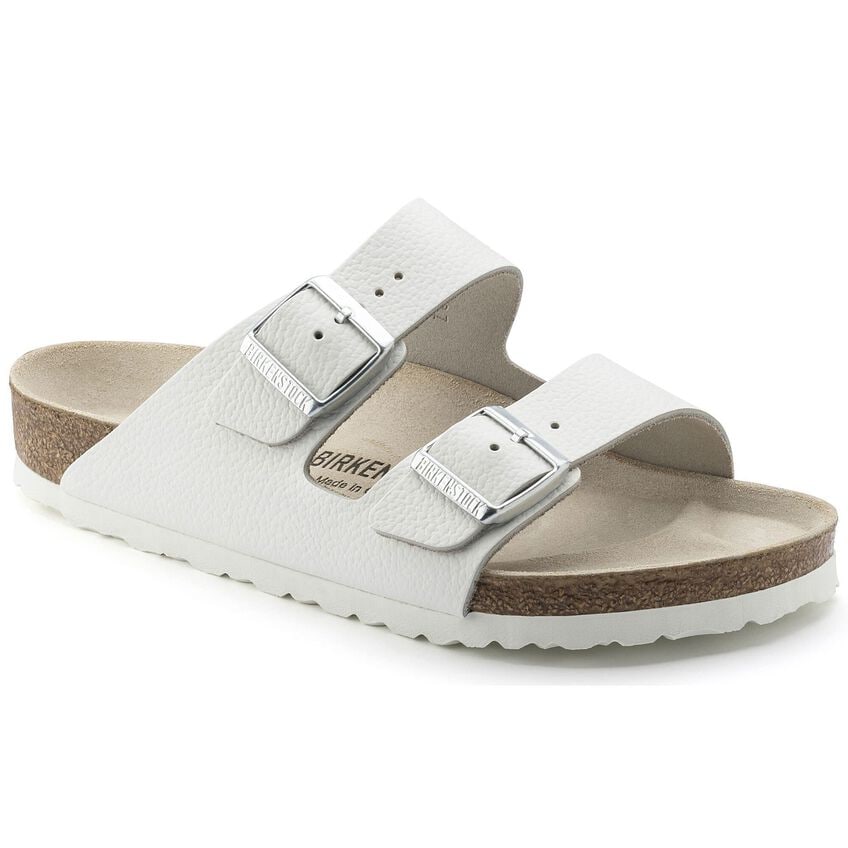 Birkenstocks were first sold to health stores but a spike in sales occurred in the 1970s as they were first popular among young men and later on among flower children, a group traditionally associated with American liberalism. The shoe admittedly became popular with hippies and others who had a "back to nature" philosophy and eventually, in 1973, Birkenstock's most popular sandal, Arizona, was introduced.
Since then, the Birkenstock has been acclaimed up until today with the best, most popular, and highly revered designers in High Fashion utilizing the pair such as Phoebe Philo who created one of the more well-known designs for Céline — combining the Birkenstock Arizona and a mink covered footbed which is commonly referred to as the "Furkenstock". In 2019 Valentino collaborated with Birkenstock to create their own version of the sandal featured at Men's Paris Fashion Week. Celebrities such as Kate Moss and Gwyneth Paltrow have also contributed to the rise in popularity of the Birkenstocks as they have been seen sporting a pair on more than one occasion. 
For the 20th century, the popularity of the Birkenstocks once again resurrected itself sometime in the 2010s. I personally recall close friends of mine who started purchasing and sporting the pair together with shorts or even pants. This year alone, I've had several close friends who have purchased a new pair of the Arizonas as well as pairs of sandals with a rubber material for beachwear that also boasts a similar design to the Arizonas. 
My Thoughts on the Birkenstocks Arizona
As mentioned, I recently got my hands on a pair of Birkenstock — the OG black Arizonas — but it honestly took me this long to get one after much prodding from several people. I've worn the pair for over a month now — even trying them out during a trip in Singapore — and here are my thoughts on them before purchasing and on feet as well.
The Jesus Sandal Mindset
This is in no way meant to sound blasphemous or to ridicule faith or religion. This is an opinion based on first impressions out of pure honesty. The Birks specifically the Arizonas honestly reminded me of sandals depicted to be worn during the time of Jesus and the Roman Empire. It wasn't completely off-putting, to be honest, but it boiled down basically to preference. I couldn't see myself wearing such a pair. The cork footbeds were also a point of concern as they didn't provide that sense of appeal — these are mere opinions, to be honest. Despite often seeing people wear the Arizonas there wasn't anything all that special when I looked at them from a spectator's standpoint. I also couldn't wrap my head around the Php 7,000 price tag for a pair of sandals.
Again these all boiled down to preference and how I personally saw the Birks. I must admit as well that I have never been the sandals kind of person. I stick with either sneakers or slides when I step out of the house and for the longest time even wouldn't shell out that much money for slides or "slippers".  I saw them more as a pair you sport at home or at the beach. This was all the more the reason why I couldn't for the life of me, force myself to cop a pair of Birkenstocks. If I narrowed it down to three main reasons it would again be the Messianic-Jesus-like designs, the price tag, and the fact that I'm not a sandal kind of person.
Several years into the popularity of the Birkenstocks Arizona, I decided to get a pair — out of peer pressure to be quite honest but also out of a desire to find out what the hype was all about.
Worth the Purchase?
So how was the experience exactly of putting on Arizona for the first time? Painful. Let me explain. As mentioned, my feet have been accustomed to softer padded footwear. I barely put on leather shoes as well except on special occasions. The term breaking in is used for a reason and the same principle applies to the Birkenstock Arizona. I highly recommend a week or two of getting used to the pair before using them on long and strenuous walks. This was my error as I used them immediately while we were in Singapore for the entire days worth of walking throughout the city. This was a true mistake on my part as it caused both of my feet to blister along the midsole of each foot. Again if it's your first time sporting the pair of Arizonas or probably any footwear from Birkenstock, we highly recommend that you break them in first.
The sizing for the Birkenstocks is a bit tricky as well. I usually get a size 10.5 or 11 for sneakers such as the Adidas Ultra Boost or the Yeezys but since Birkenstocks don't have 0.5 increments I was initially supposed to get a size 11 for the OG Arizona. It was however too big on my feet and the bigger space would cause them to rub constantly on the footbed and may cause further injuries which was why I ended up with a size 10. The straps, however, are adjustable, giving way to a perfect fit despite being smaller than what I usually get in other pieces of footwear. This will differ from person to person. It's best to try them on in an actual Birkenstock store or retailers such as Shoe Salon and Res Toe Run. It's also great to speak with the store's employees who are more than willing and accommodating to help you figure out the size that is just right for you. Take note as well that not all variations will provide the same amount of comfort in exactly the same size. For example, the store clerks do recommend a size bigger at times for the rubber versions of the Arizona (Arizona Essentials) and therefore it really is best to fit them before purchasing.
The last big revelation I had with the Birkenstocks is the actual snugness or fit on feet which deals more with the adjustments with the straps. I prefer a snug and tight fit, especially with slides. I find it a bit weird if my feet slip or move from time to time and therefore I prefer a tight-fitting pair. I thought it would be the same when it comes to the Arizona. I was wrong. The fit or adjustment when I first tried the pair on was already adjusted perfectly by the store clerks.
I decided to tighten them further when I got home and in doing so achieved the same result — blisters. Lightly adjust the straps. Not overly loose but not too tight as well. During my experience, there was a discomfort along the inner part of the midsole as it would rub against the portion of the sandal where the cork footbed and the leather would meet — my speculation is that my foot would rub harshly against the stitching of the pair. Therefore don't tighten the straps too much and instead allow the breathable nature of the pair to take over. 
Easy to Match With Any OOTD
This is probably where I found the Birkenstocks, especially the Arizona to be extremely helpful. I got the black colorway for the uppers with black belt buckles as well and found such a pair and palette to be easy to pair with any outfit. Whether it be with pants or shorts there Birks have a quality to them that doesn't make them look off-putting to wear. The leather-like uppers provide an almost formal and sophisticated look. They are therefore aesthetically easy to mix and match with almost any color and any article of clothing.
To top it all off, Birkenstock offers a wide array of shoes, boots, and sandals with variations in color and design. The Birkenstocks are mostly named after various cities all around the world such as the Bostons, Arizonas, Gizehs, Milanos, Madrids, and many more.
BIRKENSTOCK ARIZONA: FINAL THOUGHTS
I am reminded of this one episode of Ted Lasso where the football players express the extreme discomfort that they all experience during a funeral when they are all required to wear leather shoes. In the same way, the Birkenstock experience started off this way for me. After a couple of weeks, however, the experience has totally changed and I find it extremely comfortable to sport a pair of  Birkenstocks Arizona. Again, they are extremely easy to mix and match with casual and extremely laid-back outfits. The downside with the cork footbeds however is that they aren't the easiest to clean and cannot be drenched or submerged in water. This means that there is a need to really take extreme care of your Birks. Nonetheless, they seem to be a welcome addition to my wardrobe.
I will circle back to one of the questions I posed earlier. Are they worth it? I would say given the brand name itself and the actual eventual experience that you are set to gain from the pair — yes. Even if the price tag of Php 7,000 is quite steep, especially for the iconic Arizona design, I still feel that the amount of comfort that we get from Birkenstock is pretty much worth it. If it's your first time getting a pair, I would recommend trying out the Arizonas and asking around for a pair with a softer footbed. The Arizona Essentials which boasts a rubber material is also a great option as it would be much easier to maintain and would be ideal for beachwear and even on rainy days as the material allows you to have them on the go without the worry of getting them wet unlike the OG Arizona.
Another tip is to wait for sales with official retailers or even the official Birkenstock stores–they do offer promos at times like getting your 2nd pair at 50% off but these offers are seasonal and it would be best to be on the lookout for them when they do pop up. It's official, I am now a proud owner of a pair of Birkenstocks The journey to getting there was quite tough but it was a learning moment indeed. 
For the latest updates on shoes, sneakers, streetwear, and everything and anything in pop culture continue to follow us here at This Is Hype Ph.