There's something very exciting and thrilling when survival-type films make their way to the big screens — from Jaws to Shallow down to 127 Hours. These films pit humans against the very forces of nature in the ultimate games of survival. We took the chance to head to the cinemas to check out a thrilling film in the same sub-genre entitled Fall which we review in this article.
Fall stars Grace Caroline Currey (Shazam), Virginia Gardner (All The Bright Places), Mason Gooding (Scream), and Jeffrey Dean Morgan (The Walking Dead). 
Fall centers on two friends Becky and Hunter who decide to climb a 2000-foot-high TV tower. They do so due to Hunter's daredevil-themed vlog and in order to help Becky hopefully, move on from the loss of her husband Dan who fell to his death during a rock climbing excursion that the three were previously on. Everything seemed to go smoothly as both women are able to successfully climb to the top only for the ladders to suddenly break which caused them to get stuck. Becky and Hunter must do all that it takes to survive the harsh conditions of the desert, altitude, and even personal issues that both face as they try to find ways to get down safely.
Fall Review: Spoiler Warnings
Due to the thrilling quality and twists that the film has, we will keep this review of Fall free from spoilers. We will limit our coverage in this review of Fall to the pacing; effectiveness of the twists and thriller genre; and finally the utilization of a limited number of cast members.
Thrilling Through and Through?
Fall manages to bring a very thrilling concept from start to finish. The film gets your attention from the very beginning with a very intense yet predictable — mostly due to the trailer as well — rock climbing scene. Things continue to escalate and elevate from here on out as the actual climbing of the 2000-foot-high B-67 TV tower. Every step that Becky and Hunter take is filmed and executed in a manner that elicits the much-needed suspense as they slip and metal screws and pieces from the old and rickety TV tower foreshadow the eventual premise of the movie. It is a pretty straightforward story to be quite frank, one that may tend to be predictable at times. There were some moments that I could actually personally figure out but the overall thrill and suspense still managed to keep me hooked from start to finish. This is still an incredible feat for a film as Fall keeps your attention with the desire to find out how things will play out. 
There is also a very scary tone that Fall brings in. I wouldn't really say that Fall falls into the horror movie genre but there could be some moments that elicit a different kind of fear altogether such as fear of isolation and even heights. These moments were admittedly captured in the film in a manner that has some believability and realism to them. Fall becomes all the more interesting in this light as there is a consistent showcase of at-the-edge-of-your-seat scenes which are paired with vertigo-inducing shots, landscapes, and sceneries. 
Fall however goes beyond being just a thriller as it injects a dramatic plot at the center of all the suspense. This is where the film hits a hard wall. The dramatic moments between the two friends and Becky's relational strains with her father aren't as believable and are where the huge predictability issues arise from. The integration of these plot points does keep the film alive and ever transforming but they don't really do much to be quite honest. It feels bland at certain points by just adding more complexities that really don't have all that big of an impact. These aspects do remain at the core of the film's themes of perseverance and grit but they don't have that much-added value in the end which may also be due to the lack of acting ability from the actors.
Defying the Gravity of Reality
Fall defies every meaning of the words possible and real and not in the most positive light. There is an over-exaggeration as the film seeks to bring in a message of hope, grit, and determination even in a situation that really has no other possible outcome. Call me pessimistic all you want but the predicament that both girls find themselves in are just irrational and unrealistic, to begin with. The 2000-foot tower in itself poses a problem. The first problem that B-67 poses is the fact that the two girls were able to easily sneak in to enter the premises and climb a structure that is clearly meant to be a relic as old as time. The very idea of climbing such a tall structure is unthinkable if you ask me but maybe daredevils have that kind of adrenaline pumping high and desire to attempt such a feat. There are some towers however in the United States that really stand tall at 2000 feet or more which at least provides a bit of truth but the actions and even the possibility to ensure survival felt farfetched. 
When we put this aside, however, Fall brings us back to the fictional standpoint that it contains which is all the more emphasized with the big twist in the latter parts of the film. This twist which we won't dive into that deeply flipped the entire story once again on its feet to give us a very interesting premise. Yes, this will once again depreciate in value due to the ending but we must admit that the timing and execution of such a story-telling device were absolutely well done. It caught us off-guard when we first saw it. It may be again predictable once you really think about it but we stand by its effectiveness.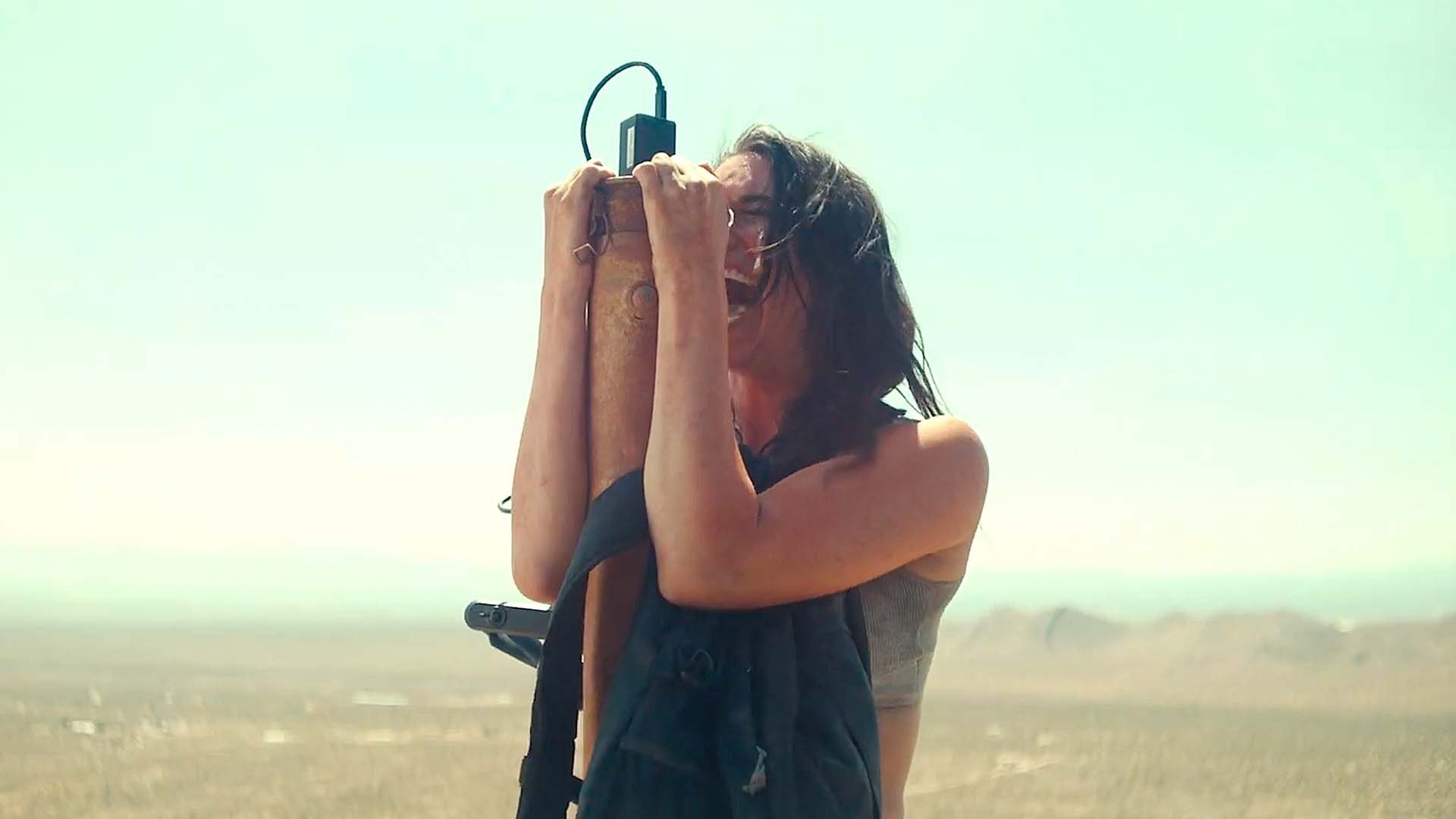 One aspect that must be mentioned as well as the dynamics of the main cast given that there are just two that we follow in this film for the most part. Currey and Gardner who play Becky and Hunter respectively actually have a difficult task before them as they only feed off of each other for the majority of the movie. It does work for the most part again so moments also become a bit too irrelevant and fall a bit flat but they do get our attention and keep it for a good portion of the film's running time. The format of the two-cast approach with a predominantly single setting which is the tower points to a B film. It tries to juggle or provide a false sense of grandeur but in the end, it's plain to see the overly simplistic nature of the film's execution.
Fall Review: Final Verdict
Fall as mentioned in this review is a B film posing to provide a false sense of grandeur. It's very simple and nothing new is really added to the genre of thrillers and suspense films. It feels very familiar and several films have a similar direction. It actually feels like a mashup of survival film elements from Shallows, 127 Hours, and Adrift. It is still however a very entertaining film with enough thrills and suspense to keep you engaged and hooked from start to finish. It does have elements that are illogical and far-fetched but if you are looking for a time to unwind and enjoy a thrilling story then Fall would do the job. It's not mind-blowingly great or the best that we have seen, but it will do. 
Hype Meter: 6/10
For more reviews: