Fans of Ben&Ben and SB19 are treated to a unique experience and opportunity with a collaboration on the latter's hit single MAPA. In what is referred to as the official band version of the song, the 9-piece indie-folk band unities with the 5-man PPop boy band for a unique twist on the original version of the song.
The hit song MAPA took social media platforms by storm as a mellow and heartfelt ode dedicated to parents — highlighting the struggles, sacrifices, and instinctive joys that come with parenthood. The emotionally wrecking song was released in a timely fashion in-between Mother's day and Father's day last May 16. It was also a few days prior to this that the popular Filipino folk band, Ben&Ben released their newest single, Upuan which gave a much-needed unconventionally upbeat yet introspective summer love song. The culmination of unarguably two of the biggest names in the OPM scene today is a historic and epic partnership that is unlike any that we have heard of before.
For more articles on Ben & Ben and SB19 prior to this epic collaboration:
[hfcm id="9"] [hfcm id="14"] [hfcm id="20"] [hfcm id="24"]
What makes this collaboration unique is not just in the combination of two popular names in the music industry — that has clearly been done before. What puts the MAPA band version in a lane of its own is the artistic and storytelling capacity of both bands which emanates so naturally in this single song.  According to Sony Music Philippines General Manager Roslyn Pineda, there was a clamor from the general public for #SBen19 since last year. And fans are finally getting what they wished for and more in this unique collaboration.
The journey towards #SBen19
The inception of such a collaboration between Ben&Ben and SB19 was several years in the making. It all started while the PPop band members were still training as they openly shared their dream to perform with the 9-piece band. Ben&Ben shares the enthusiasm with SB19 to perform and work together in one song. Such joy and excitement to work with each other is definitive proof of the mutual respect and admiration that both bands have for each other.
According to Pineda, the culmination of these dreams came when SB19 opted for a band version of their hit song, MAPA with which Ben & Ben immediately jumped on — thus the partnership between the two began.
"Basically, SB19 had an idea — a band version of MAPA… And Ben&Ben said yes in a heartbeat, which perhaps shouldn't have come as a surprise given their 'Ma, may ___ na kami' captions on social media that make their devotion to their parents publicly known. As their label, it was wonderful for us to see SB19 and Ben&Ben get along so well.

 

And when they performed together on one stage, I don't think anyone could deny—it was pure magic!" said Pineda.
The Making of MAPA, band version
SB19 was gracious enough to give Ben&Ben permission to rearrange the material, ensuring that it stays faithful to the creative vision of both groups, collaboratively and individually. All the members of Ben & Ben were individually responsible for the creation of their parts. However, according to the band, the overall arrangement fell into the hands of Pat and Poch  — the more "technically proficient members when it comes to arranging intricate sections."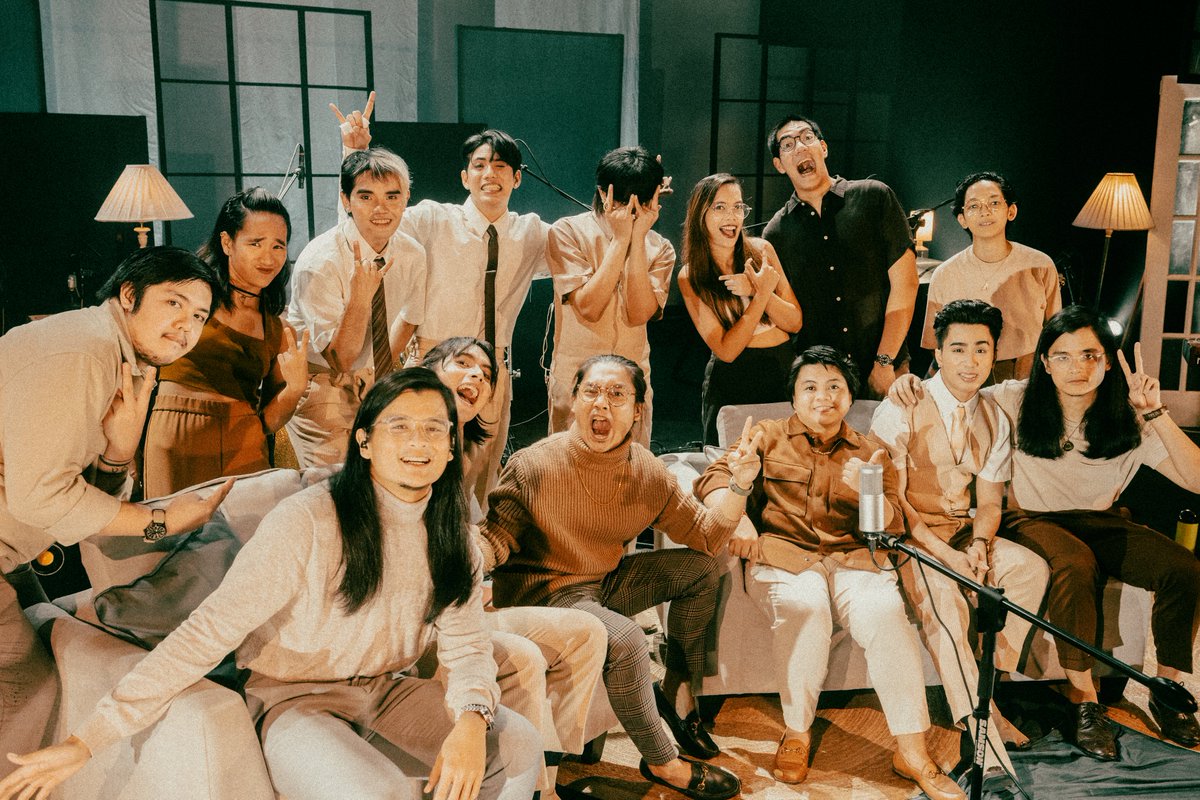 What then followed was an active and productive back and forth between the two bands to ensure that the original version would still be intact while bringing a fresh new sound and perspective to the heartfelt song.
According to Ben&Ben, "We were 100% involved with the process. They gave us free liberty to arrange the song, only giving us additional comments to help make some parts flow better. Pablo from SB19 and Pat from Ben&Ben were directly coordinating and constantly giving updates, and the suggestions he gave greatly helped us during the final recording sessions."
Our Verdict On The New Version
We completely agree with Pineda's statement: the song is nothing short of magical. It may have seemed unfathomable for the original song from SB19 to get any better with the emotional ride that it takes its listeners on. Apparently, it can. The reinvented arrangement of Ben&Ben takes the song to a whole new unworldly level of brilliantly place jazzy tones and layers upon layers of perfectly chosen and timed musical sections. In classic Ben & Ben fashion that sounds comfortably familiar, the song MAPA is packed with orchestral details, inviting harmonies, and expansive arrangements that add depth and a greater sense of emotional sincerity to the storyline of the song.
"Arrangement-wise, we wanted to make it distinct from the original, adding fun rhythms and grand sections. We felt that doing this added weight, and served to support the powerful vocal performance of both acts."
This version adds so much to an already brilliantly laid out story and provides a juxtaposition between the emotionally rich lyrics and an upbeat layered musical symphony of sounds. Ben&Ben is moving forward as a band that delivers an introspective type of experience for their listeners as they tap into a more reflective type of art form in their music. The song is rebuilt from the ground up in a successful attempt to bring a richer and uplifted feeling unto its listeners despite the overall meaning of the lyric.
One-Of-A-Kind Performance
In addition to the release of the song, fans are treated to an amazing performance of the collaboration, which was shot at the historic (and now fully restored) Manila Metropolitan Theatre. The performance officially dropped on Youtube last June 27 on SB19's Official account. The one-of-a-kind performance showcases the pure elated feeling and joy from both bands as they lay out everything in the name of creativity and of music.
"The Manila Metropolitan Theater is a revered national treasure, Apparently, it's the only existing art deco building of its size and integrity in Asia. So to have SB19 and Ben & Ben be the first artists to grace this iconic venue after 6 years of restoration is nothing short of a groundbreaking cultural moment," Pineda said.
Both Ben&Ben and SB19 continue to make waves in the music scene that have set them apart as revolutionary artists for this current generation. Amidst their growing popularity, these two phenoms are still able to inspire a new generation of musicians while still being genuine to their fanbases. Proof of such a genuine experience came with an interaction with Ben&Ben and our very own Carlo Ople with this heartfelt message and simple yet very meaningful package.
https://www.facebook.com/oplecarlo/posts/4083319401752323
As we wait for more from these two artists, listening to their current list of songs on Spotify will have to do: