The rom-com genre is admittedly a well-saturated one when it comes to films — there is simply an abundance of these types of films. Nonetheless, there is an appealing quality when both romance and comedic situations are mixed in together that people still manage to eat them up. Netflix admittedly has had success in delivering films in the said genre and albeit they too have had their fair share of ups and downs, there has been a couple of standouts such as Holidate, Falling Inn Love, and Love Hard, just to name a few. The most recent rom-com to come out of the platform however has certainly piqued our interest as we find out through our review, if this city girl meets country boy story entitled A Perfect Pairing would continue the rom-com success that Netflix has had as of late.
A Perfect Pairing stars Victoria Justice, who has had her fair share of success and commercial bombs. However, her run with Netflix has enabled her to achieve the former more rather than the latter. Justice first got her big break under Nickelodean for hit TV shows such as Zoey 101 and Victorious, back in the 90s and early 2000s. She is also known quite a bit for her musical talent as a singer and more recently with her films on Netflix such as the 2021 supernatural comedy, Afterlife of the Party. Alongside Victoria Justice, A Perfect Pairing also boasts yet another familiar face in the form of Australian actor Adam Demos, who was in another Netflix rom-com entitled Falling Inn Love alongside Christina Milan.
The film follows a hard-driven LA wine company exec named Lola Alvarez (Victoria Justice) whose passion for wine and her career pushes her to quit her job out of her frustration with her boss and due to her dreams of opening her own wine company. Lola decides to kick off her new company by becoming the distributor of a local celebrity-owned Australian winery, Vaughn Family Wines, by bringing their brand and wine offerings to the biggest restaurants and sommeliers in Los Angeles. This task doesn't come easy as travels Down Under to win over the owner by toiling on the farm. This is where she meets the enigmatic but extremely handsome ranch-hand, Max (Adam Demos), to whom Lola immediately gets a liking, but she will soon discover that there is more to this man than meets the eye.
A Perfect Pairing Review Spoiler Warnings
This review will strictly be rid of spoilers as we limit the discussion to the impact of the film as a rom-com, the primary cast's chemistry, and the execution of the plot twist of the story.
[hfcm id="9"] [hfcm id="14"] [hfcm id="20"] [hfcm id="24"]
Fun Formulaic Romance
A Perfect Pairing is, by all means, a cute, fun, and feel-good story that can be expected out of a rom-com film. There is an overall light-hearted quality to the movie that makes it enjoyable and it is interestingly found not just in the romantic moments between the primary cast members. There are several storylines that take place such as Lola adjusting to the simple and rustic ranch life in Australia; the various stories of Australian locals; and even Lola's ambitious and determined qualities to pursue her dreams no matter what. A Perfect Pairing is consistent in providing a very light atmosphere even down to its song choices such as Home by Edward Sharpe and the Magnetic Zeros and Geronimo by the Australian band Sheppard. Even the choice for the scenic shots shows an attention to detail to provide a consistent uplifting mood.
That being said, despite having a very light overall vibe, A Perfect Pairing also has a very predictable and formulaic story. There isn't anything new that the film delivers and in fact, it might have the possibility to get lost in the slew of romantic comedy films. At the center of the film is a story that focuses on two completely different people — a tale of two cities kind of story. We follow Lola as she learns the ropes of a simpler lifestyle through the cliched use of montage clips. The altercations with Lola's wine company were shades of movies such as 13 going on 30 and as a whole, the film just felt like a copy-pasted version of multiple rom-com films. Even the scenic outdoor shots do add a resemblance to rom-com tropes which bring movies like The Proposal into the mind and unshakably Adam Demos' other Netflix film, Falling Inn Love.
All throughout the film, we follow, at the core of the film, Lola's quest for her passions and pursuits rather than the actual love story itself between her and Max which are inserted from time to time in cutesy little scenes and flirtatious conversations. It's more of a millennial type of movie for the most part and when the big twist comes in it ends up creating some minor questionable plot points.
An Unexciting "Twist"
By two-thirds of the film, a twist incurs. The twist admittedly is underwhelming and quite confusing at times in regards to the reactions that our characters choose to do after the big reveal. It is thematic if you look at the film as a whole and refer back to the crucial setup that the film did in the exposition part of the story. The big reveal, however, is still, by all means, formulaic in nature. The said twist also gets a quick resolution which again adds to its questionable direction. It doesn't bring about the effect that it probably hoped for but that being said, it wasn't all that bad either. It again is proof that A Perfect Pairing does fall into the cliched tropes of the genre and as a whole was unable to innovate and bring anything new to the table.
Sparks of Chemistry
One of the crucial elements that make a rom-com worthy of being seen again and again and into a timeless work of art despite its cliches, is the chemistry between the central lead characters. A Perfect Pairing at times has it but it also has moments where it is completely lost. As mentioned the film seems to focus more on Victoria Justice's character which she absolutely nails. It sadly has made the film a Victoria Justice-centric one. Her quirks, charm, and even some injected humorous moments, by all means, steal the show. This however takes the attention away from her love tandem, Adam Demos. Demos, as we have seen in his previous films and shows such as Sex/Life and Falling Inn Love, portrays a very similar type of character. He's aloof and his boorish Australian qualities are made to shine but appear to have placed him in an archetypal box. There are moments that make the Lola and Max chemistry fun to watch but there also seems to be a disconnect at times from Demos which in turn left us as viewers simply wanting more.
A Perfect Pairing Review: Final Verdict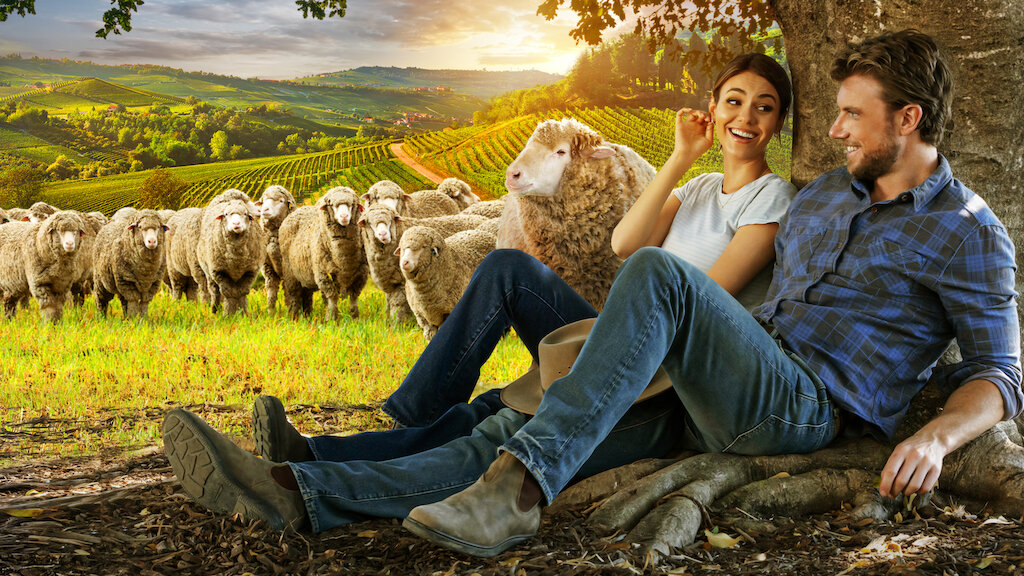 As seen in our review A Perfect Pairing is a fun and cutesy rom-com film that admittedly is worth the watch. Does it offer anything new? Absolutely not. But it somehow shows that formulaic films like these work for a reason. There isn't much to overthink or dissect regarding the story but rather it brings us back to one of the main goals of some films — to entertain. This is a film that may not necessarily rise to the top of the rom-com genre or it wouldn't be the first film that you would think of either but it does somehow still succeed in its simplicity and straightforwardness.
Hype Meter Rating: 7/10
For more reviews movie reviews: