Musicals have a certain niche. It's not for everyone. There is a particular type of musical genre and treatment that has come out of late with films such as Respect, Bohemian Rhapsody, and even A Star Is Born that takes the serious side of stories that involve musicians and artists. The first two mentioned even focus on real-life stories and people as it unearths the truth behind their personalities, rise to fame, and at times even downfall. The latest film that is to be added to such a genre — musical biographical — is Elvis and we take the time to review the film in this article.
Elvis Presley is without a doubt a legend in the music industry. His influence up until today has no bounds. It has created a ripple effect in music that many artists still look up to The King. His musical genres are an intertwinement of Rock & Roll, Blues, Soul, and Gospel. Elvis Presley is even considered one of the most significant cultural icons of the 20th century. His energized interpretations of songs and sexually provocative performance style together with influences across color lines during a transformative era in race relations led him to both great success and initial controversy. These controversies along with his rise to fame are exactly what Elvis covers.
Elvis is a film that is packed with great potential and creative minds. It is first and foremost directed by Australian film director, Baz Luhrmann. Luhrmann is known for his grand visual designs and thematic stylistic choices in filmmaking which are evident in how he creates an immersive visual and auditory experience. This is seen in his Red Curtain Trilogy — Strictly Ballroom, Romeo + Juliet, and Moulin Rouge — as well as in films such as Australia and The Great Gatsby. Elvis also boasts the incredible talent of actors such as Austin Butler (Once Upon A Time In Hollywood) and Tom Hanks (Terminal, Forrest Gump), just to name a few. 
[hfcm id="9"] [hfcm id="14"] [hfcm id="20"] [hfcm id="24"]
Elvis Review: Spoiler Warnings
Most of what is seen in the film is a combination of reality and fiction. While the story is biographical in nature, the filmmaking techniques and acting styles may play around and stretch the bounds of what is real. This is the creative aspect of Elvis. Therefore the majority of the story of Elvis may be known to most, especially to fans of the artist. This review of Elvis will discuss the visual aspects and creativity that are seen in the creation of the film. There may be some broad strokes in this Elvis review that will tend to be a bit spoiler-y but for the most part, we will do our best to keep important details out of this article in order to avoid tampering with your viewing experience.
The Baz Luhrmann Experience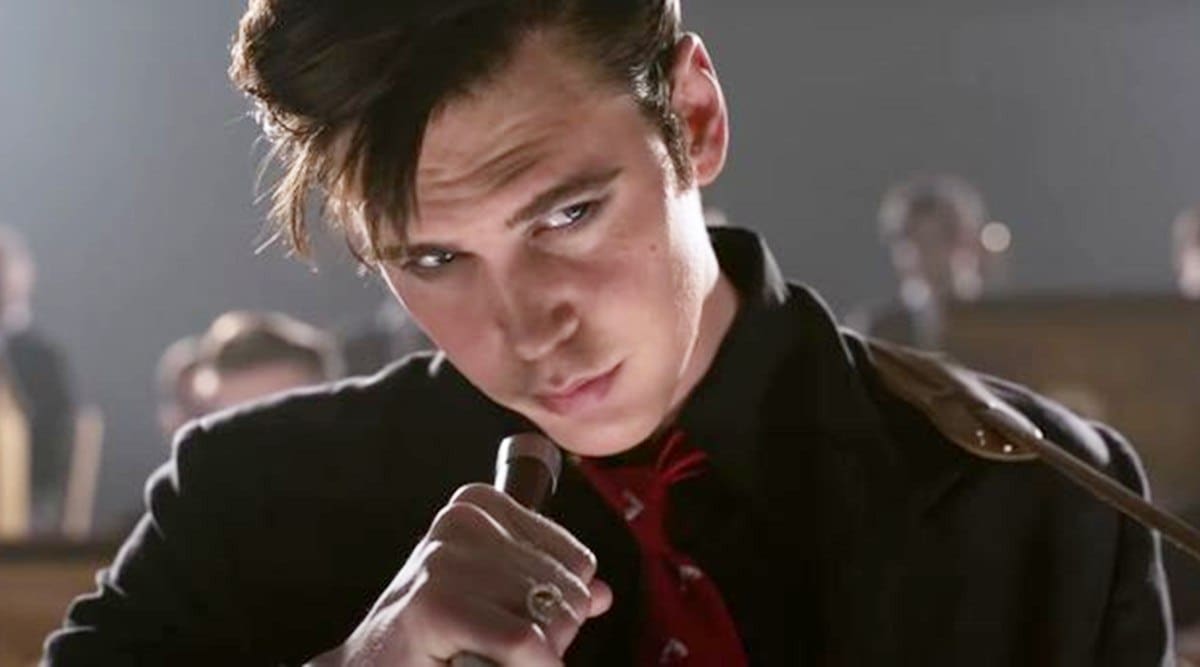 If you haven't seen a Luhrmann film, I do highly recommend that you check one of his many available works now. Add Elvis to that list while you are at it. Luhrmann's direction and capabilities to create an amazing backdrop for his stories are nothing short of amazing. There is almost a theatrical and poetic nature to how his films work and I personally found Elvis to be a great example of this. Luhrmann goes beyond the bounds of what the story of Elvis is truly about and is able to extract as much drama and multi-facet dimensions from it, that a typical biographical film is unable to achieve. On a visual level, the story is told in a way that traverses the various songs and life stages of the titular character. There is also a different level in the overall treatment of the film as it steps out of the typical formats of a dragging biographical film and into the realm of a very exciting and visually captivating experience. The two-hour and a half-long film go by so fast in the most positive way of doing so. There is no dead air and moment in how Luhrmann crafts this tale instead he is able to draw viewers in while keeping us all glued to the ride that occurs alongside Elvis Presley himself.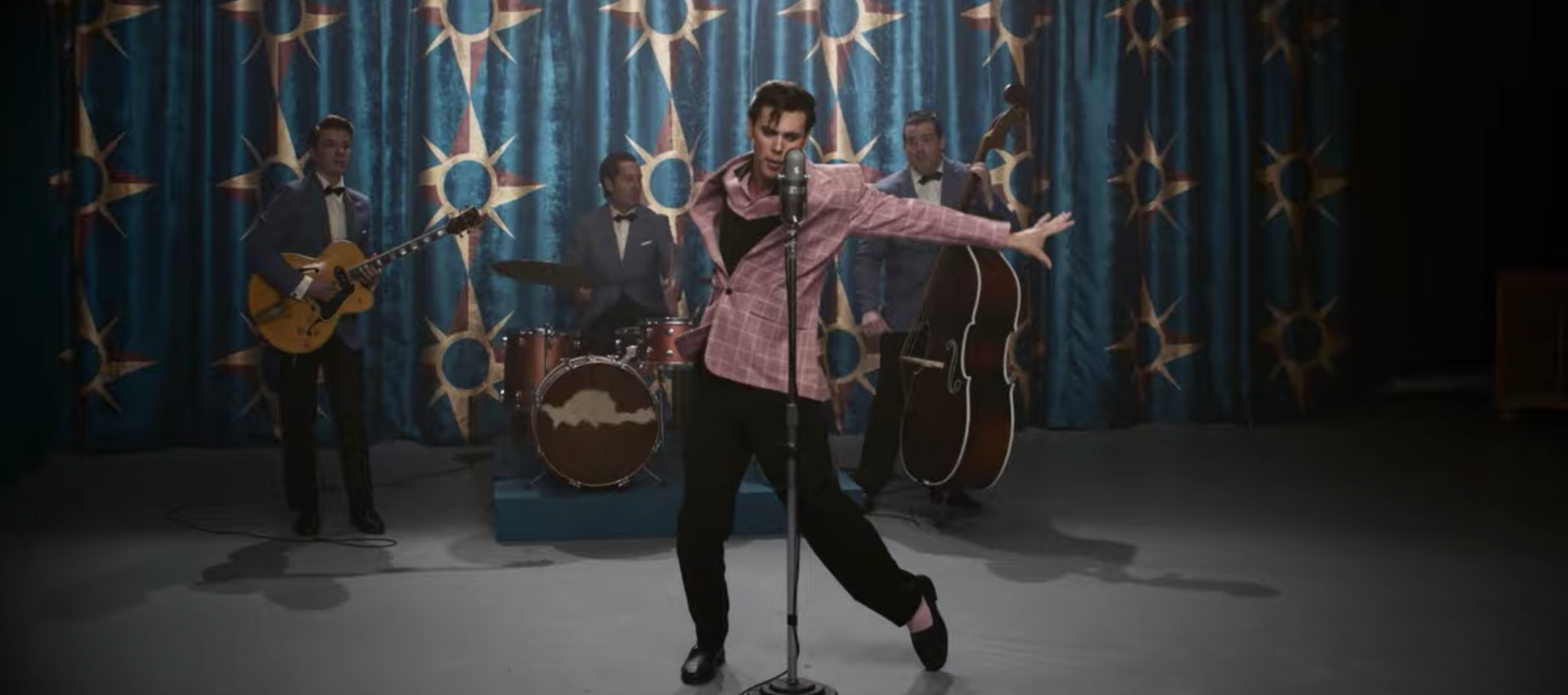 The best way to describe Elvis is that in its essence, it's a signature of what makes Luhrmann one of the great visionary directors and storytellers of this generation. I personally find his works to be purely magical in the way that he artistically enthralls his audiences. One of the central focal points in any Luhrmann film is the integration of perfectly matched melodies that take their own lives in the films themselves. This is all the more seen in Elvis — a film heavily rooted in the music itself. It was honestly surprising to witness a movie that stepped outside of the parameters of the story's setting and what was therefore achieved was an entirely different and powerful message altogether. Luhrmann's choices of adding modern hip-hop-styled musical choices and even revamping Elvis hits to coincide with a thematic message pushed the story further poetically by creating an image of Elvis that the director truly set out to deliver. We are given a character who is brought all the more to life before our eyes through the visual and musical choices that the director set out to deliver.
More Than The King of Rock & Roll
Usually, when biographical dramas come out there is an almost humanizing goal to the stories. That occurs here no doubt about it. The glass of an artist's fame is usually shattered to paint the more human side of them rather than how we usually see them as stars. Elvis however also paints a very social and political message. We get to see a side of the King that is heavily rooted and spatially close to African-American culture as seen in his welcoming star to influences from rhythm, blues, and gospel music. It's even further seen in the moments where the focus in the setting is on Beale Street with historical and influential personalities during that time such as B.B King and Mahalia Jackson. This is the bigger glass-breaking moment that Elvis brings about. It gives a picture of a time when America was in shambles politically due to divisions due to color and how Elvis stood up to become a light that embodies equality and freedom through his music. This is a picture of the icon that isn't usually painted or talked about.
The film, therefore, steps into a very serious light at times. It may not be as devastating as most biographical films but the weight of the message being conveyed is definitely felt. This again works through the musical atmosphere that it brings which serves almost as an anchoring symbolic image. The modern music that comes in paints the picture of how far Elvis and a variety of musical influences have paved the way for the kind of music that we hear today. The ability to unite therefore the past and the present alongside the heartaches, sacrifices, and pain that come along with it, is truly a powerful statement. Elvis Presley stands right smack in the middle of it all and is able to carry the weight of a film that speaks bounds not just about music but about equality and freedom. This is what Elvis is able to encapsulate — a protagonist who had to fight against everything not just for himself but also for those who couldn't, in order to reach the American dream.
Embodying Elvis
Austin Butler sets and steals the show. I was honestly surprised and caught off guard by the acting capabilities of this young man. I am not an expert in all things Elvis and therefore there may be fans and critiques who would stand on the opposite side of the argument. I completely understand. There may be mannerisms and stylistic choices that differ from how the King truly was like in real life. From an acting perspective, however, Butler was completely in the zone in bringing out the emotional aspects of the character as he was able to highlight the naiveté, inexperience, and longing of the superstar to break out of his shell into a position of greatness. Butler was able to incorporate a combination of emotionality in his delivery with the great use of the Southern accent together with the physicality demand that the role had, particularly through his gyrations and erotic dance moves. The vocal ability of the actor was also showcased to an amazing degree with Butler providing the singing voice as well for Elvis' younger years while voice integrations of the actual Elvis were blended with Butler's towards the end of the film to achieve the deeper voice and iconic Presley lower register.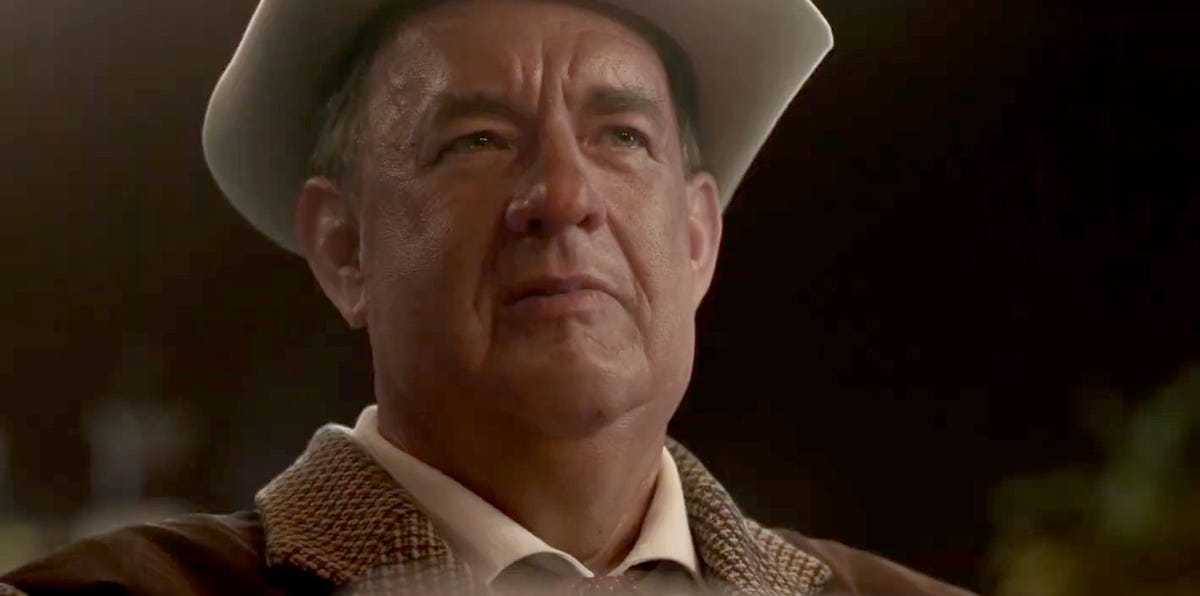 The villain of the story also takes center stage. Butler's performance is only as great as those next to him and in this case, Elvis takes on the villain of the story as one of the central figures in tying it all together. Tom Hanks plays Col. Tom Parker who is the self-seeking manager of Presley whose motives are as deep as the debts he has acquired. There is no doubt about Hank's abilities as an actor but it is further showcased by stepping into an unusual role for the actor. The ability to draw out the most from a character designed to be relished at and hated is truly a mark of the actor's amazing talent. The prosthetics and make-up all tie in the characterization together but it's truly Tom Hands who brings it all home with the role in the end by painting a very integral figure in the story of Elvis. This is probably why Luhrmann even went as far as having Colonel Parker narrate the events of the film.
Elvis Review: Final Verdict
It is clear from our review on Elvis that is one of the films that we highly recommend. It has the makings of becoming a possible contender for the next Academy Awards. The highlights of the film definitely go to the overall story, the acting performances of Butler and Hanks which are just fantastic, and the direction prowess of Baz Luhrmann. It's an easy 9/10 on our Hype Meter. Be sure to check out Elvis while it's in cinemas now in the Philippines. It's a film that is best seen in the movie theatre with the best Atmos surround sound system.
Hype Meter: 9/10
Enjoyed our Elvis movie review? For more check out the following articles: