Let me make this clear from the get-go, I am not an all-out NBA or basketball fan. I'm the type of guy who roots for a team once you get into the finals. That's it. I don't follow the games religiously nor do I know the majority of the players in the league today. I am however a huge fan of what Netflix has achieved through the basketball-centric sports drama film, Hustle. Call it a spoiler to what the rest of the review may hold but I'm already stating and calling it, that Hustle is one of the best films from Netflix that I have seen in a long long time. Here's why:
Hustle Review: Overview
Before I get all too excited with what I am about to say about this movie let's run through a few deets about the movie. Hustle is a film directed by Jeremiah Zagar, from a screenplay by Taylor Materne and Will Fetters, and stars Adam Sandler, and Queen Latifah alongside a massive list of NBA stars who either portray specific roles or are featured in the film as themselves for huge cameo roles. The film revolves around Stanley Sugarman (Sandler), a basketball scout who is tasked to find the next big superstar for the NBA specifically for the Philadelphia 76ers. He lays his career on the line when he begins training and recruiting a player from the "hood" of Spain who goes by the name of Bo Cruz (Juancho Hernangómez). Coach/scout and player must come together to fight a battle with all the odds stacked up against them.
Hustle Review: Spoiler Warnings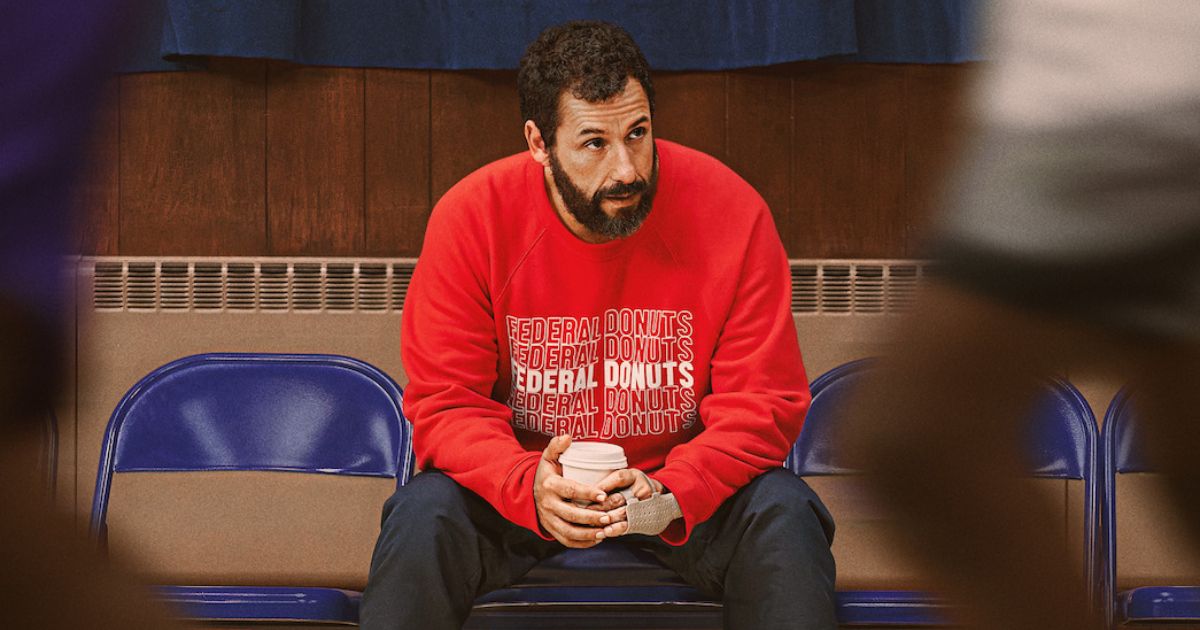 Our review of Hustle will discuss the story as a whole specifically the emotional quality that it delivers. I will also discuss the acting chops of the cast alongside the stunning visual display that Hustle delivers. This review of Hustle will therefore be spoiler-free.
Underdog Story At Its Finest
Hustle is a film that at its core highlights an underdog story in such a brilliant manner. We all know the drill when it comes to these types of stories and we relish them. We love backing up those who don't have it all easy, those who start from the bottom and with whom the stacks are up against them. The underdog story side of things for this film added a very relatable factor as the film dives deep into struggles, obstacles, and the fighting spirit that is nestled deep within us. The relatability factor also adds to the emotional weight that comes with these types of films in the same sports drama genre such as Blind Side and Coach Carter.
[hfcm id="9"] [hfcm id="14"] [hfcm id="20"] [hfcm id="24"]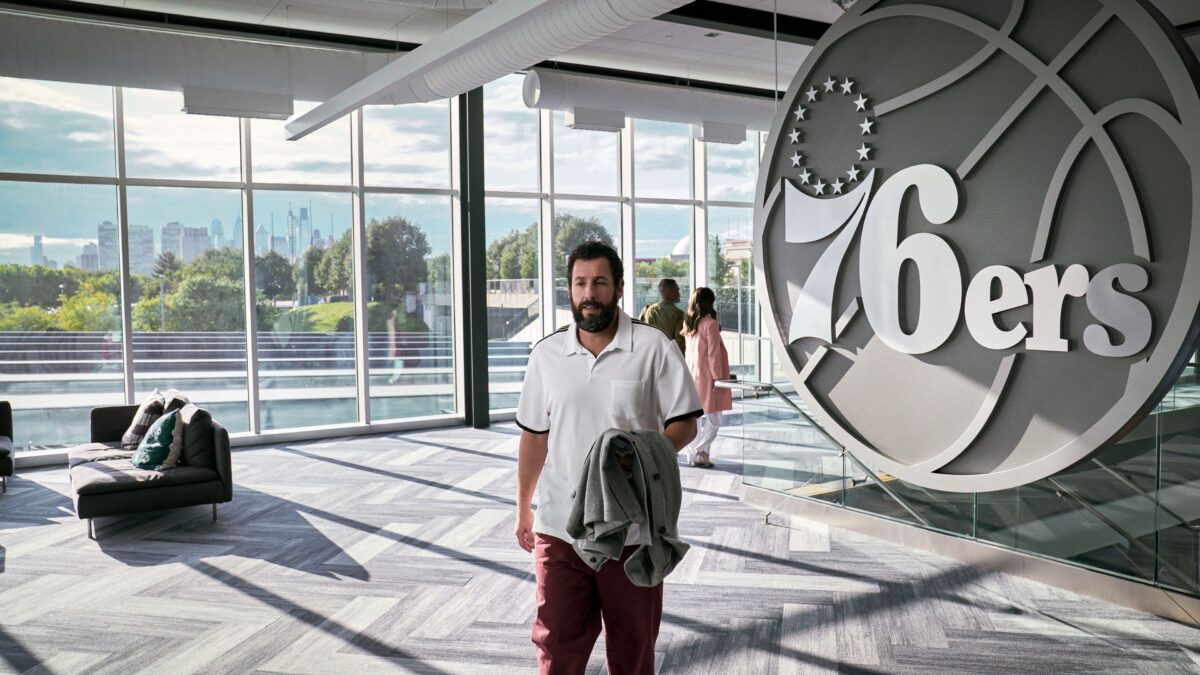 Hustle highlights two people who don't have it all that easy — two underdogs on the same path. It may seem at the onset that Stanley Sugarman has it all. He has the dream job, a seemingly perfect family, and a trajectory for his career that is signed and sealed for years to come. We then begin to realize that this isn't the case. Unwanted circumstances and shifts in his career begin to unfold. These trials however brought out a side to him that he himself didn't know as well. On the other side of the proverbial coin is Bo, a man who clearly has it rough. It's not just the geographical situation that makes it difficult for him but as well as the cards that he has been dealt. Through Bo, however, we see a man whose genuine heart and passion for the game and family become a driving force for the film.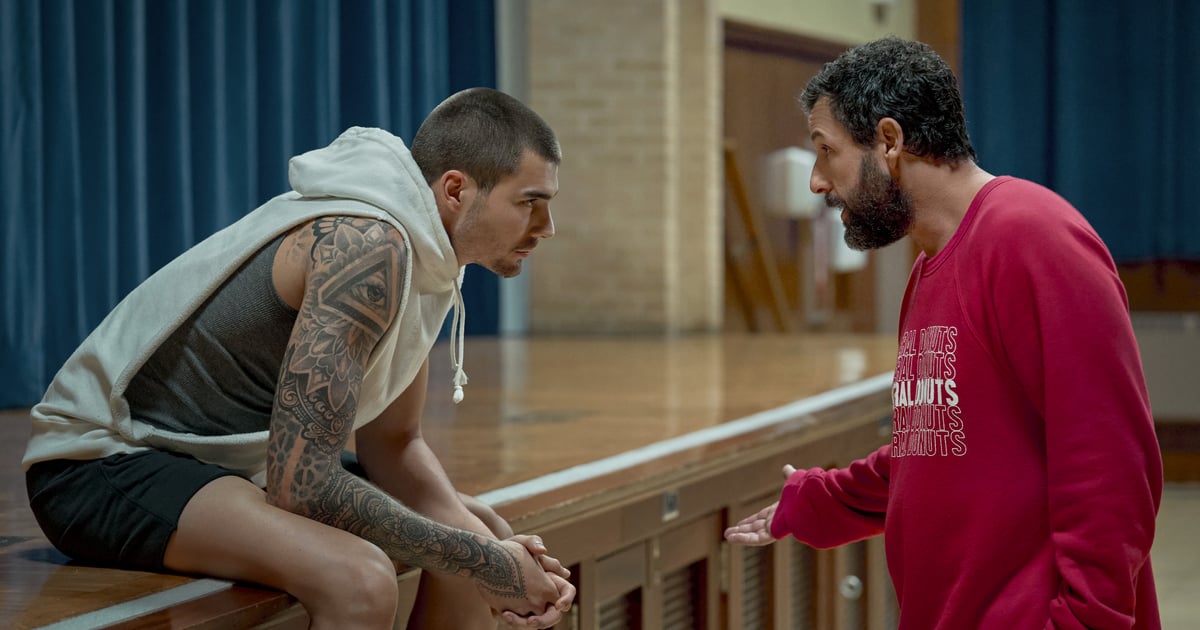 Both Stanley and Bo are contrasting yet complementary human beings whose differences unite them even further. The bond that they form is so unique and special that it truly is the highlight of the movie. These characters individually and as a pair are just utterly likable — it's just natural to root for them. At the center of the film is a story about family as well. The contrasting characters paint a picture of this theme so beautifully. On one side you have Stanley who has grown numb to the distance that has been growing between him and his family — specifically with his daughter. On the other hand, Bo is a genuine and kind soul that isn't in the game for himself but more important for his own family as well. The individual baggage that Stanley and Bo carry coming colliding as their lives don't just cross paths but they impact and resonate with each other and with us as viewers.
I will keep this paragraph short. If there was only one flaw in this film it would have to be the formulaic and predictable nature of the story's flow. An underdog story has that. There's a predictable nature to how things may turn out but to truly be dismayed by this is just an over-exaggeration of knit-picking the film which we honestly don't have the time or energy for due to the level of excellence that Hustle delivers.
Shining Stars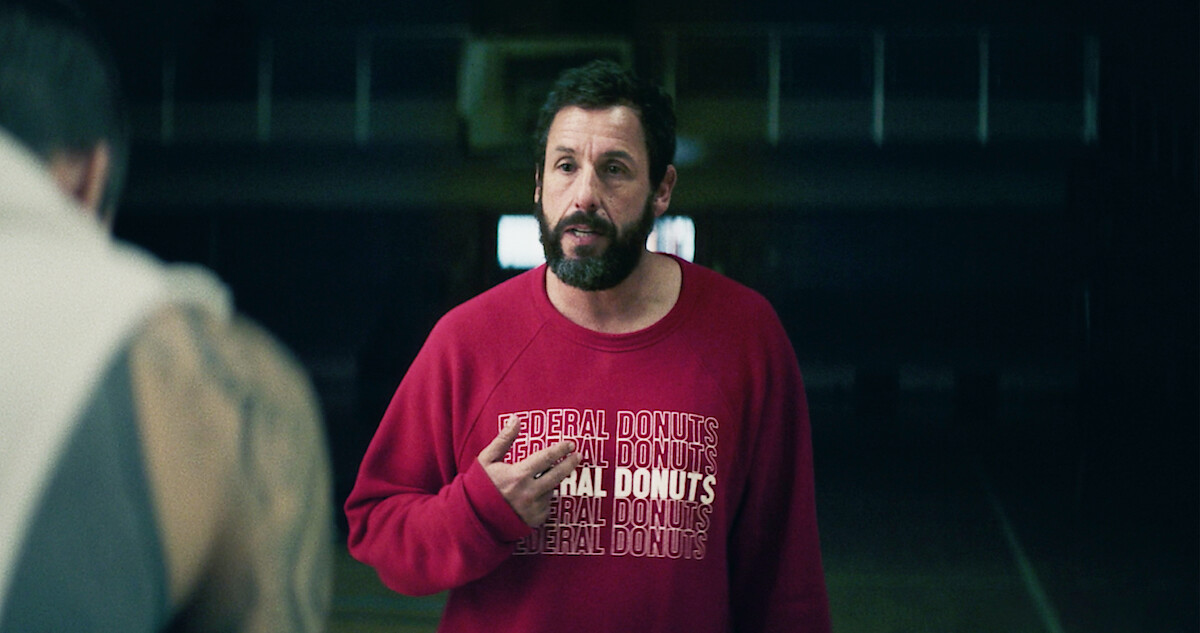 Adam Sandler. What a revelation! If you were expecting a laugh-out-loud type of movie due to the star actor — you are terribly mistaken. This is probably one of the best films for Adam Sandler bar none. It's emotional and at a different pace than what we are used to. I had a huge gut feeling that this movie and performance from Sandler were going to be special but I didn't expect it to be on the level that it was on. Given that this is also a Happy Gilmore film threw me off track for a moment but I simply loved Sandler in this role and I honestly believe that he should do more of these types of films. It's a great example of an actor who is able to show versatility and range in acting and the freshness of it all from the typical crude humor that we know him for was truly worthwhile to witness. That's not to say however that Sandler doesn't showcase his comedic side which he does so in this film with the right timing, subtlety, and appropriateness for a film such as this. As a coach, Sandler is ruthless. He is also very precise and it is evident that the director allowed Sandler's performance to truly shine in a way that elevates the film in the sports drama genre.
Sandler carried the film — no doubt about it. His ability to maintain amazing chemistry with Queen Latifah, Juancho Hernangómez, and Jordan Hull (who played his daughter Alex) was just heartfelt and genuine. The duo of Sandler and Hernangómez, as mentioned, is nothing short of brilliance. The rest of the cast also held their own by delivering the best out of their roles — whether they be the antagonist or support system for the primary cast. Overall everyone held their own and that says a lot given that majority of the actors in this film aren't professionals in the said field but rather are professionals on the court.
An NBA Fan's Dream Film
I can only imagine what it would be like to watch this movie as a solid fan of the sport and of the NBA. The sheer volume of cameos and cast members that come from the league is just a fan's dream. Legends, Hall of Famers, and current superstars can be spotted from start until the very end. Familiar faces, for a person like me who isn't an avid fan, already got me giddy with excitement. NBA superstars and legends that make an appearance in Hustle include Juancho Hernangómez from The Utah Jazz as Bo; Anthony Edwards, a player from the Minnesota Timberwolves, as Kermit Wilts; Kenny Smith as Leon Rich, a sports agent and Stanley's close friend; Tobias Harris; Tyrese Maxey; Seth Curry; Matisse Thybulle; Doc Rivers; Julius "Dr.J" Erving; Dirk Nowitzki; Boban Marjanović; Allen Iverson; Shaquille O' Neal; and Charles Barkley to name a few. The list honestly goes on and on and if you're a fan of the game these appearances will surely keep you excited and hooked for the entire film.
Jaw-Dropping Cinematography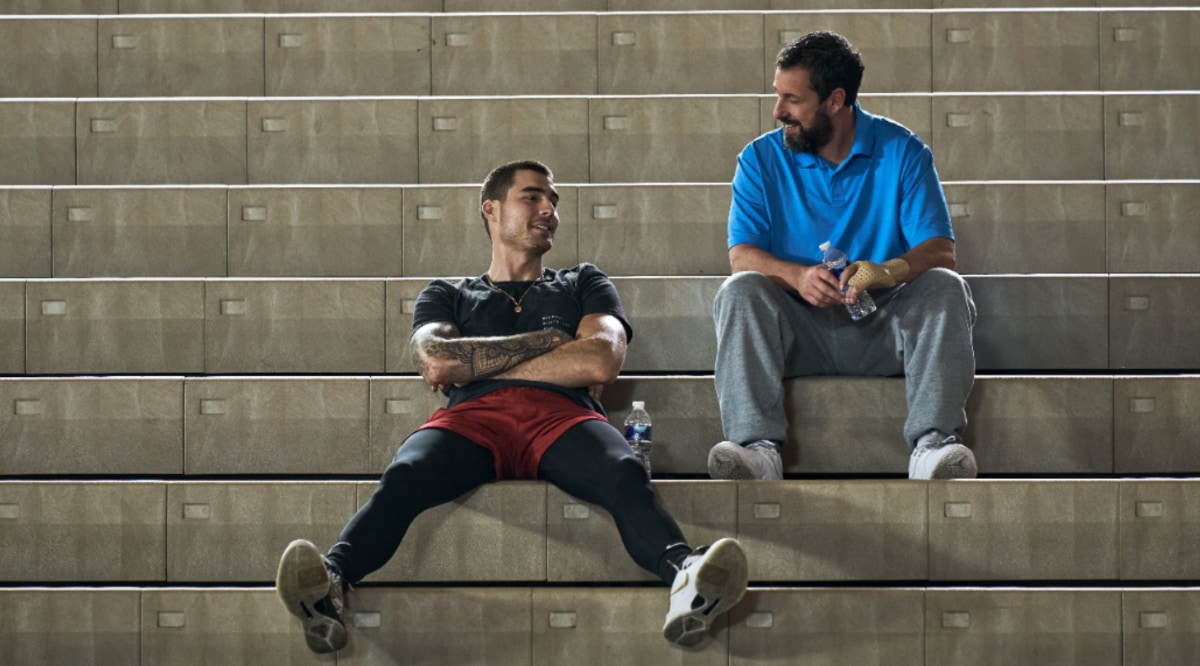 The subtitle above says it all. That is literally what went down while I was watching the film. The movie as a whole has integrated modern and fresh techniques in simple but perfectly used and executed editing as well as on-the-spot camera work. It is taken up a notch when the film reaches the cliche but surprisingly fresh and innovative sports drama montage. You know the one, that's in every sports film? When the character's training and sudden growth are shown through a barrage of clips? The transitions and shifts in this particularly prolonged montage are crisp, clean, and subtle but also achieve a great level of camera work and editing. It also pairs beautifully with how the story progresses and again isn't your typical montage. Just when you think the fight was over the scene prolongs even further and escalates. The build-up is intense yet gradual and smooth all at the same time. It provides a different angle to the cliche movie technique which resembles quick fast-break recaps in games with almost a modern-styled sports documentary look. Pair those shots with the incredible choices for the film's soundtrack and scoring — you get a totally different experience altogether.
Hustle Review: Final Verdict
I didn't expect Hustle to be a great film but as seen in this review it truly blew me away. It's a fresh take on the sports drama film while still abiding by the tropes that make films like these an enjoyable experience. There is a motivation aspect to it, a tribute to NBA fans, and a balance of a variety of themes that make it more than your average film in the genre. This is a win for Netflix. I stand by what I wrote in this review's title — one of the best films we have received from Netflix to date. A must-watch film and an easy 10 out of 10 on our Hype Meter.
Hype Meter Rating: 10/10
For more film and TV show reviews: