It has been roughly 36 years since Top Gun was first released, back in 1986 to be exact. Back in the 80s however, the action drama film starring Tom Cruise and Val Kilmer didn't have the best of beginnings. It took a while for the film to actually gain a substantial amount of revenue and furthermore, it received mixed reviews upon its release. Today, Top Gun has become a cultural and historic phenomenon — from the film's amazing soundtrack and iconic lines, down to the signature Aviator sunglasses that Tom Cruise sports in the film. Due to the now evident success of the film a sequel has been birthed which is now in cinemas worldwide, entitled, Top Gun: Maverick.
The first Top Gun film went on to become one of the most popular and historic films of all time — even becoming a film that has shaped the movie industry. Top Gun went on to garner an Academy Award for Best Original Song and a Golden Globe Award for Best Original Song for "Take My Breath Away" performed by Berlin. In 2015, the United States Library of Congress even selected the film for preservation in the National Film Registry, finding it "culturally, historically, or aesthetically significant".
These are just some of the reasons why all eyes are on the sequel. It's not just another movie. It's a film whose gap of decades from the original and its various accolades expectedly brings forth a wave of high expectations. We took the time to see the film in cinemas on its first day to review and see if it will live up to the hype of its predecessor.
Top Gun Maverick: Where Were We?
The first Top Gun film follows the story of United States Naval Aviator LT Pete "Maverick" Mitchell (Tom Cruise), who is brash and overly confident in his abilities as a pilot but apparently for all the right reasons. it's evident early on that Maverick is really that competent as a pilot. He has however been deemed reckless and dangerous by his colleagues due to his lack of obedience to protocols and authority. Throughout the first film, we follow Maverick, his Radar Intercept Officer (RIO) Nick "Goose" Bradshaw, his rival turned friend, Iceman, and all the other amazing pilots as they go through a rigorous training process and death-defying missions in the Naval Fighter Weapons School or more commonly referred to as TOPGUN. In the middle of the film, Maverick must also overcome the looming presence of the risks that are very much present in their line of the field as he also faces grief and heartbreak over the loss of his close friend, Goose, due to a practice exercise accident.
Fast forward to 36 years after these events, Maverick has purposely dodged any advancements in rank to continue flying in Naval service. Through the recommendation of his now close friend Admiral Tom "Iceman" Kazansky, Maverick is tasked to train a group of highly skilled Top Gun graduates for an extremely risky and specialized mission. Things obviously don't come easy for Maverick as he must come face-to-face with demons from his past that still continue to haunt him today. This mainly comes in the form of Lieutenant Bradley "Rooster" Bradshaw, the son of the late "Goose" Bradshaw. Maverick is also pressed for time as he must bring out the very best in these pilots in order for them to be fully prepared for the nearly impossible task that is before them.
Top Gun Maverick Review: Spoiler Warnings
Our review will be limited to discussing the overall direction of the story, its continuity with its predecessor, and the overall emotional impact that this film creates. The film as a whole presents multiple contrasts and these will be our main flow in reviewing this film.
Consistency and Innovation
The opening sequence of this sequel alone is goosebump-inducing. We are immediately brought back to how the first film started, 26 years ago. The spot-on visuals, color-grading, and the oh-so-sweet roaring of Danger Zone set the stage. It already engulfs and sucks in its viewers by providing a very consistent tone. Continuity in this aspect is therefore a huge check, right from the get-go we are given an instant reminder of elements that made the film successful. We get the sepia color graded scenes as well as the format in the credits and overall visual appeal which was very iconic to the first Top Gun film.
This is where it became tricky and brilliant at the same time for this sequel as it presented us with a very consistent visual format but one that doesn't feel outdated but rather was able to even improve on the original with all the advancements in technology that are available today. It was therefore perfect for director Joseph Kosinski (Tron: Legacy, Oblivion) to come in and for him to allow his close relationship with CGI effects and eye for editing to bring even more color to this franchise. This allowed for cleaner aerial fight scenes, on-the-ground combats, and a much more modern touch that allowed the entire movie to shine even brighter.
The visuals weren't the only elements that remained consistent from the first film rather the story also felt very similar in terms of flow. There was however a huge hand of innovation in all of these elements. It's not just a copy-pasted version of the 1986 film but rather Top Gun Maverick managed to take every single successful element and elevate it all in such a way to be appropriate for this the quality of films that are present in this generation.
Current and Nostalgic
Nostalgia is the name of the game for this sequel. It honestly felt like a blast from the past and I'm not just talking about 80s reference overload here. I'm talking about how the film managed to bridge the gap of 36 years for fans of movies to enjoy. If you watch both movies, one after the other, it feels like no time has really passed in how well both films were made. Furthermore, there is now a version of Top Gun for this generation to have the ability to connect to the timeless nature of the movie and its themes. The story is transcendent as it dives deep into friendship and brotherhood as well as the dark hold that our past may have on us at times. Top Gun has stood as a film that talks about overcoming our demons to rise up and claim our destinies.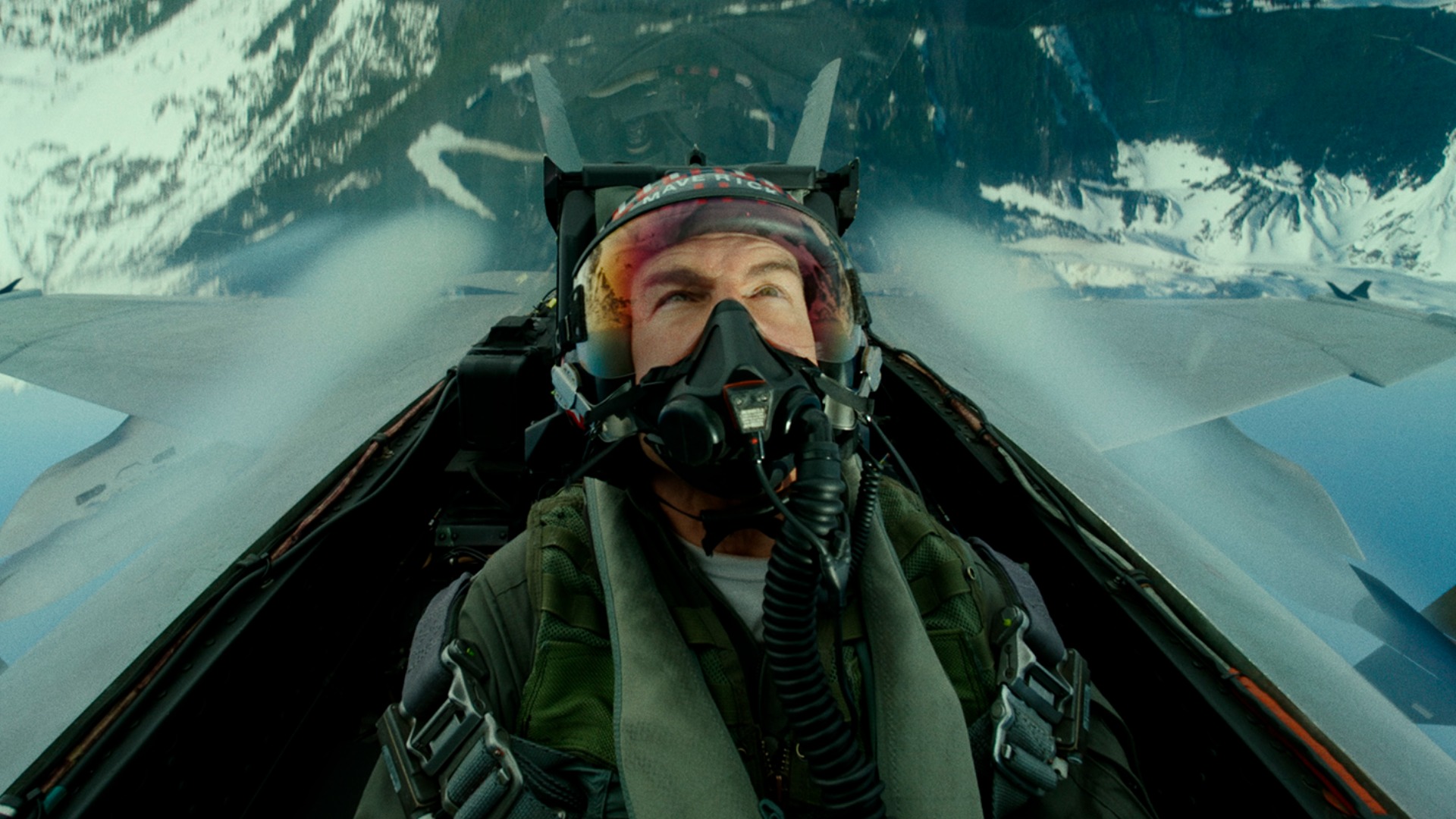 Top Gun Maverick has made the film franchise accessible for this current generation to enjoy. Through the humor and emotional impact that it delivers there is an even greater connection that is now established with a newer generation of fans to enjoy. Admittedly Top Gun Maverick has even made a way for those who have not seen the first film to be completely glued to the movie from start to finish by even providing enough context regarding each event. Therefore the pressure to revisit the first film wouldn't even be an issue. The film also manages to tug on the heartstrings of the fans of the first film through again the continuity in its tone and story but as well as the return of some familiar faces, iconic lines and the fantastic soundtrack that Top Gun is known for.
Exhilaration and Restraint
Top Gun Maverick, at one point, literally got me sitting at the edge of my seat. Admittedly the majority of the film felt like it was all too predictable in the sense that a happy ending was somewhat expected. This was however not just the case for this sequel. Just as the planes would twist and turn and perform all kinds of 360-degree flips and turns, the film provided the exact same experience for its viewers. There were just so many moments that were truly exciting and nail-biting that made the movie exciting to witness. There was no lag time or even a single moment that ended up being unexciting. Every scene and moment was just so brilliantly put together with enough adrenaline and testosterone for an action flick like this one.
There was also a level of restraint that was enamoring for a movie like this one. It comes unexpectedly when you think of 1) an action film and 2) a film starring Tom Cruise. This film tapped into his creative and laid-back side, as we have seen him do in films like Jack Reacher where he truly strikes a balance between his emotionality and the physicality demand that the action side of the film requires. The emotionality however is on another level as it grips you and tears every notion you have about the film — again going back to the nostalgic elements of the film as a whole. Top Gun Maverick perfectly strikes the balance between being an on you edge high-stakes action movie and one that carries a lot of emotions, depth, and substance.
Top Gun Maverick Review Final Verdict
Hype Meter Rating: 9/10
Top Gun Maverick as seen in our review blew us away. It strikes the balance of a multitude of aspects and elements that just come together to work brilliantly. It is a movie that will get you hooked from the first few seconds and will keep it locked in until the very last scene. It's nostalgic and reminiscent of the first film in all its glory. We even daresay that this sequel is even better by a small margin in comparison to the first movie. We say this because Top Gun Maverick took every single component that made the 1986 version so beloved and added to it even more. We were greatly impressed and have come to know that indeed great things come to those who wait — even if it takes almost 3 decades or so.
For more movie reviews: