One of Netflix's hit shows that aided in bringing in the era of popularity for the streaming platform, Stranger Things, is reaching its final stretch. This year, we will be taken back into the Upside Down — twice — in the Stranger Things series finale. In a similar fashion to the Money Heist series finale, Stranger Things season 4 opted for a two-part season that started off last May 27, 2022, with 7 episodes and will continue on July 1 with the remaining two episodes.
Stranger Things Season 4 Part 1 Review: Where Were We?
Stranger Things Season 3 Spoiler Alert! If you haven't seen the third season we already warn you as early as now to proceed with caution with our review. This is because Season 4 kicks off exactly where the ending of the third season left us. Hawkins is still shocked to its core by the aftermath of the Battle of Starcourt Mall with the Mindslayer which is now referred to as a "fire" incident. The friends have split up with Eleven, Will, Jonathan, and Joyce Byers moving to California while the rest are left in Hawkins. Hopper is also presumed to be dead by the people of Hawkins but as we ironically know as audiences through the post-credits scene in the third season is very much alive but is in Russian captivity.
Stranger Things Season 4 Part 1 starts off with a snapshot of where all our fan-favorite characters are now. As the show progresses the show is then told through four interwoven parts — one at Hawkins; one with El; one with Mike, Will, Jonathan, and his stoner friend Argyle; and finally one with Hopper, Joyce, and Murray in Russia. It's a back and forth amongst these storylines that make this season all the more interesting (but more on this later).
Stranger Things Season 4 Part 1: Spoiler Warnings
We will keep this review of Stranger Things Season 4 Part 1, for the most part, spoiler-free. There may be some aspects in the story's flow and pacing that will be discussed that may feel a bit spoiler-y but we will also avoid any mention of crucial plot points that will tamper with your overall viewing experience.
The Evidence of Maturity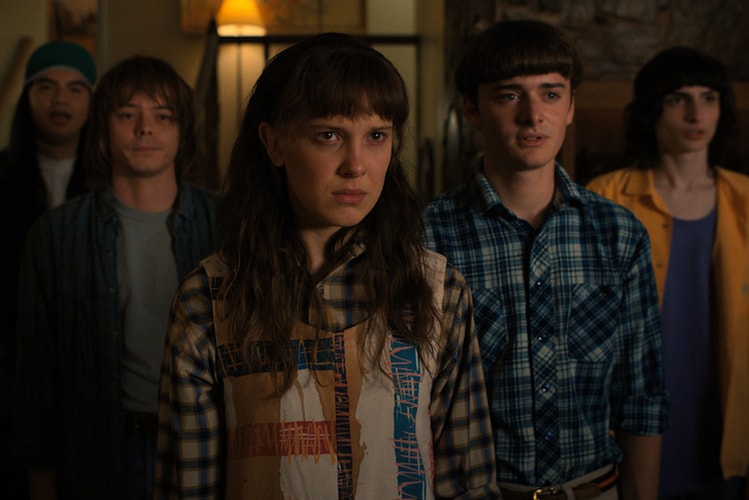 [hfcm id="9"] [hfcm id="14"] [hfcm id="20"] [hfcm id="24"]
This time around, Season 4 of Stranger Things makes it clear and evident that maturity in the characters and overall story should be clearly seen. Let's start off with the story. There is a darker and more mature quality to the direction in the story that is leaps and bounds different from what we have seen before. The themes of this season deal with mental health issues and grief that are done in both a very horrifying yet timely matter. It doesn't make light of the issue but rather it even goes further by providing a horrifying backbone of a story to problems that are so evident today. They are handled with so much symbolism and depth that it feels really like a deep and provocative message even despite having to witness an altogether entertaining horror film. The main villain for this season uses such issues and problems to his advantage as a source of his power and manipulation. There are also themes that deal with societal problems, cults, and politics that amplify that sense of maturity.
The story is able to shine brighter however due to the visual experience that the show brings forth. There is a presence of more visually seen gore and graphic content that is on another level than what we have been given before in previous seasons. The color grading and cinematography up until this point have been consistent but the visual effects team has admittedly taken it up a notch. The Duffer brothers have truly brought it all with this final season, sparing no expense at the grandeur of it all. They are truly leaving it all out on the table for this season. To be frank, the level of excellence for a long-form TV show has been evident as of late on various platforms such as HBO, Prime Video, and Disney+. Netflix shows through Stranger Things Season 4 that they truly know how to keep up with delivering top-notch shows that fans would love.
The maturity in the cast is also very much evident. Harry Potter comes to mind as I watched this season as the story and cast matured alongside the viewers who first watched it when it first aired. Actors and actresses such as David Harbour and Winona Ryder proved their level of acting excellence once again alongside Millie Bobby Brown. These actors honestly were a given for me as those who would steal the show yet again. However this time around, I was particularly blown by Gaten Matarazzo, Sadie Sink, and Joe Keery. Matarazzo's mannerisms and spot-on humorous moments as Dustin were just priceless to witness and his chemistry with Joe Keery's Steve Harrington was just so brilliantly portrayed once again. Furthermore, Keery portrayed a greater sense of vulnerability and emotionality that made it easier for us to take his character more seriously this time around. The performance that Sadie Sink gave, however, for Max, was on another level as it was a brilliant mixture of subtle and raw unfiltered emotion. This isn't to say that the rest of the cast didn't hold their own because they honestly did and to be fair I honestly believe that this is one of the best ensemble casts that we have seen in a TV show in quite some time — especially since most are made up of a younger demographic.
The Evidence of Grandeur
The decision to split the show into two parts may be polarizing. It honestly may or may not work. I was honestly baffled by the split given that the last part would only feature two episodes. I questioned that decision, to be honest. It is very clear however that everything for this season was done with grandeur in mind. Even down to the running time of each episode, there was an effort to prolong and squeeze as many elements and a variety of storylines as possible. It doesn't feel rushed this way but it at times even tends to drag quite a bit for the main points of the story to finally get through. The climax of the story doesn't get through until the fifth episode which means that a lot of time is spent really laying out the exposition of the story.
As all of this story-building occurs the pacing does feel a bit sluggish in pace. It also feels at times that a lot of things are squeezed. There is truly a lot that occurs in this season. As mentioned there are four interwoven yet seemingly separate stories that occur. It is in this back and forth through these four parts that the story is told which I assume is to come head-to-head in the second part. The show however manages to keep things exciting despite the sluggish pacing. There are dialogues and a variety of interactions between characters that I found were unnecessary hurdles to the bigger story at hand but the action and horror sequences made up for that. These scenes managed to keep the show interesting and engaging and in turn created a balance that was very much needed to keep us as viewers invested in the story.
One of the best elements that made this season truly fascinating however was the big twist. We will keep our mouths shut as to what this is as we will just urge you to watch the show for yourself. The treatment of the twists and turns of this season however was done with such finesse. It was addressed in the first few minutes of the show and was finally resolved in the closing moments of the last episode. The way this was done was frustratingly amazing. It was evident that there was a clear direction and manner with how that story would start and unfold for this particular part which does explain how the division of parts was done. Again it is still frustrating to have a period of waiting especially for those like myself who have a very low EQ. This however does put into mind how grand the finale would get which hopefully would be worth the wait. By the looks of it, however, the Duffer brothers have a few tricks up their sleeves to make Stranger Things end in a very satisfying and worthwhile manner.
Stranger Things Season 4 Part 1 Review: Final Verdict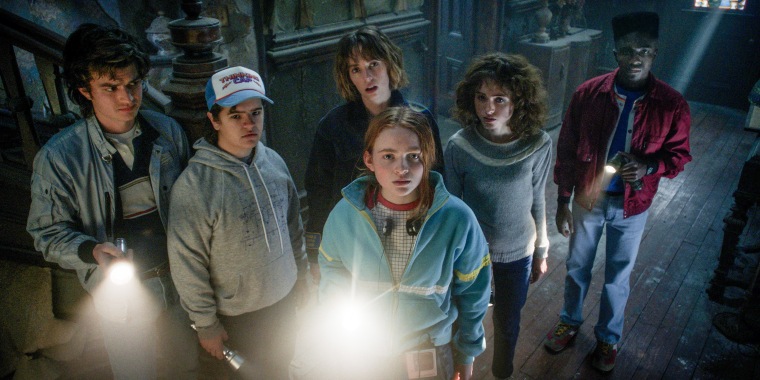 As seen in our review, Stranger Things Season 4 kicks off the series finale with a bang with part 1. Does it have a few notable flaws? Yes. The pacing for one wasn't ideal and it felt like it was trying to squeeze in too much at times. It does however show growth, consistency throughout all the seasons, and an over-arching sense of spectacle and grandeur. It manages to bring everything out that hooked fans into the story from day one.
Hype Meter rating: 8/10
The finale is far from over. We still have two episodes that are set to drop this July 1. We will still have to wait and see how everything plays out and how the showrunners plan to resolve and end the story that has built a solid fanbase. We are honestly filled with mixed emotions as the reality of the conclusion of this story is about to reach its denouement. We are however excited to see how the Duffer brothers plan to conclude the show as well. All of these emotions will just have to come colliding even further as we all wait for Stranger Things Season 4 Part 2.
Tune in to This Is Hype Ph as we review part 2 when it arrives on Netflix.
For more reviews: