There is a huge fascination with K-Dramas and Korean films. I personally, in a moment of candor, am not the go-to person for these kinds of content. I did however take the time to watch Emergency Declaration, a drama-action-thriller, and here's a review of the film.
Emergency Declaration piqued my interest primarily because of Song Kang-ho who I recognized from Parasite. Joining Kang-ho in this film are Lee Byung-hun, Jeon Do-Yeon, Kim Nam-Gil, and Im Si-wan, just to name a few. The film revolves around a terrorist's plan to release a biological weapon on an airplane with the intent of killing everyone on board. The plane is on a route to Honolulu Hawaii and those on board and on the ground must come together to help fight the virus and stop its massive spread both inside the plane and from potentially seeping out onto the rest of Korea and the world. The cause of such an outbreak on this particular flight is all due to a terrorist seeking to kill everyone inside the plane. Investigators on the ground and some of the passengers must find a way to fight off the perpetrator and sickness that aims to destroy everything in its path.
Emergency Declaration Review: Spoiler Warnings
In order to provide the best viewing experience, we will keep this review of Emergency Declaration free from spoilers. Instead, we will focus our discussion on the emotional quality of the film as well as some of its highlights in terms of performances and visuals.
A Collision of Emotions
[hfcm id="9"] [hfcm id="14"] [hfcm id="20"] [hfcm id="24"]
As mentioned I am not the most proficient when it comes to K-dramas and films. I am not as well-versed in Korean culture as most people are nowadays who watch and listen to a variety of Korean-centric content. I would have to even say that my knowledge in such areas is stuck above the surface with mainstream and familiar content such as Squid Game, Kingdom, All of Us Are Dead and even BTS and Black Pink for the K-Pop side of things. This must be said in order to clarify that I am, by no means, an expert in reviewing such content due to the limited quantity of films and shows that I have seen so my point of reference and comparison may be scarce. I believe this fact however to contain its own fair share of pros and cons.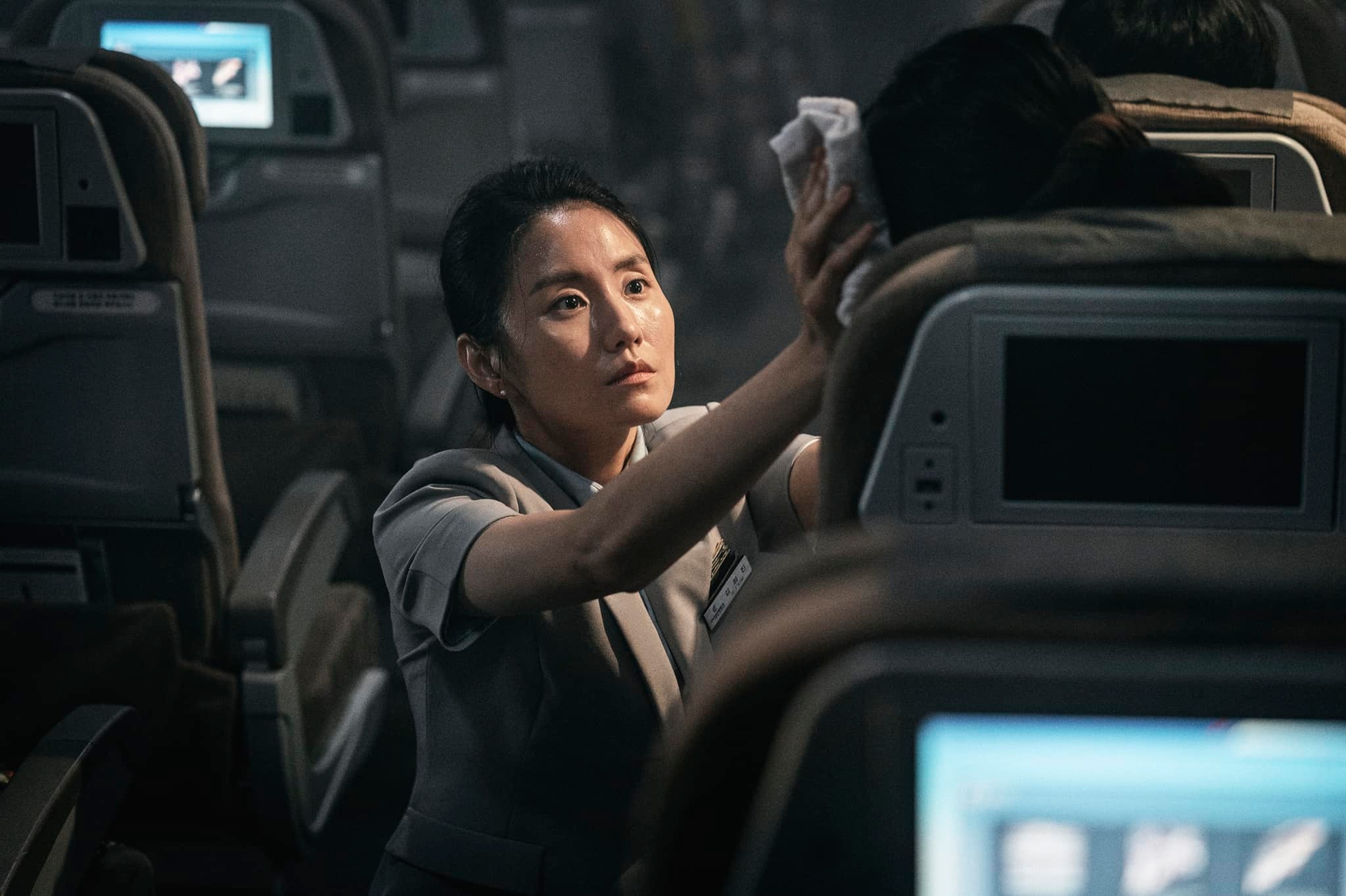 I was immediately intrigued by Emergency Declaration due to two main reasons. The first as I have mentioned is the familiar face of one of the leads whom I have seen in the Oscar-winning film, Parasite. This admittedly wasn't enough reason at first which leads me to the premise of the film. Again, I am no expert in K-Drama films but the plot showed a lot of promise and it certainly delivered. There was a great balance of various genres that enabled different emotions to arise from us as viewers. I would have to refer to my two references for Korean films which I have to admit are at two different ends of the spectrum — Parasite and Train to Busan. I refer to these two because just like them, Emergency Declaration manages to integrate a variety of emotions. You don't just get an all-out spectacle of suspense and action but a full in-your-face blast or raw drama. This is where I have to admit, that Korean shows and content succeed in effortlessly. They manage to hook you into the suspense and just when you think the film is just one-dimensional in its inception, it punches you hard somewhere along to way with heaps of various emotional power.
For the most part, Emergency Declaration has the ability to hook and keep your attention all throughout the film — from start to finish. I highly testify to this as it was an unexpected phenomenon that I found myself literally at the edge of my seat. The film does have the tendency to be quite long at times and it is felt in terms of the pacing of some scenes but the shifting point of view and back and forth from airspace to the ground-level action was done seamlessly. The suspenseful scenes were absolutely done to the best of their ability which allowed the film to truly highlight the heaviness of the topic at hand. I would have to credit the villainous performance of Im Si-wan for this. The central human villain in this movie was truly menacing and was the main reason why the film really managed to bring any resemblance of thrill and suspense. Ryu Jin-Seok as a character is a callous and unrelenting mess with what seemed to be nonsensical reasons or motives for his plans which in all honesty was to the point of being psychopathic which was, to be honest brilliant in its execution.
A Little Too Close To Home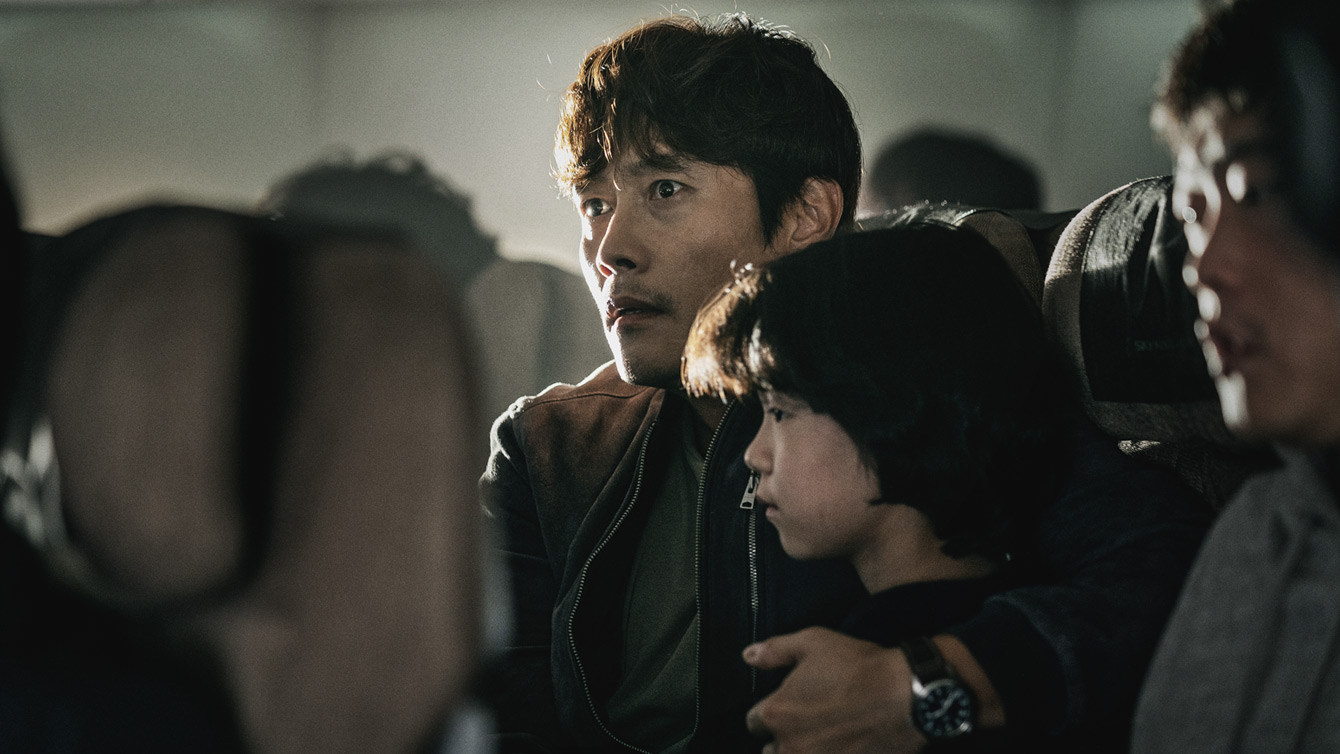 One of the aspects of the film however that may be a bit polarizing is the "too-close-to-home" quality of the subject matter. I would like to address this for this review because the utilization of such content during these current times may be considered as a sensitive topic for most.
I would have to agree that Emergency Declaration does have that feeling of being extremely close to what we are still going through with this pandemic. I don't agree however that it is by any means insensitive as a film. It manages to present similar components of real-life situations that we are currently going through but never for a second does it fail to paint the picture that it is a fictionalized and creative work of art through film. There is an almost social commentary-like nature to this film as a response to how governments should deal with such threats and how humans tend and should respond in light of such issues. I even found this film to have a sort of poetic direction, especially towards the end which I will firmly stand as an ending with a highly profound double meaning that is up to interpretation.
Emergency Declaration however does feel like a cross-breed between films centered on aviation, terrorism, and biological weapons such as Flightplan, Red Eye, and Non-Stop. It actually feels more like a Western film in terms of tonality which in my opinion seems pretty odd. Again, I reiterate, that I am not as well-versed in the K-Drama world but the film honestly leaned into more Western concepts and elements in terms of its action sequences. The visuals however didn't follow suit as the special effects and visual appeal were a bit lackluster. It didn't help provide the grandeur that such a film needed.
Emergency Declaration Review: Final Verdict
As seen in our review, Emergency Declaration is able to stand pretty decently as a film due to its ability to become a mash-up of various genres. It is able to touch on a number of our emotions. It does have a few inconsistencies and pitfalls such as the visuals and overall pacing but it does manage to tick all the right boxes in terms of being all-out entertaining. It admittedly isn't as great as other Korean films such as the aforementioned Parasite or Train to Busan but we still recommend it nonetheless. 
Hype Meter: 6/10
For more reviews: