Ed Sheeran is back with yet another album. In a moment of pure honesty and reflection while listening to the album I was reminded of the impact and cultural popularity that Ed Sheeran and all of his songs have brought us. We have heard them as soundtracks in movies but simultaneously as the background anthems to wedding ceremonies and in almost every occasion as well. Despite a somewhat banal way to describe the newly released Ed Sheeran album, =, as you listen to the entire tracklist and from reading our review you will realize that it is by all definitions another soundtrack to life itself.

Album overview
= is Ed Sheeran's 4th album which continues the mathematically titled themes: +, x, ÷.  It was released on 29 October 2021 through Asylum Records and Atlantic Records. According to Ed, this is "a really personal record and one that means a lot to me", as it highlights several changes that had occurred in his life, including marriage, the birth of his daughter, and experienced losses.
For more on Ed Sheeran:
"=" Album by Ed Sheeran Review
We will keep our review of this new album from Ed Sheeran simple by looking closer into ten of our favorite tracks on =. Our criteria for determining if a track makes the cut includes first and foremost the depth and artistry from lyrics and message, the direction of the music, and finally the overall emotional impact that each track leaves.
[hfcm id="9"] [hfcm id="14"] [hfcm id="20"] [hfcm id="24"]
Shivers
Ed Sheeran is known for his unique performances and utilization of looping beats and melodies which are often showcased creatively on the stage and this track plays perfectly to Sheeran's strengths. Shivers may not be the opening track for this new album but it is surely one that is expected to stand out for all the right reasons. It's has a catchy and upbeat, danceable melody that pairs wonderfully with its lyrics that dives deep into the giddy and "butterfly in our stomachs" kind of love.
First Times
This track starts with a few simple strums from Sheeran's acoustic guitar and immediately it transports us to the Ed Sheeran that we first listened to when he started out building his first album. The song's lyrics are just as powerful as its laidback, simple, and emotional musical accompaniment as it talks about the rush and joy of celebrating milestones — literally our first moments in all we do. We have to stop and talk about a unique moment in this song which occurs sometime in the first pre-chorus as Ed's voice slightly breaks at the mention of the words "pass by". It's a moment that induces goosebumps as it showcases beautiful imperfection and a whole new different meaning to the word vulnerability.
Bad Habits
When Ed first released this song prior to his = album, fans were split with the entirely different sound to the track. This was a purposefully intentional move on Sheeran's part and it actually pays off. It's a song that sounds very current which can stand up toe to toe with similar-sounding tracks from other artists today. There is an eerie vibe to Bad Habits that leans more to an R&B kind of song however the direction to release this upbeat song was just perfect given the times that we are currently in.
The Joker And The Queen
This track starts with a similarly eerie and almost dark tone as Ed's previous track, Bad Habits while taking a huge step back in pacing. It's a slower song with a simple yet dreamlike lullaby melody. There is so much depth to both the melody and lyrics that it constantly twists and turns into a beautiful honest masterpiece filled with a poetic touch that highlights and elevates a very poignant love letter-type message.
Collide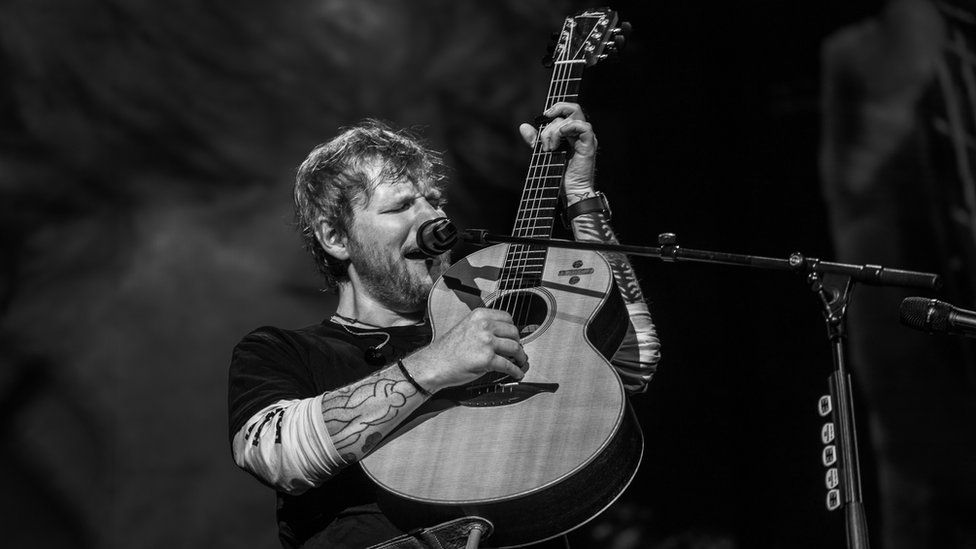 This track goes past the halfway mark in the album and it really continues to get better from here. Collide boasts a simple repetitive chorus and message that is layered perfectly with variations in Sheeran's vocals that add depth to this track. Throughout the track there are also subtle variations and surprises that keep us, the listeners fully engaged from start to finish. It's a song that could pair great on the open road for a long drive or even after a long day of work just because of the chill and upbeat mood that it sets.
2step
2step brings back the rapper-styled elements of Sheeran that we have heard in tracks such as Sing and Shape of You. There is a relevant message behind this particular song that ties into the times that we are in currently which Ed manages to creatively capture more so in lines such as "'Cause we're livin' life at a different pace, stuck in a constant race, keep the pressure on, you're bound to break, something's got to change". The song deals with the hardships of our current predicaments and the struggles that the world has placed on us as people with the onslaughts of criticisms, negativity, stress, depression, and even the darker sides of social media.
Love in Slow Motion
Ed sticks to the overall thematic direction found in this entire album as he goes into a unique place of writing each of these songs that are aligned to the current predicaments and seasons that he is in. Love in Slow Motion is a cry for a much-needed change of pace in everything that is going on in our lives today especially when it comes to love. It's a poignant piece that brings listeners to reflect and yearn to return to simpler times.
Visiting Hours
When Visiting Hours was first released it instantly brought fans of Ed Sheeran to a whole different place entirely. It's so emotional and breathtaking in its vulnerability and honesty which also becomes so relatable to anyone who listens to it. It's a song that brilliantly takes the pain and heartache to a point of being truthful, honest, and at the same time still providing unfathomable hope and joy.
Sandman
The second to the last track in this album initially brought about a resounding shock into my system. It starts off as a song that sounds like a Caribbean anthem played on a ukulele — a complete change of pace to what we have heard so far. There is apparently a reason why this is so and it's symbolic in nature, to be honest as it also speaks volumes about the change of pace that Ed has experienced in becoming a father. There is a sentimental and truthful message to this love letter lullaby that is so personal to Ed and his child that we simply are drawn into every word and expression of a father's love.
Be Right Now
The last track in the album lands on our list as it ties everything together with a very relevant and timely message on being in the moment amidst the temptation to constantly fix our eyes on the future. This song has electro-pop elements while still playing to Ed Sheehan's mellow and chill acoustic signature sound and style. Be Right Now also has an anthem-like bridge that sounds just so pure which resonates throughout the entire track as well making it into a track that feels so freeing to shout out from the top of our lungs.
"=" Album by Ed Sheeran Review Verdict
Just as expected each song in Ed Sheeran's = album, delivers. Fans of Sheeran get a little bit of everything that the artist is known for while at the same time adding a more personal touch to it all than ever before. As mentioned, Ed Sheeran has a unique place in the music industry due to the capacity of his songs to become a soundtack album to every moment of life. There is a level of vulnerabilty, truth and a whole lot of emotion that is poured out and more so in this album since it comes from a unique space and moment in time. Based on this review of these ten tracks, we highly recommend that you check out these new songs from Ed Sheeran found in his = album as it brings listeners to a whole new experience with the British pop artist.
Listen to the full discography of Ed Sheeran now:
For more on music reviews: