The success of the Spanish heist drama hit show, Money Heist has no comparison. Since Netflix adapted the show back in 2017, it has sparked a legacy that has no match. The iconic robbers in red jumpsuits and Dali masks will forever be etched in the hearts of its huge fan base. The future for the show however lives on as there seems to be no stopping the show from growing even further. There are plans for a spin-off series to drop sometime in 2023 but the wait doesn't have to be excruciatingly painful as we get a taste of a version of the show as we speak. Enter Money Heist Korea: Joint Economic Area — the focal point of this review.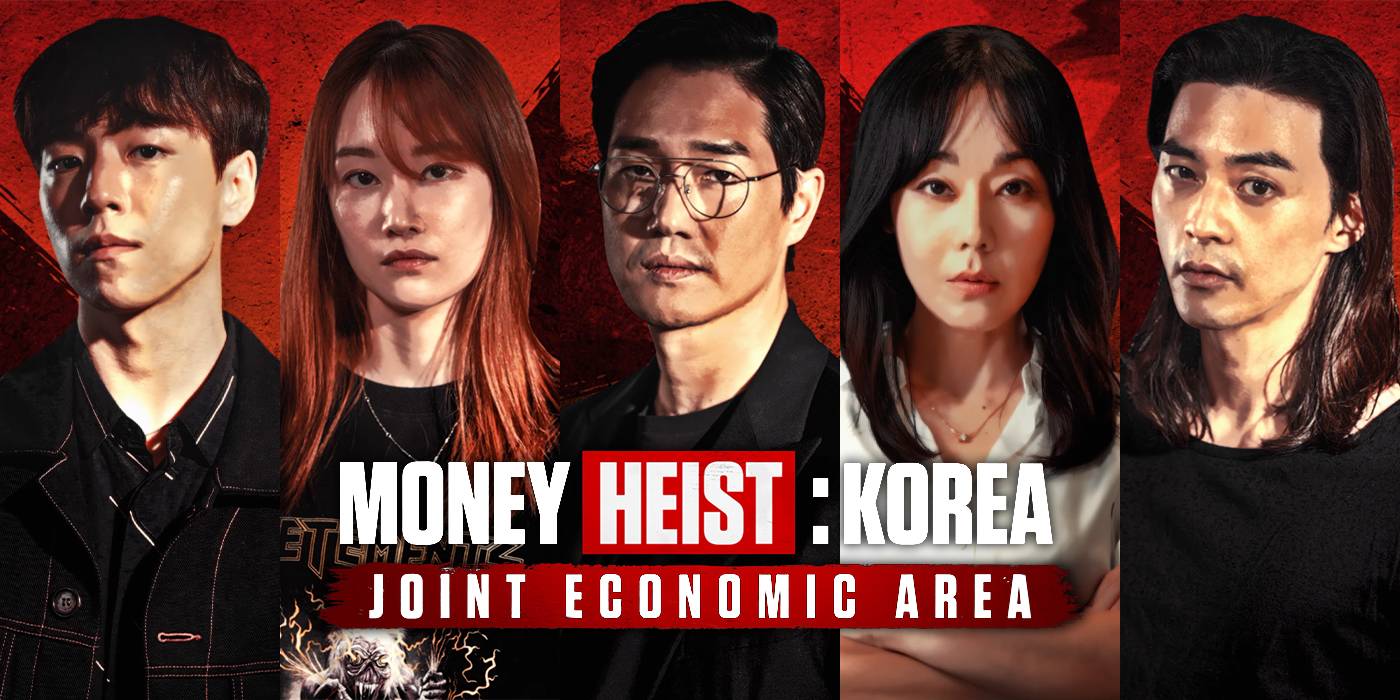 Money Heist Korea Review: A Brief Overview
Set in the same fictional universe as the original series, Money Heist Korea depicts a hostage crisis situation set this time around in the Korean Peninsula. The show serves as a remake and spin-off/continuation of the Spanish TV hit show with several elements from the original being replicated for this version. The main premise of the show remains with the mastermind behind the heist — The Professor — as he gathers a group of men and women with specific individual skills to pull off a heist in the Korean Mint. Fan-favorite characters from the original are revamped and contextualized as we see Korean versions of Tokyo, Rio, Nairobi, Berlin, Denver, and many many more. 
The show stars some familiar faces, especially for those who religiously follow K-Dramas and movies. Some of the actors and actresses that make their way to Money Heist Korea include Yoo Ji-Tae (When My Love Blooms), Park Hae-soo (Squid Game), Jeon Jong-Seo (The Call), Kim Yun-jin (Lost), and Park Myung-hoon (Parasite), just to name a few. The one element however that aims to make this show very interesting is the addition of contextualized fictionalized scenarios that revolve around Korean culture. One of which is the setting of the film which dives into a unified Korea where the South and North have come together in unity to rebuild the nation's economic stature.
Money Heist Korea Review: Spoiler Warnings
One of the main directions of the film as mentioned is that it is, for the most part, a remake. Therefore there are a lot of moments in the show that is heavily rooted in the main Spanish version. This may serve as a spoiler in itself for those who have seen the show. We will still however limit this review by discussing both the new and familiar elements that Money Heist Korea has brought in comparison to the original. This review of Money Heist Korea will therefore be free of spoilers.
[hfcm id="9"] [hfcm id="14"] [hfcm id="20"] [hfcm id="24"]
A Play by Play of the Original
Money Heist Korea, in all honesty, is quite confusing as of now, as to where it stands as a show. Is it a remake? Is it a continuation? A spin-off? Or is it all three? Based on what we have been given so far, I would have to say it's more of the first — a play-by-play, moment-by-moment remake of the original. I wouldn't call that a bad thing though because yes, there are some elements that have been tweaked given the changes in terms of geography and culture. I wouldn't also be quick to dust off remakes in general as long as they manage to do two things — give honor and respect to the original while simultaneously keeping this fresh and engaging in its own way. Money Heist Korea manages to accomplish the first condition with ease. There is so much respect for the Spanish version which is why I can say with confidence that it's a play-by-play kind of remake. A solid majority of the show's main premise and subplots down to its characterizations are repeated and given justice in this version. This is where Money Heist in a way succeeds but I must also say that this treatment also poses some flaws in turn.
One of the biggest problems I had with the direction of the show is that it somewhat became difficult for fans of the original show, like myself, to fully appreciate and enjoy. It was difficult to surpass making comparisons with the Spanish version despite a strong will and desire to do so. I couldn't help but anticipate certain events to occur while also trying to recall if certain scenes and moments were kept from the original. It became a very intellectually frustrating experience at times as I tried to recall what had occurred. It, therefore, served more as a distraction which hindered me from fully enjoying the show in its entirety. There is also the added fact that the Spanish version is still pretty fresh in the memory of those who watched and are huge fans of the show. This in my opinion contributed greatly to the reason why as a remake it didn't feel all that necessary time-wise. There was also the looming question that hovered over my head which revolved around the future of the show given the original's more provocative themes such as that with the LGBTQ community which may not necessarily bode well in this specific context.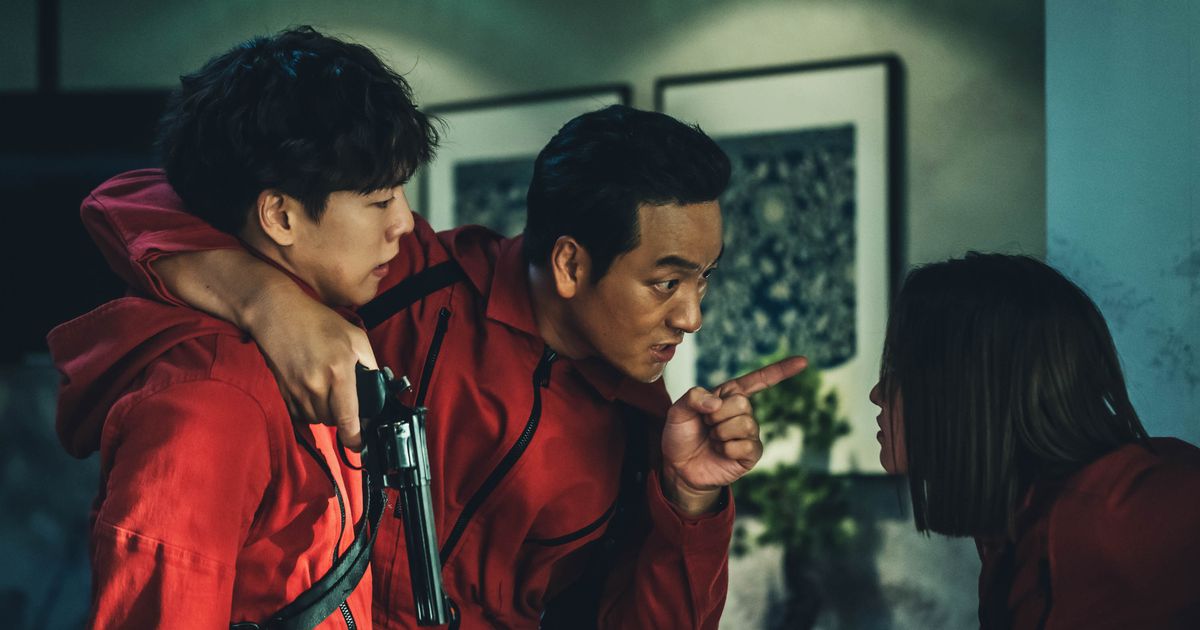 We get a lot of these familiar elements such as the Korean versions of Arturo and Monica, Cho Young-min, and Yoon Mi-Seon, whose complicated relationship together with Denver is also highlighted at times in this season. We also see the complexities of The Professor's relationship with the South Korean inspector, Seon Woo-jin, who is a clear representation of Raquel Murillo from the Spanish version. These examples even barely scratch the surface as they even boiled down to the minute details.
Making Money Heist Korea Unique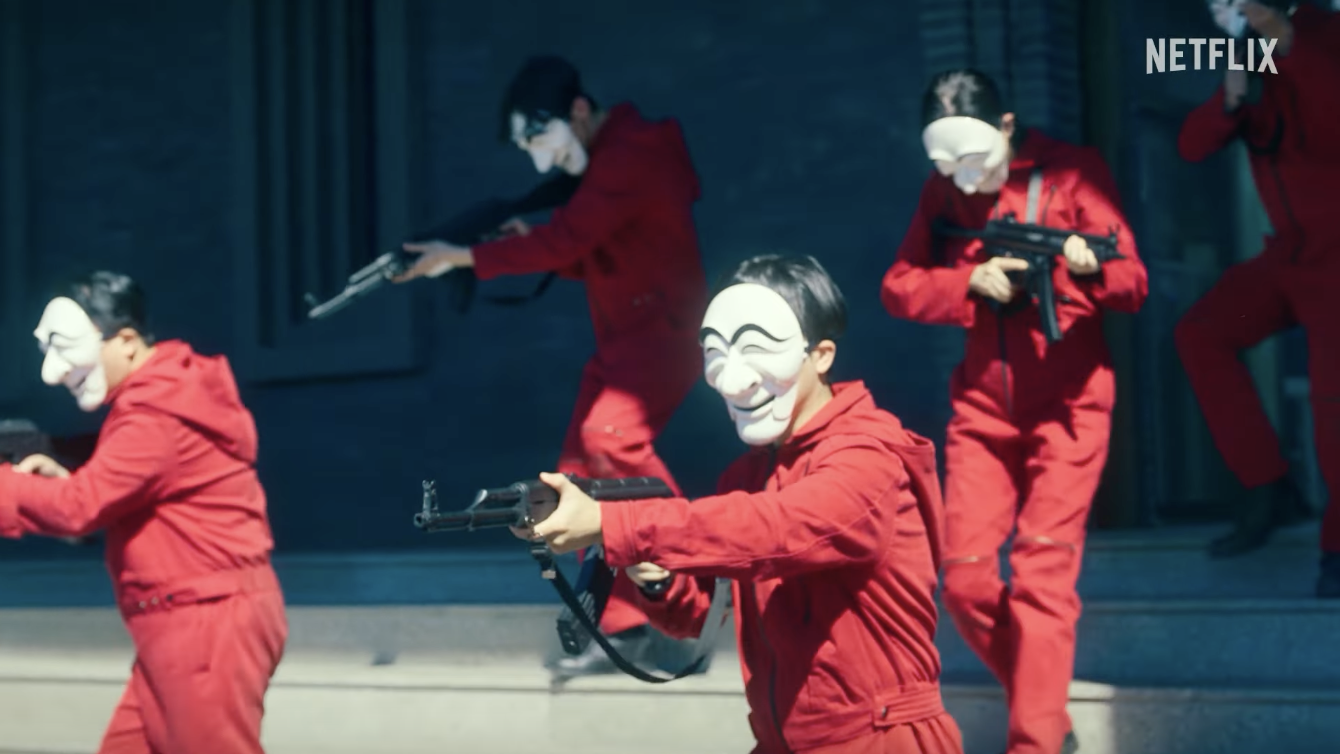 As mentioned earlier, a good remake has the ability to take what was given in the past version and elevate it creatively. There were some facets to Money Heist Korea that allowed the show to step into another realm of creativity. The first is the overall pacing of the story. I must admit that one of the reasons why I find it difficult at times to watch K-Dramas to begin with, is the excessively long running times that continue on for sixteen episodes or so. Money Heist Korea adapts the same time frame for its show but manages to keep each episode very engaging, enthralling, and exhilarating to witness from start to finish. I was surprised to find that the show was able to keep my attention locked from the first episode down to its last. This pacing added a great amount of depth and character that the first season of Money Heist's Spanish version admittedly lacked. Add the amazing action scenes and set designs to the mix and what we actually get is an intentional pursuit to improve the already amazing feat that Money Heist has already given us so far.
Speaking of depth, the Korean version also managed to expound and create a greater sense of who the main characters are by giving them contextualized personalities and storyline backgrounds that weren't as emphasized in the first season of this show's predecessor. We are specifically able to see a different side to Denver, The Professor, and Rio which wasn't touched on this early in the Spanish version. The show also diverted from one of the main plot points of the first version which revolved around Rio and Tokyo's relationship. Money Heist Korea still goes in this direction but it isn't as abrupt as before and instead goes through this process in a more subtle manner.  
The biggest change however comes in the form of the setting of the overall story. The inclusion of a fictionalized version of Korea where in the South and North are united once again honestly contained a lot of promise in elevating and creating a unique plot twist. It was interesting to witness early on as it added a lot of intriguing qualities to the show but this was however under-utilized in this show. There may have also been a backlash to this direction from Koreans which may have been an added factor as to why Money Heist Korea opted not to fully embrace such themes and concepts just yet. There is admittedly a controversial factor to it and sensitivity but for all tense and purposes of creativity, it could have been a route that when explored and embraced could have made Money Heist Korea a hundred times more interesting.
Money Heist Korea Review: Final Verdict
There was a missed opportunity to truly create something special with Money Heist Korea. The opening sequence alongside its supposedly different contextualized story could have paved the way for the show's success. As mentioned in this review, however, Money Heist Korea in turn shrunk down to become just another retelling of an already popular show. This direction is truly a missed opportunity in expanding the world of Money Heist. It is still pretty early to tell how the show could evolve and transform along the way. There is more ground to cover clearly and this could just be the beginning of greater things to come. 
That being said this is a show that I believe targets a specific demographic — K-Drama fans and those who haven't seen the original version. Those who have admittedly are at a disadvantage when watching this series due to the comparisons that may come up along the way. It is still however a pretty decent watch — one that we still recommend that you should try out. The source material in itself is a huge factor in adding success to this version and watching a reiteration of an already great and engaging story that is set in another distant part of the globe is admittedly still a fun experience to witness.
For more reviews check out the following articles: